In a city as great as Charlotte, visitors with only a little time to spend can quickly become overwhelmed by the possibilities. By focusing on the vibrant Center City neighborhood and taking advantage of these inside tips, you're guaranteed to have a fun-filled adventure and get the most from your time in the Queen City.
Grab a Deal on a Charlotte Hotel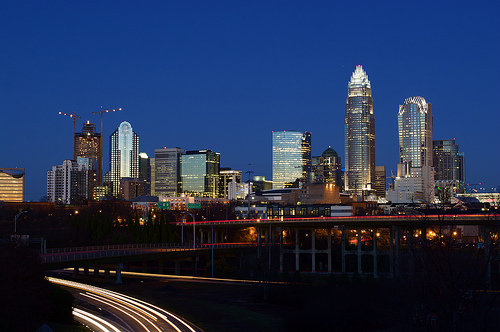 [Image via Flickr by jacreative.]
Before you start planning what to do with your time in Charlotte, you need to know where to call home. With countless attractions, shops, and restaurants packed into its walkable, bustling area, Center City is where you want to be, and a quick stop at Hipmunk is all it takes to find a great hotel at an unbeatable rate. Traveling at the last minute? Use the Tonight Only feature on the mobile app to find amazing deals on eleventh-hour reservations!
Get Around by Bike or Rail
Not planning on renting a car for your day in Charlotte? In Center City, there's no need. The B-Cycle program is the largest bike sharing network in the southeastern United States, boasting 200 bikes and 20 stations around the city. If biking isn't your thing, use the Lynx rail system, which has seven stops throughout Center City, or hop aboard a CATS bus at the Transportation Center. Stay at a hotel close by, like Aloft Charlotte Uptown at the EpiCentre, and you'll have the whole city at your feet!
Eat Like a Local
There's no better way to get a sense of a city than to taste what local growers have to offer. Head to 7th Street Public Market to sample Charlotte's bounty and taste the ingredients that local chefs are buying to serve up at dinner. In addition to produce and grocery merchants, the market features vendors offering an amazing selection of wine, chocolate, sushi, coffee, confections, and more. The market hosts regular events like Tuesday night wine tastings and chess classes. It's easy to get to via public transportation; just take the Lynx blue line to the last stop at 7th Street Station.
For an unforgettable dining experience, head to Bentley's on 27, where you'll find panoramic views of the city skyline, outstanding service, and delectable French American cuisine. The Dunhill Hotel is just a few blocks away, offering boutique accommodations and tons of charm.
Check Out the Nightlife
The city comes alive at night, and Center City is the heart of the action. Your first stop should be the EpiCentre entertainment complex, where you'll find a state-of-the-art movie theater, an ultra-hip bowling alley, five live music venues, and numerous bars and clubs. Regular events include rooftop concerts, sports meetups, and happy hours.
Beyond the massive EpiCentre, try TILT on Trade to mingle with hip young professionals and locals ready to blow off some steam after a hard day's work — but make sure you pack something sexy, because there's a dress code.
Charlotte's Center City is filled with activity, you could easily spend several days exploring here and never visit the same place twice.
 Author Bio:
Rebecca Metz is an avid road tripper, hotel hopper, and sufferer of wanderlust. She has a soft spot for national parks and wine regions, and writes about her adventures either online or in a well-worn journal, preferably while relaxing in a beach chair.