Travellers heading to London will have a clear idea of where they want to visit when on holiday. There are many excellent landmarks in the capital that are ideal for tourists and especially families such as its long list of museums. Piccadilly Circus is a fun part of the capital that offers many great shops and restaurants, making it a top destination to just have a wander around. It also has the famous Ripley's Believe It or Not London that is found in several places across the world including New York and Toronto. The popular attraction is located very close to Piccadilly Circus tube station so is easy to travel to when visiting.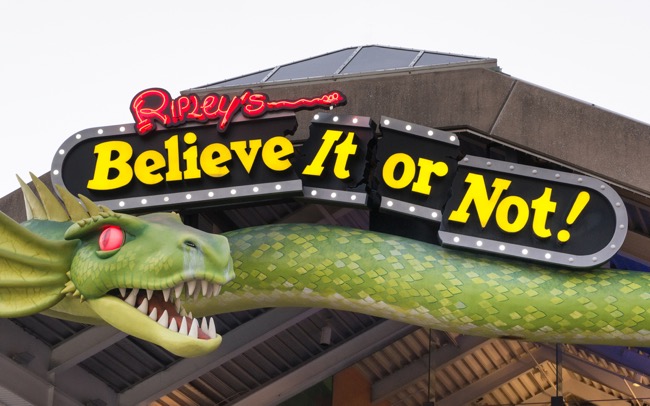 Ripley's London is a fantastic destination for young people to learn about the world's most interesting oddities. There are more than 700 artefacts there over five floors that include the world's heaviest man to Amazonian shrunken heads. This excellent attraction celebrates all bizarre things that are extraordinary and also very educational. Other amazing items include a piece of the Berlin Wall and a chewing gum sculpture, so it can vary from the fascinating to the slightly curious. There is genuinely something for everyone making Ripley's London a totally captivating experience as tourists encounter its many weird and brilliant contents.
Travellers heading to London will want to be close to attractions such as Ripley's London, so should choose wisely. A superb destination is the Hotel Park Grand London Hyde Park that is close to many shops and restaurants. The luxury residence offers beautiful rooms with great views and modern amenities including complimentary Wi-Fi internet and plasma televisions. This four-star property is one of the best London hotels near Paddington Station that is ideal for both working and leisure tourists. It has a wonderful business centre, a 24-hour reception desk and concierge service. Travellers will delight in the tasty English or continental breakfast available to them when they stay at this excellent hotel in London.
There are also alternative art galleries at Ripley's London that have sculptures, portraits and recycled art that's honestly like nothing visitors have seen before. There is a picture of US First Lady Michelle Obama made from bottle caps, and another of the late singer Michael Jackson created from sweets. The museum is named after American cartoonist and anthropologist Robert Ripley who spent around 25 years touring the world trying to locate unusual items. Guests can see some of these mesmerising things including an Egyptian mummified hand, Burmese tattoo kit and outfit and some Balinese dance costumes.
Robert Ripley was also interested in certain people and this museum celebrates the many kinds of talents they possessed. One of his most famous friends was a man called Robert Wadlow who was 8 feet and 11 inches tall. Travellers visiting Ripley's London can learn about this gentleman and many others who have a great story to tell. This includes a man who had body modification to look like a lizard. Tourists heading here will encounter an incredible history lesson with fascinating items including Edward VIII's abdication speech and a lock of Napoleon's hair. Visitors can also see a model of the famous Titanic ship made from 147,000 matchsticks, which is a unique sight among many others at this museum.