Most visitors to Lanzarote would list the beaches, shopping and nightlife as being the highlights of their stay. With plenty of cheap flights to Lanzarote, it is a great destination at any time of year with plenty to see and do.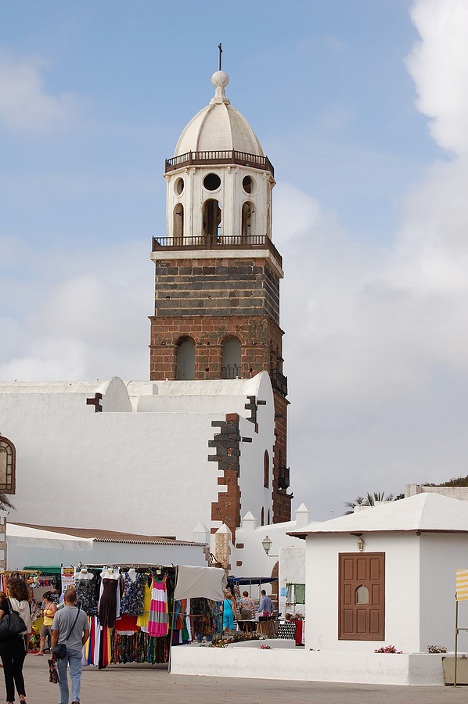 Those looking for the "real" Lanzarote will certainly enjoy this scenic hike (or drive) around the northeastern peninsula from Teguise to Orzola and back down to Guatiza, taking in spectacular scenery, mountain top views and several well-known works by artist and mosaic master, César Manrique, along the way. The total hike is 50 km (31 miles), so it should be covered in stages over several days. This is one of several memorable hikes around the highlights of Lanzarote.
Teguise to Haria
After enjoying the artistic delights of the small whitewashed village of Teguise, a historic preservation area, head northwards towards Los Valles and Haria. Leave the distant outline of the Santa Barbara Castle and Museum behind you and look west across the sparsely populated area for glimpses of the crags of Famara. A hilly 17 km walk with plenty of miradors (viewpoints) will bring you into Haria which is known as the Valley of 10,000 Palm Trees. It is certainly a green oasis amidst the dry landscape of Lanzarote. If you have time, explore the small streets and squares and enjoy some well-earned refreshments.
Haria to Orzola
When the road forks just beyond the town, take the left LZ-201 to Guinate to visit the local zoo called Loro Parque. Carry on from there to El Mirador del Rio, a fantastic 475-metre high viewpoint carved out of lava rock with impressive views of the Chiniko archipelago below and the island of La Graciosa. The viewpoint was created in 1974 by local resident César Manrique and is considered one of the artist's best legacies. After a refreshing break at the café, carry on along the coast to Orzola where the beautiful white sands and aquamarine waters beckon.
Orzola to Guatiza
After Orzola, the route heads south down the eastern coast of the peninsula to Los Jameos del Agua (impressive lava tubes) and La Cueva de los Verdes (large green caves), both amazing geological features. Finally reach your destination of Guatiza and visit the Jardin de Cactus with its 1400 types of cacti, a fitting end to the walk as the surrounding fields are filled with cactus. They are grown commercially for the red carmine dye which is harvested from the parasitic cochineal parasites which live on the plants.