Berlin is a city steeped in many centuries of history, from being the capital of Prussia to the dark days of the Berlin wall and communist rule. As a result, there are many fascinating museums, exhibits and tours available to keep a visitor busy for days.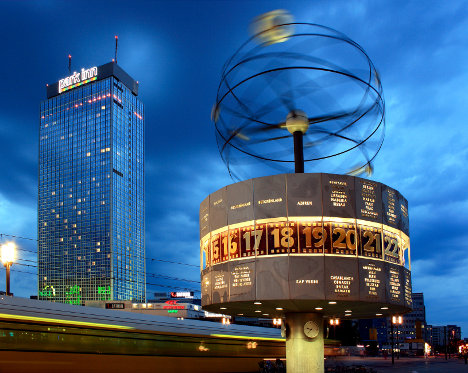 [Photo by kevin_kurz_piqs_de]
Museum Island is right in the centre of Berlin and consists of 5 Museums, most famous of which is the Pergamon Museum. This museum houses a huge collection of ancient artefacts spanning several civilisations, including a complete reconstruction of the Pergamon Altar, orginally constructing in the second century BC, using the original stone.  
Sanssouci Palace in Potsdam is 30 minutes from Berlin by train, and is one of the most spectacular examples of Rococo architecture in existence. It was the summer home of Frederick the Great, who used it as a retreat from the busy political life in Berlin. Sanssouci park is an incredibly beautiful place to wander on a sunny day, with it's immaculate flower gardens and rows of trees. Potsdam is also home to many other spectacular historic buildings and parks. FromAtoB.com can help you find your way here.
Jewish history is also well represented in Berlin, from the Jewish Museum to the Jewish memorial, an abstract sculpture that opened in 2005 and covers 4.7 acres, or 19,000 square metres. The Topography of Terror is a free museum that details how the nazis oppressed and persecuted Jews and other groups across Europe during the reign of the Third Reich.
For those interested in Berlin's most recent history, the famed Berlin wall still stands at a few places across the city. The East Side Gallery is a one kilometre stretch of the wall that was turned into a canvas after German reunification and is the largest open air art gallery in the world, featuring huge murals by many different artists. The Berlin Wall memorial at Bernauer Strasse is a more sombre affair, that really brings home the reality of living in a divided city.