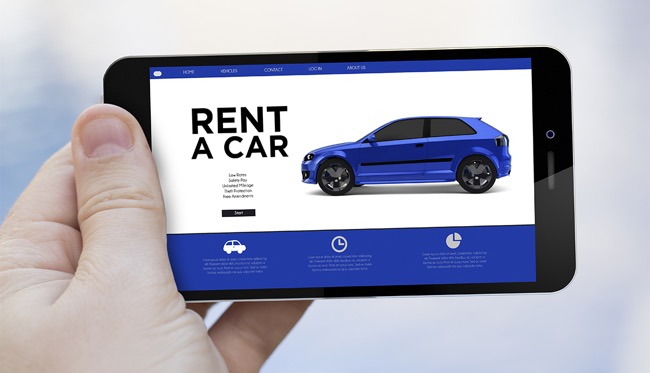 Europe is a wonderful place to explore that is why you often hear people say how much they wish to travel round Europe. There are different countries and cities that provide enough activities that would not only keep you entertained but also invigorated and rejuvenated.
One of the wonderful places to visit in Europe is Trondheim, one of the municipalities in Norway. It has a very rich history which you can read about here. But in this article, we would discuss why this is a great spot to visit and also give you tips on how to go about car rental when you visit.
Fun Things To Do And Places To See In Trondheim
Like we have already stated, this city is rich historically and there are a lot of fun things to do and memorable places to visit. The following are some of them:-
Nidaros Cathedral
This historic edifice was built by King Olav Kyrre between 1066 and 93. It stands above the burial place of the patron saint of Norway; St. Olav. This cathedral is reputed to be the most impressive church building in Scandinavia.
It is said that kings have had their christening in this cathedral and likewise their burials. In 1814, the Norwegian constitution instituted that their monarch be crowned in this Cathedral. There is so much grandeur in the architecture and so much history in the grounds.
Everything about the Nidaros Cathedral makes it a hot tourist spot in Trondheim.
The Old Town Bridge
The old town bridge leads to the vibrantly colored old houses and picturesque streets that make up the Bakklandet neighbourhood. This neighbourhood feels like a quaint village with antique wooden buildings by the riverside.
These buildings have been turned into galleries, shops, cafes and restaurants. You can spend a splendid day strolling along this street shopping or just taking in the natural beauty of the village.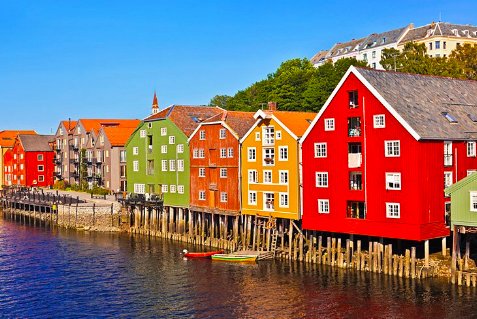 Kristiansten Fortress
The Kristiansten Fortress was built around 1681-1695. This was to guard the city and protect it from attack. It is situated on a hill in the east side of the city. Though it is quite steep to climb, it is worth the physical exertion.
Once you get to the top, you get a lovely view of the city in addition to a tour of the tower and the museum there. You would also see the cells where the Nazis remanded members of the Norwegian resistance when the invaded the land during the 2nd world war.
Rockheim
A visit round the city of Trondheim is not only to reminisce about the world wars or executions, there's also the fun Rockheim. This is where lovers of rock and pop music get to go down memory lane. The museum has different collections of Norwegian musical greats in addition to videos and interactive exhibits.
There is also the permanent exhibit known as the Time Tunnel; this exhibit brings some Norwegian cultural and musical history to life by performance video. There are a lot of activities here that includes drawing graffiti, dancing or karaoke.
Kayak or Boat Tour
It is said that the best view one can have of the vibrant buildings on the harbour is by going on a boat tour. You can hook up with tour companies that have guides who have a vast knowledge of the culture, wildlife and history of the fjord of Trondheim. You can also sign up for fishing trips and winter cruises.
On the other hand, if you are a highly adventurous soul, you can rent a kayak and explore the beauties of the city from the river.
For more on the fun things to do and places to see in this city, check out this site: https://www.planetware.com/tourist-attractions-/trondheim-n-str-tro.htm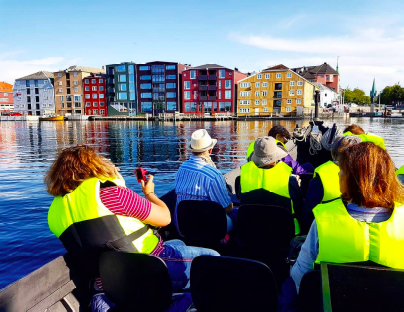 Tips For Hiring A Car In Trondheim
Here are a few tips to help you get the best deals in car rentals in Trondheim and even any part of Europe :-
Be Armed With Knowledge
There's nothing as empowering as knowledge about an issue. It is best to arm yourself with knowledge about car rental services in the city you plan to visit. Additionally, you should know about the price of gas in the city and the proximity of gas stations to where you'll be lodging.
With this knowledge, you are better prepared to negotiate and get a good deal. Furthermore, you would not be compelled to use the gas offer of the company that you want to hire a car from.
Settle The Issue Of Driving/Driver
Consider the issue of whether you would drive yourself or include a driver in the deal. We feel that if you are not on a budget, it might be best to include a driver in your deal. This would certainly be more convenient for you. You wouldn't need to bother about navigating unfamiliar routes and this frees you to enjoy the scenery.
If on the other hand you are on a budget, it would absolutely make sense for you to drive yourself. You may have some difficulty getting around but that should make your stay more interesting. And who knows, you might pick up the language faster when you have to keep asking for direction (LOL).
Another thing to consider on the issue of driver is the age of the person hiring the car. Most car rentals do not give their cars to persons under 25years old. Some of the ones who do, charge a fee that's known as 'young driver surcharge'.
So you need to have all this factored into your planning if you are less than 25 years of age.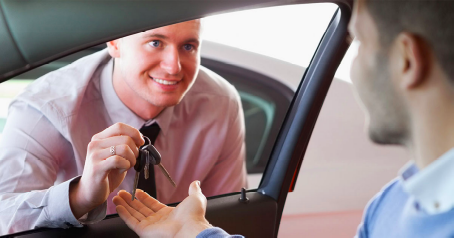 Ensure That You Have The Right Insurance Coverage
If you have a credit card or car insurance, you would automatically have insurance for car rentals. While this is certain in your home state/country, it might not be totally true for overseas travel. So before you leave your home ensure that you have the right insurance so that you would not be forced to use the insurance of the car rental company.
It may not be in your best interest to use the insurance cover of the rental frim because it would definitely be costlier.
Check Out Multiple Options And Book Ahead
Part of planning for your trip is looking for the best car rental to use on your trip. Once you have decided on where you want to travel to, start shopping online for the best deals in car rentals. There are sites that help with comparison shopping.
Check out the list of rental companies that they have and look out for the best deals. If you have decided to travel to Trondheim, leiebil Trondheim (meaning car rental in Trondheim) would cost around $56 per day for regular cars. There are also luxury cars and different terms and conditions that may attract extra fees.
The car you choose should be dependent on the terrain of the places that you want to visit. You can also get advice on some of the comparison sites that you would find. When you have settled on your choice, it is recommended that you book at least 2 weeks to your arrival.
Conclusion
Planning your summer or Christmas get away? You should consider Trondheim. It is a land that's full of picturesque and historic landmarks and a rich culture that would make your stay memorable.
We have shared some places that you can visit and activities that you can engage in. Additionally, we have given you some tips to help you get good deals on car rentals when you travel. We believe that this information would come in handy for your next trip.