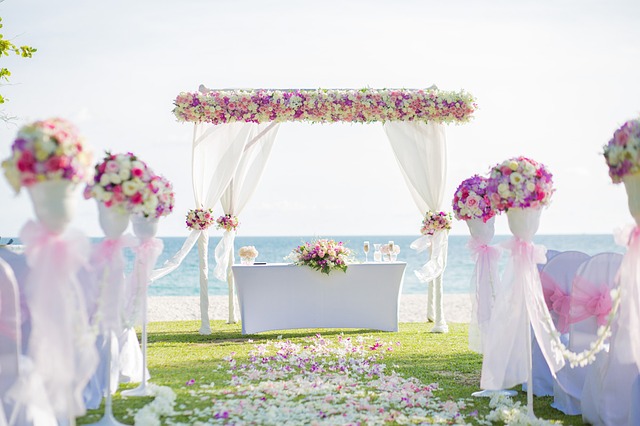 According to The Knot, the national average cost to plan a wedding as of 2016 is over $35,000. In some places, like New York or California, the average can be 1.5 to 2 times greater. For couples hoping to have a memorable wedding, while keeping costs down, a destination wedding can be a great compromise.
But not all destination weddings are inexpensive, to save money it will require a well thought out and well-executed plan. This article outlines a few things couples should keep in mind when planning a wedding on a budget.
Leverage the Sharing Economy
Services like Airbnb and Uber can be used to keep lodging and transportation costs down. While it's true that Airbnb can sometimes be more expensive than hotels, Airbnbs offer more flexible configurations than most hotel rooms do. That means that if you are planning your destination wedding on a budget, you can lower lodging costs by sharing a nice apartment or small home, rather than needing to purchase many individual hotel rooms. Likewise, Uber and similar ride sharing services allow couples to get around quickly without having to pay for a rental vehicle.
But the sharing economy can be used for other wedding related tasks in addition to lodging and transportation. Couples can find talented freelancers on platforms like Upwork, Fiverr or Deluxe to perform services ranging from stationery design to website development, to freelance videographers. 
Host Your Wedding During the Off Season
A study cited by Lexington Law shows that 91% of respondents would rather begin a marriage without debt than go into debt by planning a dream wedding. By hosting your destination wedding in the off-season, you can have your cake and eat it too.
Brides.com found that in most locales weddings hosted in January, February and March have the lowest costs, especially for an event venue. With that being said, pricing will vary depending on peak season. It's a good rule of thumb to simply host the wedding during the off season. This will primarily help to lower venue costs (usually the single most expensive wedding related line item).
Ask Guests to Chip In
While most couples typically register for flatware, linens and other home goods, the budget conscious can consider asking guests to pay for various components of the wedding itself. A new breed of wedding registries has popped up that allow couples to accept cash gifts while making guests feel good about what they are giving. Platforms like Zola, Zank You and My Registry allow couples to accept cash gifts and traditional gifts all through the same platform.
This can be a great option for those who want to plan a memorable destination wedding but need some outside help to make it happen.
Throw a Post-Wedding Party to Reduce your Guest List
A simple way to understand how to lower wedding costs is to look at expenses on a per unit basis. How much will it cost to host, feed and entertain each wedding guest? Some costs may be fixed (up to a point), examples of fixed wedding costs include the venue or the officiator. Other costs are variable, these include catering, lodging, and transportation.
If you can reduce the number of wedding attendees, you will also be able to lower variable costs, and in some cases fixed costs if it means you can downsize to a smaller venue. One way to do this, without leaving out friends or family, is to host a post-wedding party for those who were not invited to the wedding ceremony once you are back from the destination wedding.
Pick a Date Well in Advance
As with other seasonal expenses, like airline tickets, or hotel rooms, booking some of the basic components of your wedding well in advance can help to defray costs. For couples who have limited cash flow, booking wedding elements well in advance can also allow couples to pay off some wedding expenses over time rather than needing to provide a single large sum.
Keep Exchange Rates in Mind
The US dollar has different exchange rates with other currencies. Some of these exchange rates are favorable and others are unfavorable to the US dollar. It's a good idea to compare exchange rates before committing to a particular destination. For example, today, one US dollar is worth seventeen Mexican Pesos. Whereas, in Europe, one US dollar is only worth 85 Euros. Given these different rates, it would be more economical to host a wedding in Mexico than in France.
Conclusion
Hosting a memorable wedding does not mean you have to go into debt to make it happen. Couples interested in hosting a fabulous destination wedding should remember to leverage the sharing economy and to host the wedding in the off season. Additionally, it's also a good idea to pick a location with a favorable exchange rate and to ask guests to chip in if needed. By following these tips, couples will be able to plan the wedding of their dreams without breaking the bank.