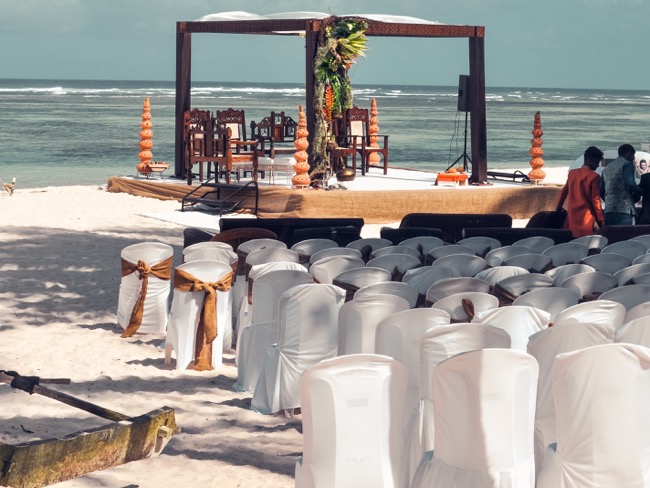 Destination weddings have become a popular way to tie the knot. Getting married in an exotic location adds that little bit extra to an already special day, plus it allows the couple and their closest family and friends an opportunity for an memorable trip abroad. Whether it be a beach in the Caribbean or a village in Italy, having a destination wedding will be a lifetime memory.
Getting married is full of love and excitement, but let's not forget the inevitable stress that planning a wedding comes hand in hand with.
Don't let the hassle of planning cloud the happiness you should be feeling, here are some tips on how to make the most of your engagement by making planning as easy as you can.
Make a Budget and Save
The average wedding costs over £32,000 and unless you are the lucky few, most of us would need to save for a considerable amount of time. To make saving even easier, Compare the Market has a specialised calculator to help you determine how much to save each month based on your salary and also gives you an idea how long it will take to pay for your perfect day.
The average wedding is planned over 18-months, with most wedding planners insisting on at least 2-years, giving you a realistic time frame to adequately save for your ideal day, without both of your salaries solely going towards your wedding funds.
As well as saving, setting a budget is a must, as it's easy to get wrapped up and spend more than you can afford. Your budget doesn't have to be so regimented that you feel restricted, allows yourself some contingency funds incase things add up to it more than you originally planned for. But don't forget to make it realistic, because if your budget to spend a small amount on the day but choose high-end designers and lots of added extras, your expenses will be out of your control.
Prioritise
There will be endless to-do lists and countless little jobs to carry out, but don't let them get on top of you, make sure you do the important stuff first.
Making a timeline can be useful as it allows you to mark the dates that you are going to do each job, so you know you have enough time and that the job will get done. The little things can fit in between.
Once you start ticking things off you will feel a weight lifted and you can enjoy the experience instead of waiting for it to all be over.
Setting dates to get things done can also work hand in hand with setting yourself deadlines. Don't leave everything to the last minute and don't stress about getting everything done at once, set yourself enough time to do it all while being able to reward yourself in between.
Take A Break
Wedding wedding wedding. When planning that's all you will hear or talk about, so give yourself some time to relax and forget about planning for a minute or two, it's not going anywhere.
Designated no-wedding talk can stop the special day from taking over all aspects of your life.
You and your spouse-to-be can have a quiet night in or go on a date night to make the most out of the experience, don't let flowers and venues be the only things you talk about.