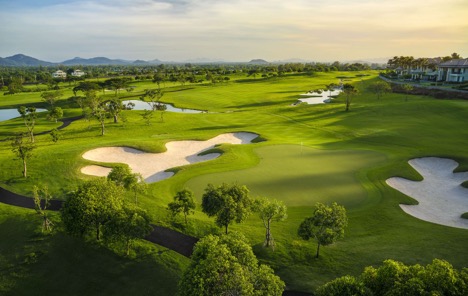 The increasing numbers of people heading to Thailand to play golf, suggest they must be doing something right, in what is a famous holiday destination. The likes of Tiger Woods, Ernie Else and Colin Montgomerie have all played golf in Thailand and the development of new Thailand golf courses to attract golfers from all over the world seem all set to continue for the near future.
Two golf destinations in-particular, attract many golfers to Thailand and they are Phuket and Hua Hin, which both offer attractive options for golfers. However, when deciding where to go for a golf holiday in Thailand, which of them comes out on top?
The latter of the two, Hua Hin, is classed as being Thailand's original beach resort, with a blend of city and sand, making it an attractive option for visitors. From the town itself, there are ten golf courses in Hua Hin, within a 30-minute drive, giving visitors plenty of choice and variety, without having to travel long distances every day.
However, it's not as easy to reach Hua Hin as it is other destinations within Thailand, such as Phuket, which has an airport welcoming flights from Asia, America and Europe. For visitors looking to play golf in Hua Hin, there is little other choice than to arrive in to Bangkok and make the journey by road, which can take up to three hours or by train, which takes even longer. Therefore, if travel time is a concern, Phuket may be the best option. That being said, by arriving in to Thailand via Bangkok, it provides the opportunity to stay there for a few days and sample some of the golf courses in the Bangkok region. This makes for a more varied golfing holiday and sightseeing trip in general.
That being said, Phuket only has six golf courses to offer its visitors, in comparison to Hua Hin's ten. A choice of six golf courses in Phuket may be more than enough for some visitors, in which case, for convenience alone, Phuket would be a good choice. The town is regarded as a somewhat more luxurious choice than Hua Hin, featuring some of Thailand's more up-market hotels and restaurants. So, if style and comfort is of importance when booking a golfing holiday, Phuket certainly gets the nod.
Although Hua Hin has a larger selection of golf courses than Phuket, quantity does not always mean quality. Phuket's Red Mountain Golf Course and Blue Canyon Golf Club are regarded as two of the best golf courses in Thailand, if not Asia and are definitely worth a visit. That being said, for those golfers on a budget, Hua Hin is the cheaper of the two destinations. The price of accommodation and playing golf is cheaper in Hua Hin and other potentially important factors, such as taxi rides, are also cheaper. So for those on a tight budget, Hua Hin would be the better choice. In addition, it's worth noting the top golf courses in Phuket can get quite crowded, which is not so much of a problem on the courses of Hua Hin.
With a cheaper venue, comes cheaper golf courses but unfortunately, this can come at the detriment of quality. The golf courses in Hua Hin, generally, cannot compare to those in Phuket. Banyan Thailand, may be one exception, which was designed and constructed by GolfEAST, which are a group of local architects and engineers. There are some sensational views from the golf course and it's easily ranked inside the top ten in the country. However, the best of the other golf courses in Hua Hin only really compare to standard courses one would find in Europe or USA, meaning they are certainly enjoyable to play but do not compare to those in Phuket. There are a couple of golf courses in Hua Hin, which probably fall below the standard of average courses in Europe and the USA, such as Sawang and Milford and these are perhaps best avoided, in favour of courses such as Banyan Thailand.
Furthermore, for those who are looking to make the most of their time away from the golf course, by visiting attractions and taking part in other activities, Phuket definitely has the edge. The beaches are fantastic and Phang-Nga Bayís limestone islands, make for an incredible day trip. There are also excellent snorkelling and diving trips to be taken from Phuket, to nearby islands, which is something not available in the close vicinity of Hua Hin.
Both Phuket and Hua Hin clearly have their pros and cons, when it comes to choosing which to use as a base for a golfing holiday.
Phuket is the more up-market of the two, with generally superior quality golf courses and a wider range of things to do away from the golf course. Not only that but it's easy to reach, thanks to the local airport. However, although Hua Hin requires a journey from Bangkok, this opens up the option of playing golf in two areas of the country, plus Hua Hin has the bigger choice of golf courses, at more competitive prices. These are the deciding factors, when choosing where to go for a golf holiday in Thailand.