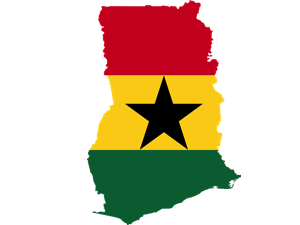 The world is so huge and there a lot of wonderful places worth of visiting. If you are a proud owner of Ghana passport and your dream is to travel, discover new places and cultures and meet new interesting people then you have chosen the right article to get useful information. Everybody who wants to go abroad knows that as a rule, a visa is a number one question in your traveling plan. But we are so glad to tell you that there are a lot of countries that do not require a visa for Ghanaian citizens and you can visit these places without undergoing the stressful procedure of visa obtaining. Of course, you must have an international passport. Keep reading to find out what countries are visa-free for Ghana passport holders.
Also, there are some countries that can issue you a visa on your arrival at the airport of that country for a small fee. Before we will gladly share with you a list of the countries that will meet on their land without a visa, we would advise you before booking tickets and hotel to contact the embassy of your destination country and check the regulations because they can be changed periodically. In such a way, you will protect yourself from the ticket return and lost money and time. Double check is always a must.
You can see the full updated list visa free countries for Ghana and plan your trip wisely.
Visa-free countries for Ghanaian citizens in Africa
If you plan your trip on the continent, we are glad to inform you that a lot of African countries have a loyal travel policy and are visa-free for other African counties, including Ghana. Also, that fact that the country is a member of ECOWAS gives Ghanaian citizens an opportunity for 90-days free stay in the country which also is a state-member of Economic Community of West African States. We have divided our list for your convenience on the African countries in which visa is not required; visa is not required for 30 days; visa is not required for 90 days; visa can be obtained on arrival.
Visa is not required
– Burkina Faso
– Cape Verde
– Côte d'Ivoire
– Mali
– Guinea
– Liberia
– Niger
– Nigeria
– Sierra Leone
– Togo
Visa is not required for 30 days
– Swaziland
Visa is not required for 90 days
– Benin
– The Gambia
– Guinea-Bissau
– Kenya
– Madagascar
– Mauritius
– Rwanda
– Senegal
– Tanzania
– Uganda
– Zambia
– Zimbabwe
Visa can be obtained on arrival
– Djibouti
– Mauritania
– Mozambique
Countries you can visit without free on other continents
If you want to broaden your world and visit other continents, you definitely should know that a Ghana passport holder will be able to stay without a visa in such countries as Jamaica and Trinidad and Tobago. You can also enjoy a visa-free stay for 30 days in such counties as Indonesia, Micronesia, Philippines, Saint Vincent and the Grenadines, Singapore, and Vanuatu. There also countries that allow Ghanaians to stay without a visa even longer (for 90 days), they are Bangladesh, Ecuador, Grenada, Haiti, Saint Kitts and Nevis. Barbados and Dominica will not require a visa during your stay for six months.
Countries to visit with an Electronic Entry Visa
Modern technologies open new opportunities and make our lives easier and more convenient. Many countries use the Internet and technologies in their visa regulations. In some cases (for some countries) there is no such necessity to visit the embassy to get your visa. You can register, apply, and get a visa online using official website of the embassy. You can visit such countries as Antigua and Barbuda, Bahrain, Cambodia, Comoros, Gabon, Georgia, India, Kyrgyzstan, Lesotho, Myanmar, and Zambia having an electronic entry visa.
We hope you have found our post useful. Please do not forget to double check all the requirements of the country of your destination. We wish you the happiest and trouble-free traveling. Broaden your world with pleasure.