People usually fall into two camps; you love winter, or you hate it. Personally, I need the sun to recharge my batteries and if I don't get that warm weather for at least two weeks during the winter….well, stay away from me because I'm not a happy camper. So for all of you sun lovers and itravelnet readers, I'm going to tell you about a Caribbean island that pretty much as it all, for less than you might think.
Jamaica is one of the Caribbean's largest islands. At roughly 230 kilometers in length, it's a destination that offers sun lovers beautiful beaches, golfers great courses, active travelers amazing hiking trails and luxury travelers stunning villas in Jamaica. Before you to book your flight to Jamaica however, here are a few things you should know.
Most travelers will stay in either Montego Bay or in the Negril area which is known for its nightlife. These regions offer a wide range of hotels as well as fully staffed villas which offer excellent value for those travelling as a group. Staying in Montego Bay is convenient for international travelers thanks to its international airport; those staying further afield may be able to arrange an airport transfer through their hotel or villa concierge.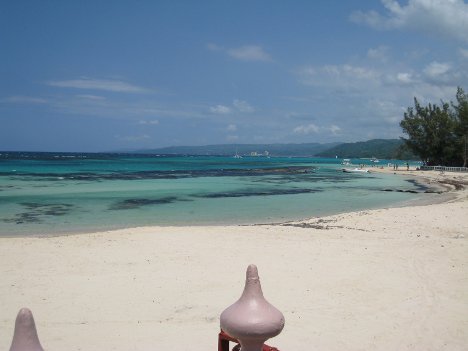 [White sand beaches near Ochos Rios, Jamaica.]
Once you've booked your flight, and villa or hotel, the next step is to start thinking of beaches and activities to do while on the island. Because the island is so large I strongly suggest renting a car and driver for the week. This way you can sit back and drink Red Stripes (the local beer) with the local driver brings you to all the key beaches, sights to see. If you've booked a villa in Jamaica simply ask your company's concierge team to arrange for the car and driver and if you've booked a hotel, the concierge kiosk should be able to provide you with one as well.
Some sights and activities to consider:
Seven Mile Beach (Negril)
Day trip to Ochos Rios
Ricks Cafe (Negril)
Cinnamon Hill Golf Course (Rose Hall)
Appleton Estate (South West Coast)
Half Moon Tennis (Rose Hall)
Keep in mind that the peak Caribbean "hurricane season" takes effect around September / October with low season rates running roughly from mid-April until early December. This is the best time of the year to get maximum value for your money.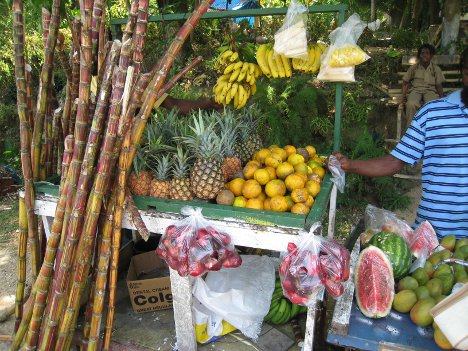 [Colorful roadside fruit stands are well worth a stop.]
I wish you a great trip and for all you coffee lovers out there, try the island's Blue Mountain Coffee, it won't disappoint!
Susanne Richards is a Montreal-based university student who spends as much of downtime travelling as possible. While she loves discovering new beaches in Hawaii or the Caribbean, this active traveler is happiest when she is trying a new sport or activity. Susanne occasionally writes for Luxury Retreats, about villas in Jamaica and her latest travel adventures.