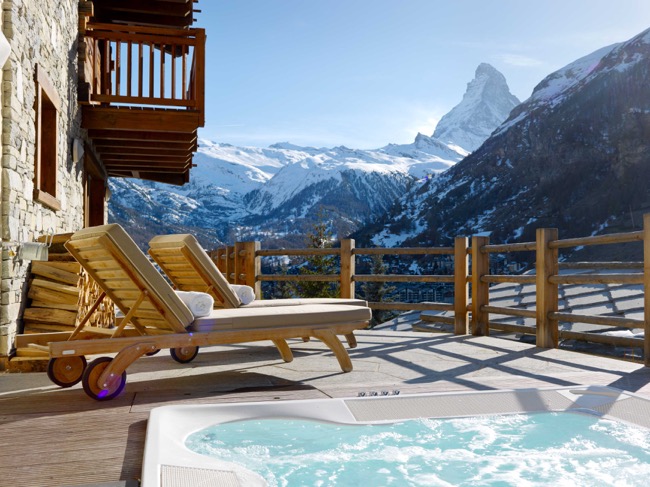 Ski Vacations with family, friends or work colleagues can be the perfect time to get to know one another, enjoy some thrill seeking runs together and unwind over a bottle of champagne at the end of the day. Most people tend to seek 'the best deals' and 'cheapest properties' they can find, but at the end of the day, skiing is expensive, and it's far better to fork out the extra cash.
With the average family ski holiday costing £7,000, we'd highly recommend saving for an extra year and extending your budgets to £15,000+ in order to fully enjoy the up market properties on the resort.
If you are looking for a luxury ski chalet to rent, check out Tempston Luxury before anyone else. The have some luxury chalets that are 'out of this world' in all of the major European locations. Let's take a look at what there is to offer:
Chalet Marie (Zermatt)
Marie is accessed via a private funicular railway through the mountain, and located in the exclusive Petit Village area of Zermatt. The chalet sleeps 12 guests in 6 large en-suite bedrooms spread over multiple floors. 5 of the 6 bedrooms all feature private balcony / terrace overlooking the Matterhorn and surrounding mountain terrain. The master suite is spread over the entire top floor, featuring an open fire, a double height pitched ceiling and floor to ceiling windows. Featuring a sauna, dedicated shower & WC, massage room and outdoor terrace with loungers and Jacuzzi.
Paul Avoir (Verbier)
Tucked away in the secluded Plan-Praz area of Verbier, 350m2 Chalet Pierre Avoi is a stunning mountain retreat. The interior has been beautifully designed, with modern art works adorning the natural mineral walls and elegant furniture throughout. The chalet's heart is its double height living area, complete with stone fireplace and floor to ceiling windows, which open up to a huge south and south-west facing decked terrace.
Brizzle (Klosters)
The chalet offers cosy sitting rooms, bedrooms with wonderful linen, and three fire-places (one of which can be found in the master bedroom). It also features beautiful balconies and a terrace overlooking the stunning vista of the resort.