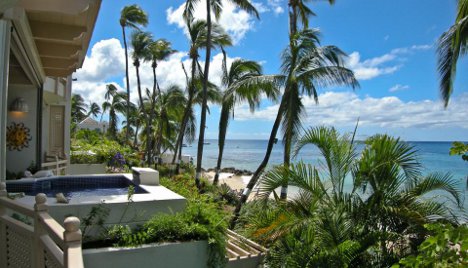 [Reeds House #10 in Barbados]
Nothing spells out luxury like a trip to Barbados in the Caribbean. One of the most well known vacation hot spots in the area, Barbados offers travelers a lot more options than they could get on the more remote islands. Coupled with the fine dining and breathtaking tropical scenery is a wild nightlife that will give you something to do on every night of the week. Spend the days laying out on the beach under the cheerful tropical sun and then meet new people in any one of the dozens of bars and nightclubs after the sun goes down. There's something for everybody on Barbados and the best way to enjoy the island is with a private luxury villa rental.
Barbados villas sit in the lap of luxury, providing their guests with everything from private swimming pools to full concierge services. In the local tradition, everything about these rental homes is laid back, relaxing, and carefree. Feel free to participate in any type of water sport you can imagine, from scuba diving and snorkeling to high octane thrills like jet skis and paragliding. The coastline is relatively calm across most of the beaches, but has pockets of swells that could challenge any surfing enthusiast. There's really an activity for every person to enjoy on Barbados, and the first class villa rentals add the extra touch you need to turn your vacation into an unforgettable experience.
With villa rentals, you get more options than with a hotel room; choose any size you want based on your needs. If you're going solo or with a partner, go for one of the 1 or 2 bedroom villas for a cozy experience that won't break the bank. For larger groups, you have the option of villas that go up to 10 full size bedrooms, so everybody will get their own space without feeling cramped. Cleaning is done by a competent maid service several days a week and you can feel free to either cook your own meals in the fully equipped kitchen or head out for some of the exotic flavors of the local restaurants.
No matter what your preferences are, luxury villa rentals take everything up a notch. This is the kind of vacation you deserve, and you shouldn't have to settle for anything less. Check out a rental villa and really enjoy your visit to the Caribbean the way you are meant to.