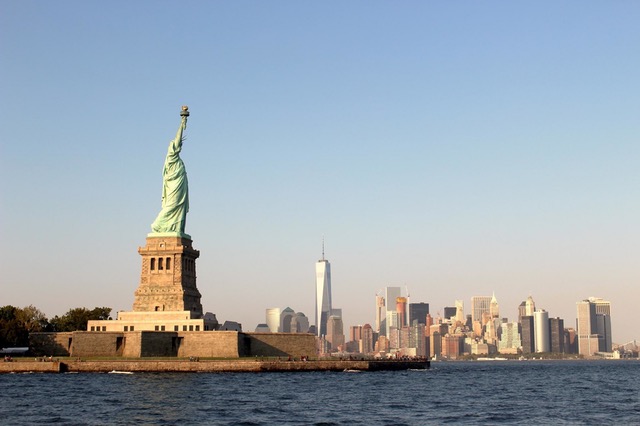 Planning your first visit to New York? I'm so envious if you are; I visited a few years back and I've been dying to return ever since. Personally, I think there's something really special about your first trip – the image of the huge skyscrapers looming out of the distance as our taxi approached Manhattan is something I know I'll never forget.
Now, as we all know, New York is packed with iconic attractions and, if it's your first time here, there are some places you absolutely must visit – even if you think they sound like tourist traps! I'd save heading off the beaten track until your next trip (or simply later on in this one, if you'll be here for a good few weeks), since there are some places you really can't go home without visiting – and you can check out what they are below. It also helps to do a bit of planning before you go, especially when buying tickets for attractions. Sites like CouponGrind.com often have deals for travel coupons which will help save money on your trip.
The Empire State Building
One of the most famous structures in the New York skyline, the Empire State Building is an absolute must-visit – and not just for the building itself. Personally, I think the view you get across the Big Apple is an equally important reason for coming here.
You'll find this iconic landmark where Fifth Avenue and West 34th Street intersect. At 102 storeys high, it's endlessly impressive, and there are two observatories you can visit. The one on the 86th floor has both indoor and outdoor sections, while you can check out the view from an indoor gallery on the 102nd floor.
Times Square
You'll likely recognise the vast digital billboards of Times Square from films and TV programmes – but I reckon you'll still be pretty taken aback by the sight of it in person. It's bigger, brighter, louder and busier than just about anywhere else I've been – definitely one not to miss!
During my visit to New York, I stayed in a hotel just off Times Square – something I'd really recommend doing.
The Statue of Liberty
Of course, no list of New York's ultimate attractions is going to be complete without mentioning the Statue of Liberty, is it? You can get ferries from downtown Manhattan over to Liberty Island to see the statue – and these tickets will also get you a ferry ride and entry to Ellis Island Immigration Museum.
Formerly the first port of call for immigrants moving to the Big Apple, Ellis Island is almost as big a gem as the statue itself, so don't be tempted to skip your trip here. A fascinating slice of New York history, this museum tells the story of immigration to the city.
Central Park
Next on my list is Central Park, the city's famous green oasis. It covers a truly whopping 843 acres bang in the middle of the Big Apple and is, deservedly, known as one of the greatest parks in the whole world.
I loved coming here. It's a great place for a picnic or quiet read (despite the fact it's hugely popular with tourists and locals alike, it's so massive that you can still find secluded spots), but it's also got loads going on. For instance, there are rinks for roller skating in summer and ice skating in winter, as well as carousels and even a zoo!
Brooklyn Bridge
Back when this was completed in 1883, it was the world's longest suspension bridge. Today, it's still one of the city's major icons, as well as a really important site in historical terms, since it was the first bridge to connect Manhattan and Brooklyn.
So, get yourself over to Park Row and Centre Street – the entrance to the bridge on the Manhattan side – and take a walk across it. You can stroll along the whole thing (a 5,989 ft walk), which I think is a great experience to have. There's plenty of pedestrianised space, so you don't feel too close to the traffic, and you get some outstanding views.