One of the country's most picturesque natural areas, the Oregon Coast attracts visitors from all over the world with its year-round beauty that's carpeted by dense forests, criss-crossed by rivers, and marked by rocky headlands. This scenic stretch offers nature lovers the opportunity to hike, boat, fish, whale-watch, and relax.
1. Cannon Beach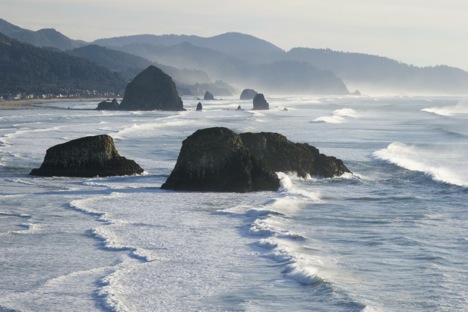 Characterized by flat, sandy beaches and elegant monolithic sea stacks rising out of the water, Cannon Beach stands as an Oregon landmark. The beach is home to Haystack Rock, the largest of the sea stacks at a height of 72 m (235 ft). The sea stacks provide an ideal habitat for several intertidal animals, including starfish, sea anemone, crabs, and sea slugs, and they serve as nesting sites for several sea birds such as puffins. At low tide, you can walk right up to the rocks. Past the sand you'll find Ecola State Park, with lush forests, stunning ocean views, hiking trails, and picnic spots. Here you might stumble across surfers, an abandoned lighthouse, deer, or even whales.
2. Columbia River Maritime Museum
Renowned for the quality of its exhibits and the scope of its collections, the Columbia River Maritime Museum preserves over 30,000 objects, 20,000 photographs, and a 10,000-volume research library all donated in an effort to preserve maritime history. But what you might remember most from your visit here is the view. Floor-to-ceiling windows allow the Columbia River to serve as a stunning, scenic backdrop to the exhibits. The museum's impressive collection includes models, paintings, maps, figureheads, gear, wardrobe, weapons, navigation instruments, and full-size watercrafts. Among the watercrafts are USS Knapp, a World War II era destroyer, and 13 m (44 ft) U.S. Coast Guard motor lifeboat. You can try your hand at piloting in a tugboat simulator, participate in a Coast Guard rescue, or pretend to live in Astoria at the height of salmon fishing. Docked outside the museum is the Lightship Columbia, a 39 m (128 ft) vessel that you can include in your Oregon tour.
3. Cape Perpetua Scenic Area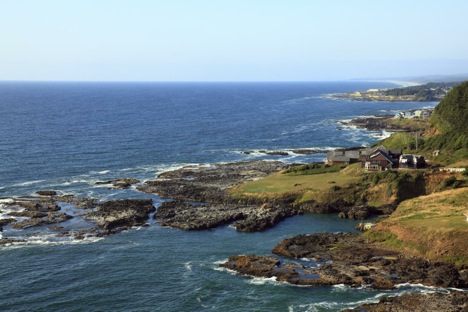 Densely forested and standing 244 m (800 ft) above sea level at its highest point, Cape Perpetua Scenic Area sits as a high bluff overlooking the Pacific Ocean that's abundant in tide pools, water sprouts, and jagged cliffs. Amid the 1,093 hectares (2,700 acres) of spruce trees, Douglas firs, and western hemlock, you'll find over 41 km (26 mi) of hiking trails. View the wave action of Devil's Churn, a long crack in coastal rock that fills with each incoming and outgoing wave. And don't miss Thor's Well, a salt water fountain powered by the tide. (Be aware, though, that both sites can be dangerous at high tide.) The area is known for being an excellent vantage point for spotting migrating gray whales, scoping out a nearly 600-year old Sitka spruce tree, and taking in panoramic mountain views.
4. Astoria Column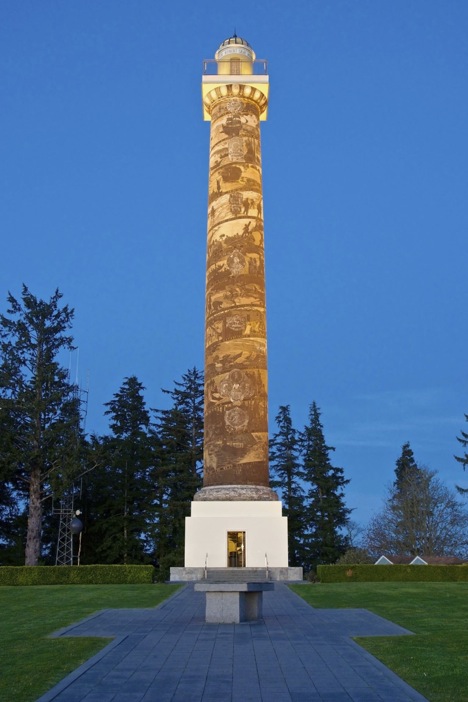 Standing 38 m (125 ft) tall on Coxcomb Hill, Astoria Column stands dedicated to the history of Oregon's development. The tower features a spiral staircase leading to an observation deck, which offers panoramic views of the Oregon Coast Range, Young's Bay, the Columbia River, and the Pacific Ocean. Built in 1926, the tower's exterior is decorated with spiral sgrafitto frieze–a technique of wall decor involving colored layers of plaster, ceramic, and scratching. The mural depicts 14 significant historical events, including Captain Gray's discovery of the Columbia River and the Lewis and Clark Expedition. So if you are a history buff, include these locations in your Oregon trip.
5. Yaquina Head Outstanding Natural Area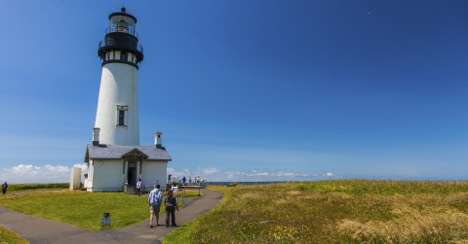 Inhale the salty air and listen to the sound of the waves of the Pacific Ocean crashing against the rocky headland at Yaquina Head Outstanding Natural Area. The grassy area has five trails to be hiked that either hug the ocean's coast or wind among Douglas fir or Sitka spruce forests. On the beach, you'll find tide pools and harbor seals. At 33 m (108 ft) above sea level, the area is a prime spot for whale-watching and bird-watching. Use our itinerary planner to tour the Yaquina Head Light, the picturesque lighthouse built in 1868 and the tallest lighthouse along the Oregon coast.
People's Coast
Affectionately referred to as the "People's Coast" for being public in its entirety, the Oregon coast has been protected from development since the governor enacted legislation in 1913. Over one hundred years later the beauty of the shoreline–its rocky headlands, lush forests, stunning sea stacks, and ocean views–remain untouched and yours for the exploring.
Based in Toronto, Canada, Julia Nugent has traveled extensively throughout Europe and North America.