Cycle enthusiasts, families and those just keen to get away from it all will thoroughly enjoy a peaceful bike ride through the beautiful surroundings of the French countryside. Cycle alongside the River Loire through the valley and take in the breath-taking scenery filled with endless vineyards, historic towns, villages, and châteaux. There are plenty of fantastic cycling routes to pick from each offering their own unique and picturesque first-hand experience of France.

Some of the more popular routes along the Loire Valley have been enjoyed for many years now by those of all ages looking to take a gentle ride through the idyllic countryside. There are many routes of different lengths that offer so much to see and so many places to stop off and visit along the way. A shorter route means you can take it easy and better enjoy the surroundings one sunny afternoon, whilst those looking to get plenty of exercise will benefit more from the longer 45km cycle routes available. There is the Loire bike route as well as the impressive trans-regional bike route, the Loire à vélo, that crosses through a number of areas.
There is plenty of accommodation throughout the valley so if you do decide to take a break and you need a well-earned rest and to get your head down for the evening before you head back out again then you won't be short of options. To ensure you know exactly where you're headed it would be a good idea to pick up a guide and familiarise yourself with the various hostels, B&B's and tables d'hôtes, which are B&B that includes an evening meal. Of course if you'd like more of a rural experience you can also pick from the many campsites along the way such as the Parc de Fierbois and pitch up your tent.
Loire Valley is an essential wine region and the area which stretches from the Auvergne hills all the way to the coastal area near Nantes is filled with must-see vineyards especially for wine lovers and fanatics. Cycling through wine country and visiting each of the regions is a great way for those looking to learn more about wine making and wine tasting. Sampling the diverse range of flavours under the beaming sun surrounded by the beautiful landscapes is an experience like none other. You can even improve your French wine knowledge with BelleFrance's Loire Valley wine map, and other useful wine-based guides, that will help see you along the path through the valley.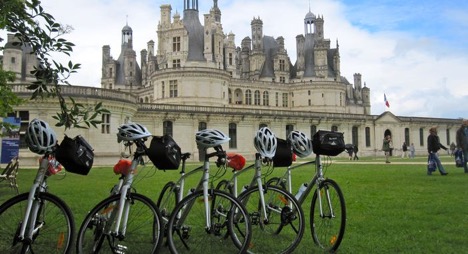 Whatever trip you decide to take it's sure to be filled with unforgettable scenic views and many incredible locations to soak up. The freedom of a cycling holiday allows you, your partner and your family to explore the French countryside. You can have a picnic river side then cycle to a local wine museum or charming château. The best part is that if you plan your route beforehand you can ensure that every moment of your trip gets the very best out of your cycling experience.