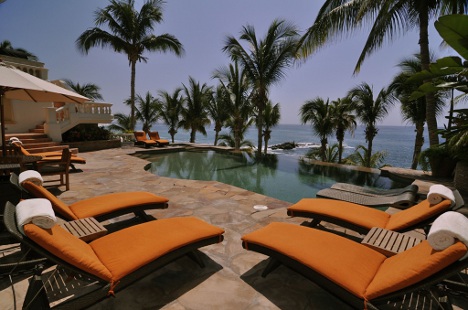 [Casa Mariposa in beautiful Cabo San Lucas]
Renting a villa gives you a lot more options and freedom than you would get from renting a hotel room, and for a pristine party destination, nothing beats Cabo San Lucas villas. There's a unique appeal to renting a vacation home instead of sticking with the same old hotel arrangement. Villas are fully furnished homes available in exotic locations like the Caribbean, Mexico, Italy, Spain, and France. They give you the privacy of your own place with all the luxury and attention you would expect from a classy hotel.
Full Service Accommodations – Luxury at its Finest
In most cases, luxury beachfront rentals are very similar to hotels – many come complete with maid and concierge services during your stay, as well as transportation to local restaurants and sightseeing destinations. That's about where the similarities end though; depending on your location and price range, your villa may come with a private swimming pool, Jacuzzi, full entertainment system (for the rainy days), and anything else you could dream of to make your vacation as fun and exciting as you'd like. These hilltop penthouses are the perfect places to party with friends with the backdrop of a moonlit Mexican evening.
Expect the Most from Your Cabo San Lucas Villa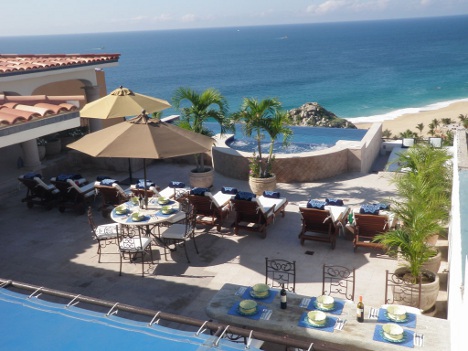 [Casa Theodore, Cabo San Lucas]
The travelers who typically rent villas tend to be the types of people who enjoy living by their own rules. Where else can you wake up in the morning and cook your own breakfast barefoot, and then eat it on a balcony overlooking the sand and the surf with palm trees swaying in the gentle breeze? You have plenty of choices in Cabo San Lucas, allowing you to choose a vacation home that suits your particular needs. For travelers in a small group, one of the 2 or 3 bedroom villas can provide the perfect amount of coziness and sophistication. For larger parties, villas are available with up to 9 fully furnished bedrooms with accompanying bathrooms.
Cabo San Lucas is an ideal vacation spot for anybody with the urge to get out and experience the wonder of the world. Nestled right in the meeting place of the Pacific and the Sea of Cortez, this area is renowned for its sailing and deep sea fishing, not to mention the incredible night life and local cuisine. A luxury villa is the best way to get the full experience this beautiful location has to offer.