The scenic town of Queenstown is located on the South Island of New Zealand and is without a doubt one of the most exquisite localities offering attractions all through the year. Sitting on the edge of Lake Wakatipu, this town is surrounded by the Southern Alps creating a setting right out of a fairytale. Among the famous attractions here is the Remarkables, a saw-toothed range of mountains that is located right opposite the lake from the town. A popular activity among tourists here is to find a lakeside bench at dusk and soak in the most beautiful views New Zealand has to offer.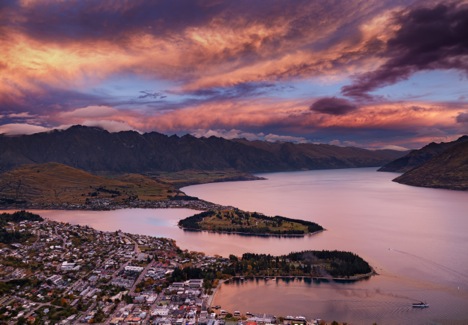 Exploring the Picturesque Landscapes of Queenstown
The gorgeous mountain scenery and the Lake Wakatipu end up dominating the views from almost every part of Queenstown. The most famous attractions here also choose to leverage this view to enhance visitor experiences. Even if one chooses to do absolutely nothing while here, there is still enough reason for travellers to spend at least a couple of days here.
·Bird's Eye View
One of the best views of the town can be experienced from the top of Bob's Peak. One can get here with the help of the Skyline Gondola and sigh in awe of the breathtaking views of The Remarables Mountain Range, the Coronet Peak and the Walter Peaks.
·Scenic Drives
With the help of a car rental service from companies such as Hertz, consider making the convenient and comfortable drive to Glenorchy located 50 minutes north of the lake. Considered as one of the most scenic driving experiences in the world, one will not be disappointed.
Another drive worth considering is the 20 minute journey from Queenstown to the wine area in Gibbston Valley. This drive takes visitors through the ancient Kawarau Gorge.
Choosing to Drive in and around Queenstown
New Zealand is renowned for the magnificent experiences it promises to self driven vacationers. By renting a vehicle with a reliable car hire company like Hertz it is possible to receive additional facilities such as the availability of navigation equipment. This helps visitors get around Queenstown and the nearby regions with ease and convenience. Getting around the area like a local allows one to make the most of their trip and explore the region at their own pace. Stop for photo opportunities or simply to soak in the beautiful scenes that pass you by without having to worry about any tight schedules.