Southern Africa is one of the most beautiful parts of the world. With landscapes so diverse you will be surprised that you're still on the same continent, never mind still in the south of the continent. Southern Africa is home to some of the world's most beautiful locations made up of cities and countries that are beyond magical. You'll find places rich in wildlife, seaside cities and towns that are energetic, eclectic and creative, you'll find desert terrain, forests and grasslands that go on for miles, mountainous areas, areas that are desolate, the list goes on. Unusual terrain is not 'unusual' in southern Africa, and after just a few minutes of driving you're likely to find yourself in a completely different world – at least you'll think so!
Since there is so much to see and do in this part of the world, it may be helpful to get some recommendations on the places you need to visit while travelling through southern Africa. These are the most visited, most talked about and most photographed locations on the continent, and when you pay a visit, you'll see why!
Bloemfontein, Free State Province
Bloemfontein is one of the best cities in southern Africa is you are looking to escape the crowds and enjoy your trip surrounded by peace and beauty. This small town has great restaurants, museums and galleries, and the people are known to be some of the friendliest in southern Africa. There is also great accommodation in Bloemfontein, which will add even more comfort to your trip.
Franschhoek, Western Cape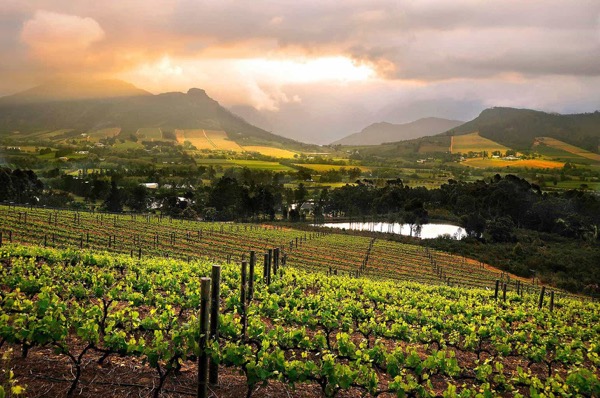 Source: Wine Tram
Franschhoek is a pure slice of paradise situated just outside of the beautiful city of Cape Town. It's the perfect place to take a day trip and enjoy the splendor that Franschhoek offers in abundance; and in just under 40 mins from Cape Town CBD, you'll be there. You will think you're in a small French town when you visit Franschhoek as the place has an incredible French influence due to its history. The French founded the Franschhoek valley in the 18th century and one is still to this day able to identify the influence they had, particularly in the architecture. Here, you will find some Africa's most highly rated restaurants, some of which are run by world renowned chefs. Franschhoek doesn't just cater to the foodie though, it is also the ideal place for those who enjoy their wine, as Franschhoek is one of the greatest wine valleys on the continent, producing a large percentage of South Africa's wines.
Hermanus, Western Cape
Hermanus is one of the most magical parts of southern Africa and you really shouldn't miss it for the world. In fact, we recommend you spend at least a few nights there! Hermanus is quite a drive from Cape Town – at least 2.5 hours, however, it is so worth the visit. If you visit over certain months of the year you will be blessed with the sightings of the whales which flock to the bays surrounding Hermanus, to give birth to their young. This usually occurs over the months of June to December every year.
Sossusvlei, Namibia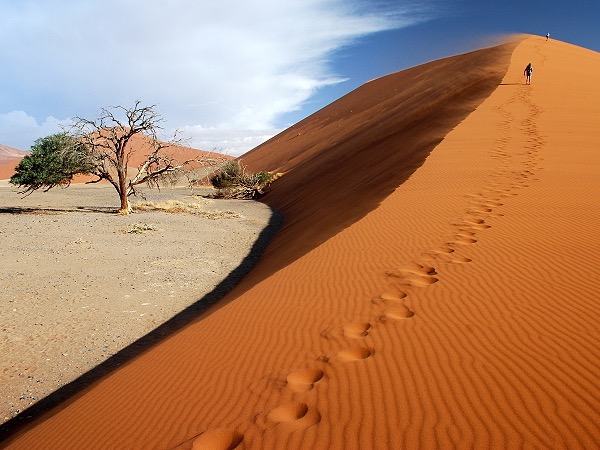 Sossusvlei is yet another extraordinary location in southern Africa, which is sure to take your breath away, and perhaps even make you feel a little disorientated. To think there is a vast desert just a two-hour flight from the main cities of South Africa, and just a few hours' drive from the main cities of Namibia is rather surprising, but incredible too. We highly recommend you climb Dune 45 which is located next to Deadvlei – one of the most photographed places on the continent. At the summit of Dune 45 you'll get a spectacular view of the Sossusvlei desert which lights up during sunrise and sunset, when the sunshine hits the dark red sand and makes it glow a deep orange. It certainly is a sight to behold!
Okavango Delta, Botswana
You cannot visit Africa without experiencing the abundance of wildlife that the continent is so 'famous' for. While there are many different places you can go to, to enjoy an African safari, by far the most authentic experience you'll get is in Botswana. Most of the land in Botswana has been preserved for the wildlife and has been virtually left untouched by man. You'll be able to see and experience the exact terrain that these wild animals have lived in for centuries. The Okavango Delta is definitely the best place to visit in Botswana as it's known to be the most densely populated with wildlife who stay close to this great water source. You can take a game drive through the surrounding grasslands, or you could travel through the delta on Makoro or canoe.