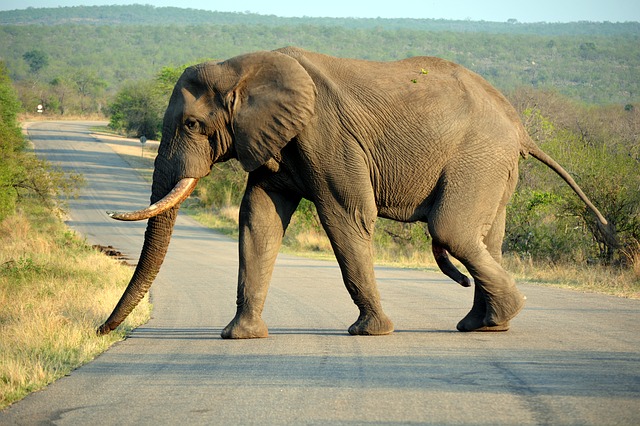 Each year approximately 950 000 people visit the Kruger National Park, and it's easy to see why. The park spans 19485 km2 and is home to 150 species of mammals including the Big 5 (lion, elephant, leopard, buffalo and rhino.) All the animals have the privilege to roam freely in their natural habitat. As such, there are certain rules and regulations that need to be followed when driving through the park. Here's what you need to know.
Five important rules you need to follow when you're in the park
1. Don't get out of your vehicle under any circumstances
This may seem like a no-brainer, but many people get out of their vehicle and/or hang out of the window to get a better view of the animals. This can be very dangerous, especially if you're close to a predator or massive animals such as a lion or elephant. It's in your best interest to keep doors locked at all times.
2. Obey the speed limit
The park has a strict speed limit of 50 km/h on the tar roads and 40 km/h on the gravel roads. Please remember that animals roam freely in the park, and if you speed, you may hit an animal or disturb them which can provoke an attack. Why would you want to rush anyway? Take your time and revel in the natural beauty of the park.
3. Don't feed the animals
Staring into the large dark eyes of an impala is hypnotic, and you may feel the impulse to feed it – don't. They may look tame, but there's no way of knowing how they will react. You're actually endangering the animal because their instincts of grazing for food could be compromised by their expectation of receiving food from visitors.
4. Obey the no-entry signs
There are certain roads in the park that the public may not access. This is for your safety, not an attempt to spoil your fun. Reasons for the restriction could be that they are only suitable for game drive vehicles, or they may have large potholes that could damage your car. The bottom-line is don't take the chance, stay off these roads.
5. Always be back at your accommodation at the designated time
Whether you're staying at the rest camps or at a luxury lodge located on a private concession such as Pondoro Game Lodge, it's vital that you adhere to the return times. Driving around the park during the night is incredibly dangerous; there are no lights whatsoever, and you can easily get lost, hit an animal or burst a tyre.
Known as one of the premier game lodges in South Africa, Pondoro provides you with award-winning accommodation, excellent cuisine and private game drives. It's just as exciting and unique as the park itself. If a luxury safari is what you're looking for, Pondoro is the answer.