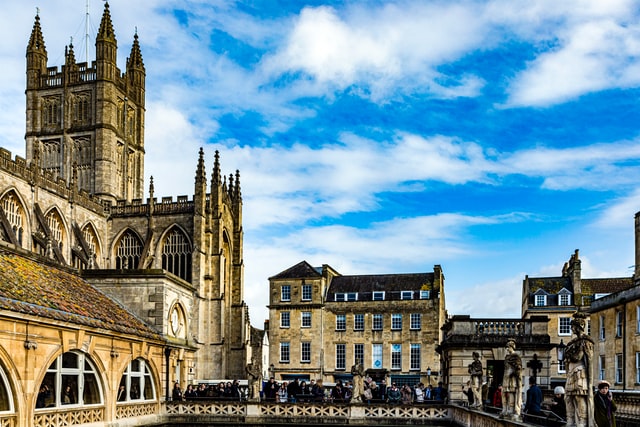 Quick disclaimer: The UK Government has advised all citizens to stay indoors to combat the spread of Covid-19, please adhere to guidelines before making any travel plans.
Bath is one of the most popular tourist destinations in the UK and there is good reason for it. The only UK city designated as a UNESCO World Heritage Site and one that has rest and relaxation running deep through its roots; the very origin of its name is thanks to the Roman Baths that were built there around 60AD. So it's really the perfect destination for urban exploration along with the opportunity to enjoy some downtime in a centre of leisure.
So, what to do with a weekend or long weekend in Bath? There is of course more than one weekend's worth of sites and sounds to experience but I'll be focussing on a handful of my personal favourites. But before I get into my recommendations, I'll quickly cover one particular route of getting to Bath by bike and that is a path that takes you all the way there from Bristol. This is the Bristol and Bath Railway Path that connects the two cities on a now disused train line. Of course not everyone is arriving from Bristol but should the opportunity arise, the journey is a very enjoyable and scenic one that only takes around an hour and is suitable for all the family.
Roman Baths
This inevitably tops the list as the main attraction and namesake of the city; a beautifully preserved and well-run historical site with natural water filling the various baths. The baths are supplied all year round by a subterranean hot spring that sends piping hot water that began as rainfall in the nearby mendips up through cracks and fissures in the limestone bedrock. Unfortunately the natural water is not safe to bathe in (there are other spas in Bath that treat the water so that it is safe) but don't let that detract from a highly informative and insightful visit to a spa that was once a centre of day-to-day life for many Roman settlers around 2000 years ago.
This is a faithfully preserved site of great historical significance with a large number of Roman artefacts scattered throughout the baths and museum to discover throughout the visit. As you make your way through the various bathing areas, they are given a breath of life as costumed characters are carrying out scenes that you would likely have found all those years ago; a nice touch to help imagine what would've been commonplace.
Depending on what time you visit the Roman Baths, you might be able to enjoy a delicious meal at the Pump Room restaurant. A Grade I listed building with a wonderfully ornate and stately interior that serves great food as well as a classic British high tea. Be sure to book in advance as the Roman Baths are such a popular tourist destination.
Bath Abbey
A wonderful convenience of visiting Bath is that everything is within walking distance. So after exploring the baths you can take a quick stroll quite literally across the road to the 7th century parish church. Like the baths this is another site of historical importance that has seen plenty of transformation to arrive at where it is today: a wonderful example of Gothic architecture with a lot of its distinguishing features faithfully maintained in their original condition. The interior is no less impressive than the striking exterior as it houses a beautiful example of fan vaulting on the ceiling. And, if you book a tour, it's possible to see a majestic panoramic over Bath from the top of the tower!
Royal Crescent
This is an iconic architectural landmark of Bath's; a long stretched crescent of terraced houses designed by John Wood the younger that look over lush public parkland. The sprawling green lawns make for a great picnic opportunity, weather-permitting of course, that offer a lovely view of the crescent and over the river Avon that intersects Bath. It's a great spot for a panoramic photo opportunity as this is quite a unique structure on such a scale.
Pulteney Bridge
Another unique feature of Bath is Pulteney Bridge, a 45 metre-long structure with an unusually-shaped horseshoe weir adjacent; built to prevent flooding and regulate water levels. In this case, the man-made steps create the sense of a large-scale water feature sunk into the river; quite the visual treat. The bridge is also quite special in its own right as one of only 4 bridges in the world that is lined with shops on both sides, making it an ideal road to stroll down while browsing some of the fantastic selection of independent shops. A great angle to see the bridge from is by taking a guided boat tour along the river Avon, this is the perfect way to enjoy a sunny day and to experience Bath from a different perspective.
Holburne Museum
This is another example of a wonderfully preserved Grade I listed building as is quite typical with much of the historic architecture of Bath. However there is an elegant modern twist in the form of a recent extension. Initially the plans for the redevelopment were met with scepticism as it was quite the contrast when compared to the original museum building but since reopening, Bathonians have warmed to the 3-storey block constructed with glass and ceramic fins. The museum houses the permanent collection of Sir William Holburne which features a wide variety of paintings, ceramics and sculptures as well as a space for temporary collections.
Prior Park Landscape Garden
After enjoying some urban exploration, try visiting Prior Park which is just a half hour walk to the south of Bath's city centre. A fabulous 18th century landscape garden designed by the famous British poet Alexander Pope, Prior Park features a wonderful example of palladian architecture bridge, a grotto, 3 pools and a lake to enjoy as you stroll through the 28-acre site. Like the Royal Crescent, this is another great spot to enjoy a picnic that overlooks a beautiful view.
Bath Skyline Walk
If you decided to go east from Bath city centre, you will eventually end up at the Skyline Walk which, as you might've guessed, is a superb walking trail that is a full circle of Bath. The route is about 3.5 hours long but considering that you get a full overview of the city, is well worth it and easy to leave or join wherever you like. The full route has many treats scattered throughout including Sham Castle Down, Bathwick Wood and Smallcombe Wood to name just a few.
Bath is the perfect size to really enjoy a weekend escape; plenty to see and do within the city and surrounding green spaces if you want it or, alternatively, just treat yourself to some proper R&R. Enjoy the full range of pampering opportunities available that have been there for as long as its beginnings as a spa town in Roman times.
Author bio:
Jess Cleave works for Oak Tree Parks who have over 50 years experience in running quality residential retirement parks and owner occupied holiday parks in the South West of England.