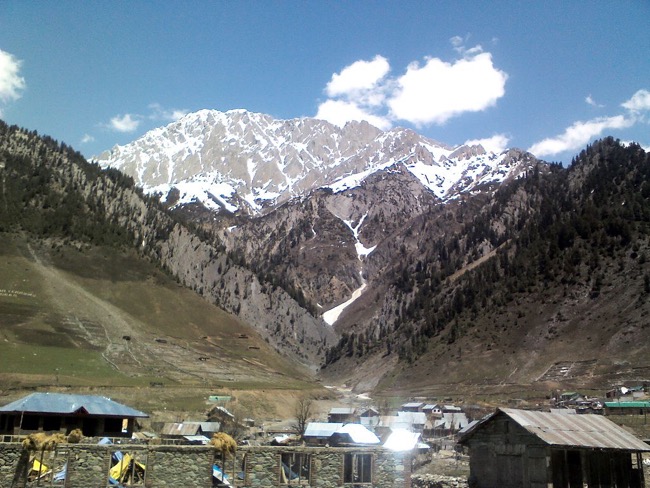 [Mehraj Mir [CC BY-SA 3.0], via Wikimedia Commons.]
Sonmarg an excellent location situated in Ganderbal district of Indian state Jammu and Kashmir. Sonmarg being an hill station, it is one of the best places to pick in the list of honeymoon and romantic packages in India. When its name absolutely translated into English then it will be 'Meadow of Gold'. It gives scenic view to the people who visit, because it is located in a valley on the banks of Nallah Sindh. So, young couple visiting this place gets an opportunity to enjoy loving honeymoons.
What are the tourist attractions of Sonmarg that are included in cheap honeymoon and romantic packages in India?
Sonmarg being one of the popular places, to visit in Jammu and Kashmir, it entertains the tourists to visit and enjoy the honeymoon tour packages in India. It has got several places to visit in honeymoon along with religious and adventurous places too. So, lets have a look at some of the popular places of Sonmarg.
Gangabal Lake
Gangabal lake is one of the must visit places as it offers romantic atmosphere, so don't miss to add this place in best honeymoon and romantic packages in India. This is a huge water body with amazing scenic beauty surrounding its serenity. This lake is located just at the foothills of Harmukh Mountain, which adds more beauty to this lake. This lake is filled up with the water from the surrounding glaciers whenever they melt, along with water from the rains as well as springs. So, don't miss the opportunity of viewing Gangabal lake on your visit to Sonmarg and flood yourself in this lovely atmosphere surrounded by water an nature.
Baltal Valley
Baltal valley is yet another wonderful place to visit at Sonmarg, without fail. This is one of the beautiful valleys that will allow the tourists of this place to relax themselves in the laps of nature, especially those who visit in their honeymoon. Baltal valley is located along the banks of the sindh river, which is near to the Sonmarg. To state exactly this valley will lie at the foot hills of Zoji La, which is one of the beautiful high mountain pass that is located in the Himalayas of the Kashmir state. This valley as gained so much of popularity because it is one of the popular camping ground located in the Kashmir.
Satsaran Pass
Satsaran pass is well known as a Satsaran Gali Pass and is one of the wonderful places to adventure in the nature. This is a high mountainous route, and is surrounded entirely by mountains while passing through this way. It will be very beautiful to view this high range of mountains from the hill station of Sonamarg. Satsaran pass is one of the wonderful places for the trekkers to visit, because it is a popular trekking base among many famous treks in this place. If you love to trek then, never miss to visit this place.
Yusmarg
Yusmarg is one of the amazing places to host a picnic with families and is at a shorter distance from the Sonamarg. Tourists can enjoy their picnic in this place by viewing the perfect picture of the mountain range that is surrounded. Also another most importance of this place is that it is the point of meeting for the mountain river and the Indus. The people of this place generally known as Baltics will be taking their bath in this confluence at special occasions and on some important days.
Thajiwas Glacier
Thajiwas glacier is another natural scenic beauty and also a popular tourist attraction of the Sonmarg. This place offers picturesque views to its tourists, making their visit an unforgettable memory. It is so famous because this glacier forms an most important as well as integral part of the trekking circuit located in Sonamarg. One of the most attractive features of Thajiwas Glacier, is that this place is covered up with snow all around the year, making it beautiful to view. It is also one of the nature adventure places of Sonamarg.
Krishnasar Lake
Krishnasar lake is another prominent place of Sonamarg, that is situated at an high-altitude. One of the most interesting features of this place is that it is completely an alpine water body with an altitude of 3,801 meters, making it awesome to view. Most of the tourists who visit this place, generally say that it is one of the breath taking landscape. Krishnasar lake as achieved this name only due to the occupation of snow-laden mountains along with alpine forests all around the lake. This lake offers one of the romantic atmospheres surrounded lovely green nature all around and young couples visiting sonamarg will do visit this place without missing in their tour.
The above mentioned are some of the must visit places in Sonamarg, apart from that there are many other places to visit. The most important religious place located in Sonamarg is Kheer Bhawani temple, Baltal, while Walnut orchards offer a great experience to look them.
Is shopping possible in Sonamarg?
Sonamarg, is also one of the best shopping places, that offers street markets, with various handicrafts of Kashmir, clothing, accessories and many more to buy. If you are visiting on a India honeymoon and romantic packages, then try buying some kashmiri accessories to your partner.
What are the food options available in Sonamarg?
Tourists visiting sonamarg, need not worry about the food, because this place offers an excellent food to taste. There are many popular restaurants in this place, that offers Kashmiri cuisine, Chinese cuisines along with Multi-cuisines that will satisfy your tummies. They also offer an excellent mouth watering palate at affordable prices only with popular dishes of Kashmir in the menu.
The above reasons make Sonamarg a place to visit on a Honeymoon, especially if you would prefer to travel in-country and enjoy them in the Mother Nature surrounded by lakes as well as mountain ranges. So, make it a point to visit this place located in the Kashmir.