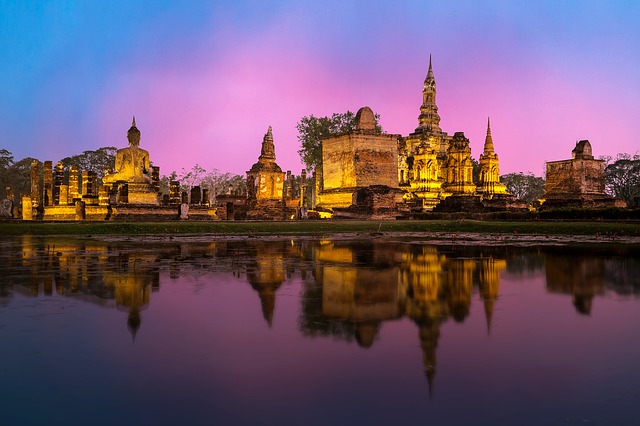 The Land of Smiles. A country where hopes, dreams and fantasy come alive. A place that's willing to embrace all types of people; a gem that's always prepared to wow all types of travelers.
Tourists who are leaning towards a laid-back holiday may find peace and serenity, while touching the powdery, milk-colored sands of Koh Lanta. Thrill-seekers aiming to hit an adventurous jaunt could brace themselves for a bold, rip-roaring experience as they skydive in Pattaya. Solo travelers who want to satiate their craving for an exotic holiday may find trekking in Chiang Mai, as they are embraced by the lavish foliages and splendorous sceneries, ultimately energizing. Families who love to create their most cherished memories in a plethora of ways may find the visits to the iconic temples, museums, zoos, and fun waterparks, as well as shopping in Bangkok, truly exciting. Couples who are romanticizing the idea of a bespoke destination wedding will surely cannot resist the magic and spell brought about the magnificence of the glorious panoramas in Koh Samui. Indeed, all of the beautiful encounters and magical escapes converge in Thailand.
Thailand has become a tourism staple. Thanks to the myriad of gorgeous destinations and fantastic offerings found in this paradise. And when it comes to dental tourism, Thailand is incredibly making a name for itself. Discover why Thailand is regarded as being one of the hottest countries to have a dental holiday.
1. Cheaper
Dental tourism in Thailand has become a more affordable option. The quality of the dental services and procedures availed in this country may equate to the western dental standards, which you can enjoy for a fraction of the cost. This means that you can benefit from a first class dental holiday in Thailand with the use of state-of-the-art facilities—sans the huge costs. Some dental clinics such as Thantakit, also offer payment schemes where you can pay weekly or according to the flexible payment terms.
2. Convenience
Get to have a stress-free dental holiday in Thailand! Apart from the 5-star service offered to you, you may also take advantage of the free hotel transfers for all your dental appointments. Dental procedures, like dental implants and cosmetic work, may also come with a warranty so you can always have a peace of mind, making your trip and vacation even more relaxing.
3. Quality
Look forward to high-quality dental treatments in Thailand that are at par with the international dental standards. For instance, the longest established dental clinic in Thailand, Thantakit Dental Center, has competent and knowledgeable dentists who are internationally trained and are backed with a strong educational background. Apart from their qualifications and extensive experience, expect the Thai warmth and care felt in every dental procedure.
4. Worry-free
The thought of journeying in a beautiful country and the anticipation that comes in trying out new activities while you are on a dental holiday may lessen your worries for a painful dental procedure. If you are not an absolute fan of dental visits, thinking that you will be immersed in the brilliant landscapes, scrumptious foods, warm people and rich culture on a dental holiday will surely remove your doubts and fears.
5. Fully-Maximised Trip
The world-renowned Thailand attractions may just be a stone's throw away from your hotel, so you are able to explore the vivid life in Bangkok, at your own pace, while on a dental holiday. Reveling in the magnificent sceneries, gorgeous beaches, lush rainforests and remarkable structures in Thailand is both invigorating and educational. You are certainly able to achieve the benefits of traveling while on a dental holiday— and that's making the most of your time, money and effort.
It's pretty clear that a dental holiday is not only meant to improve our dental health and well-being, but the travels, explorations and interactions that are involved in it are set to keep us inspired and happy; making our lives truly worthwhile.