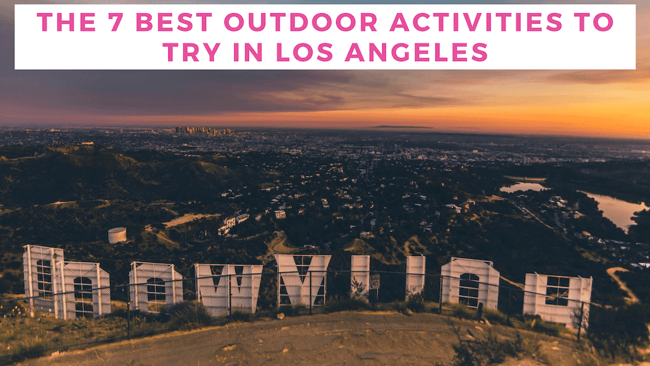 When you think of Los Angeles, images of movie stars and expensive hotels probably come to mind. If you've never been to this city, it's easy to think it's all about the glitz and glamour.
But there's a lot more to LA than Universal Studios. There are literally tons of things to do here, especially outdoor activities.
Below, we'll discuss the best outdoor activities to try in Los Angeles. So whether you're moving here or are just visiting on vacation, you'll have a blast. After trying these seven activities, you'll be itching to do more.
1. Abbot Kinney Food Trucks
Abbot Kinney Boulevard is a well-known street in LA. It's popular with visitors and locals alike.
People especially love heading to Abbot Kinney on the first Friday of each month.
Why?
Well, that's when the food trucks gather on this street!
That's right! Every month, you can walk around and enjoy some of the city's finest mobile cuisine.
There are all sorts of trucks offering every type of food imaginable. Whether you're looking for a grilled cheese sandwich or lobster roll, you'll be able to find it here. And, you better believe the food is tasty!
The surrounding shops also stay open late on First Fridays. So once you finish eating, you can check out some of the stores.
2. Dodger Stadium
It's time to root, root, root for the home team when you hang out at Dodger Stadium.
Located at Elysian Park, it's hard to believe the stadium has been open for 57 years!
If you're visiting the city and want a true LA experience, you must catch a Dodgers game. And if you're local who hasn't been to one yet, what are you waiting for?
There's a list of upcoming games on the Dodgers website, so pick one out and have a great time.
While enjoying the game, don't forget to order a famous Dodger Dog! It's one of LA's most iconic foods, which means you can't pass it up.
3. Runyon Canyon Park
Runyon Canyon Park is a 160-acre park located in Hollywood in the Santa Monica Mountains. It happens to be one of the most well-known hiking areas in all of California.
There is a never-ending amount of hiking trails to explore. Their length ranges from half a mile to a little over three miles.
If you're looking for incredible views of LA, Runyon Canyon is the place to go. After getting in a good workout, you can take a break near the top and check out the views. They're breathtaking!
4. Outdoor Movies
If you want to see a movie, don't limit yourself to indoor theaters. In LA, there are plenty of places to watch movies outside!
During the summer, there are many limited-run screenings in parks and at rooftop bars. Oh, and did we mention that you can also see a movie at the Hollywood Forever Cemetery (if you're brave enough)? That's the kind of experience you'll only get in LA!
If you do go to a movie outdoors, bring some blankets and food. And plan ahead of time, because you'll probably need to buy tickets before the showing.
5. Griffith Observatory
Have you heard of the Griffith Observatory? It's is a popular public landmark in Los Angeles. You can't miss it as it sits on the south-facing slope of Mount Hollywood.
Of course, no one can ignore the beautiful artwork that's there. But its grounds and terraces are something to see, too. There are also incredible views of the Los Angeles Basin, Downtown LA, and Hollywood.
Admission is always free, and you can stop by anytime before 10 PM. But if you want a truly unique experience, head up to the Griffith during a solar or lunar eclipse. You'll never see such beautiful views of the night sky!
There's also a public stargazing party that happens one night a month (usually Saturday). Astronomy enthusiasts come from all over to look at the sky together from this amazing vantage point.
If you can't make it to the party, don't worry. There are telescopes permanently installed in the Observatory that are free to use whenever you'd like.
6. Hollywood Sign
It's hard to drive through Los Angeles without seeing the Hollywood sign. But you can also get a closer look if you want.
There are several different trails you can take to get to the Hollywood Sign.
If you want to go on a long hike, you can take the 9-mile trek from Canyon Drive. But if you'd prefer a shorter route, take Hollyridge Trail. The latter is a 3.5-mile round trip, which is great if you're not much of a hiker.
Seeing this iconic sight from a distance is fun, but seeing it up close is something you shouldn't miss!
7. Surfing
No California adventure is complete without seeing and experiencing the ocean. Even if you're from a coastal city, the Pacific Ocean is something to behold!
And while you're there, why not give surfing a shot? From Manhattan to Malibu, there are tons of beaches where you can catch a wave!
Many of the well-known beaches offer surfing lessons. So if you're a newbie, you might want to take a lesson or two. After all, safety is vital because ocean waves can have a mind of their own!
In Conclusion
Get ready to go on some grand outdoor adventures in Los Angeles. There are tons of activities to discover!
Whether you like to watch movies, hike, or gaze at the stars, you can do it all in LA.
And when you think you've covered everything, more adventures are waiting around the corner.
Now go out and explore. It's time to try some of these fun activities for yourself. The City of Angels is waiting for you!
Author Bio:
Michelle McManus is the Business Manager at Columbia Square Living. With over six years of experience in the Los Angeles market, she comes highly-qualified and educated. Michelle lives for elevating living experiences and makes this building a home to brag about.