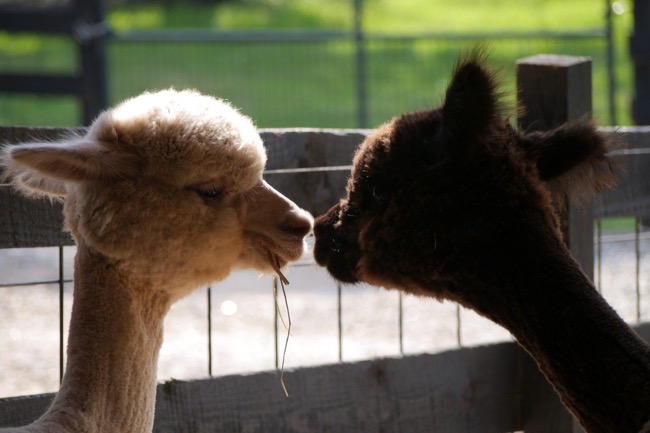 Looking for a weekend experience you will never forget? You should book a tour at a local alpaca farm. Not only will you enjoy getting to spend time with these magical creatures, but you will learn way more than you could imagine, and there is no question that you will have the best selfies to post on social media – making all your friends jealous.
The Alpaca Lifestyle
Experiencing the alpaca lifestyle is an adventure that captures all the senses. From the beautiful outdoor scenery with other-worldly animals, to the softer than cashmere feel of touching their fleece, it will be an experience like none other. The vision of young alpacas pronking like reindeer across a field, is enough to make anyone giggle. Forget the spa when you need to relax, just the sound of their gentle communication in the form of humming noises will help you forget the cares of the world and wonder how you ever lived without alpacas in your life.
Learning About the Alpaca Lifestyle
Your alpaca farm tour should be as educational as it is entertaining. Alpacas are very interesting animals with many unique traits. There is a lot more to alpacas than just a fleece softer than cashmere. They originated in North America thousands of years ago, and before dying off, they migrated across the Bering Strait and down to the Middle East where they adapted into camels. They also migrated south to the Andes mountains where they live today as the fur-bearing animals we all love and know.
Learning about the alpaca lifestyle includes not just information about the animals, but what the alpaca farmers do with them. The primary purpose of the alpaca is to harvest their fleece and make luxurious products out of it. There are many creative techniques used by alpaca farmers to convert their fiber into usable products. Some farms will focus on felted products while others focus on woven or knitted ones. This is an area where alpaca farming can be compared to an art form, and each farm will teach something new.
Eco Friendly
One of the most interesting aspects to alpaca farming is the eco friendly nature of not only the ranches, but the products made from their animals. Alpacas are recognized as the most eco friendly livestock to raise. They produce a renewable resource with minimal impact on the surrounding environment throughout the process, from raising the animals through producing the end products. Learning more about this aspect of alpaca farming is something everyone can appreciate.
How Long Should the Tour Last
Most alpaca farm tours will last 1-2 hours. Some of that time is spent talking about alpacas or explaining the alpaca lifestyle. Some time will also be spent with the alpacas. Bring lots of questions and make sure to come up with many more while you are on the tour. Most tours end at a farm store where you can see the products made from alpaca fiber and hopefully have a chance to purchase directly from the farm.
How to Prepare and What to Wear
First of all, when you go to visit an alpaca farm make sure that you wear comfortable clothes. There's no need to get dressed up. You will definitely want to hold the young alpacas, if possible, and you might want to feed them. Comfortable shoes are also a must! You might be walking through a pasture and there is no telling what type of terrain you will experience.
Most importantly, don't forget to bring your smartphone or camera. Make sure to ask early on before taking pictures, but once given approval, document everything you see with photos.
Could be Life Changing
Alpaca farming is a lifestyle like many others and it can be a fascinating day trip to visit a farm and experience it for yourself. Think of it like the ultimate outdoor getaway. You get to hike around a farm for a couple hours with your own tour guide, while hanging out with the most amazing animals on the planet. You will learn about how alpaca farmers grow and harvest the fiber that is made into our clothing, and even have the option to purchase direct from the farm. Who knows, maybe at the end of your tour, you will decide to join the alpaca lifestyle yourself.
For more information and to find an alpaca farm near you, visit the Alpaca Owners Association.