Are you planning on heading to Dubai for a holiday? Then you'll no doubt want to know of the top attractions. Here you can discover some of the best sights Dubai has to offer to ensure that you don't miss out on any truly amazing experiences whilst holidaying in this stunningly beautiful city.
Burj Khalifa
Renowned for being the world's tallest tower, the Burj Khalifa is a must-see. Why? Well, asides from it being an extraordinary building to capture a snapshot of, it offers a high-speed journey in one of the world's fastest lifts to the observation desk.
From At The Top, the highest viewing platform in the world, you can admire breathtaking views of Dubai. The educational journey begins in the lower ground level of The Dubai Mall and takes you all the way up to level 124.
Want to know more? Well, be sure to purchase tickets and learn all about the marvel that is the Burj Khalifa.

[By Nicolas Lannuzel]
Palm Jumeriah
The Palm Jumeirah is one of Dubai's most iconic landmarks, and is instantly recognisable from an aerial view thanks to its fanned palm shape from which it gained its name. Upon visiting Palm Jumeriah, the world's largest man-made island, you won't want to leave. Why? It has everything you need for an enjoyable holiday.
Whether you just want to unwind in a spa, dine out in style or immerse yourself in an exciting world of leisure and entertainment, Palm Jumeriah has got it all.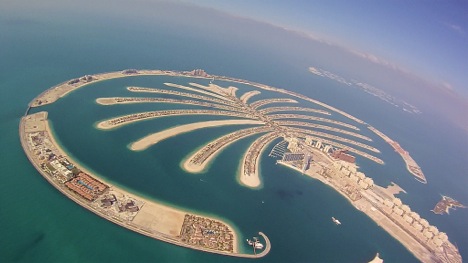 [By Richard Schneider]
The Dubai Fountain
This ingeniously designed fountain is a work of art. Lit up by several thousand lights and various colour projectors, the Dubai fountain is a visually stunning spectacle that should not be missed.
Like clockwork, the Dubai Fountain performs every twenty minutes, spurting water over a hundred metres in to the air in time with a wide range of music, from classical sensations to dance numbers.
If you want to know why the Dubai Fountain is a talking point for tourists; then be sure to visit this attraction yourself.

[By Rob Young]
Dubai Mall
If you're a shopaholic, the Dubai Mall is your idea of paradise. Here you'll find designer brands that are available tax-free, more than 50 shopping malls, plus the traditional souks of the Deira and Bur Dubai districts. It also hosts the Dubai Shopping Festival, an annual event that provides the ultimate shopping experience.
And the Dubai Mall isn't only home to shops, restaurants and coffee shops; it's in a league all on its own. The mall is part of the Burj Khalifa which is a major focus point in it itself – being able to visit a remarkable shopping mall whilst also admiring one of the world's tallest buildings!

[By ~Pyb]
So, now you know of the most amazing tourist attractions to add to your itinerary, but do you have your accommodation booked? If you're looking for holiday apartments to rent in Dubai then look no further than My Dubai Stay. You'll find luxurious apartments and villas in some of the most desirable locations in the city that are certain to provide you with an enjoyable stay.