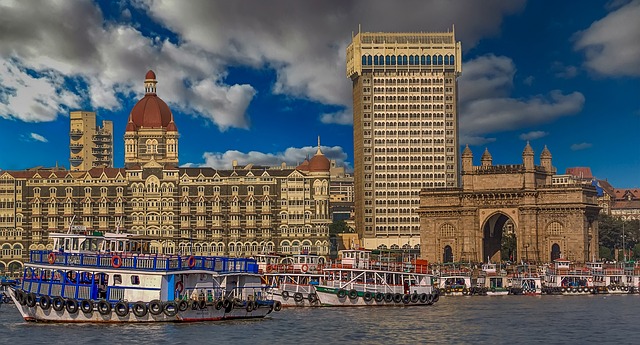 Mumbai is often referred to as "The City of Dreams" due to the unending opportunities it offers to all those who are willing to walk the extra mile and put in the effort. People from all over the country flock to the city to shape their future and there are many success stories that inspire people to give it a shot in Mumbai. The city is a mesmerising melting pot of various cultures and religions, while it leads the way in commerce, entertainment and enterprise. Thousands of starry-eyed aspirants come into the city, hoping to make it big in the largest film industry in the world, Bollywood.
Mumbai- A Jewel in India's crown
Mumbai (formerly known as Bombay) has a rich historical background and links, with amazing Gothic structures spread all over. With the Arabian Sea as its immediate neighbour, it has many beaches the city is proud of. It boasts of the fascinating Queen's Necklace in the form of Marine Drive, a much-frequented place by tourists and locals, especially during monsoons. To explore the "City that never sleeps", one can hire a self-drive Mumbai airport taxi from the magnificent Chhatrapati Shivaji Maharaj Airport, since this will allow one to set one's own pace.
Taking in the sights of Juhu Beach as the sun sets or experiencing the grandeur of the towering Gateway of India, is possible only if one rents a self-drive car. This modern city has many new-age self-drive specialists like Zoomcar which have a massive range of hatchbacks, sedans and SUVs in their stable. One simply has to book a vehicle of their choice before they land in Mumbai and pick it up from the airport itself, and drive off to various destinations. With a full fuel tank and a robust GPS, one doesn't have to spend time at petrol pumps or asking locals for directions.
Feel like sampling Mumbai's staple diet "Vada Pav" at the street-side vendor? Park the vehicle in a safe zone and experience the steaming hot vada with spicy chutney and pav, a food item which is also India's answer to the 'Burger. If one loves driving and getting behind the wheel of a power-guzzling SUV is an unfulfilled dream, then hiring a self-drive Mumbai airport cab is the answer to it.
Address travel woes with a luxurious self-drive car
If one is in the city for business purposes, having a vehicle at hand makes a lot of sense, since the auto-rickshaw and "kaali-peeli" taxi drivers tend to have their own preferred destinations to drive to. One may want to attend a meeting at the iconic Nariman Point or the Bandra-Kurla Complex (BKC) in the suburbs, but hiring transport especially during peak hours could delay the meeting. A self-drive vehicle could end these woes and also keeps one in control of the day's schedule.
Professional agencies like Zoomcar provide a 24 x 7 on-road assistance in case of a rare breakdown along with damage insurance for added peace of mind. Mumbai city is waiting to be explored and with a self-drive car at one's disposal, there is so much one can do as compared to a hired vehicle with a driver.