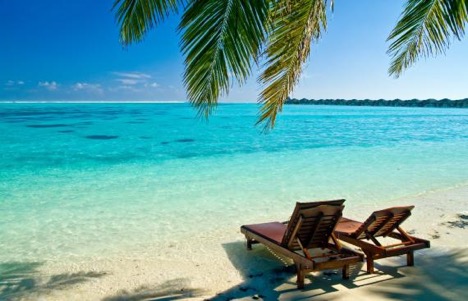 [HAPPINESS IS SAND BETWEEN TOES!]
The heavy traffic and daily ruckus of the commercialized cities seems a dull hum to the ears, but what's so tranquilizing about the other side? Out here, the other side describes an all new destination to hang around, to chill, party and suck up the opportunity to spend a relaxed vacation with friends, family and your adored bottle of beer which you would never give up on. The experience of chilled breeze forcing cheeks to turn red and the nose to blossom pink, vanishing all issues related to work and an admiration on never retrieving them back is one which we crave for – Beaches.
Diverting minds, focusing on the Western and Eastern Ghats which resides alongside India is the major hub for the sands to freeze an atmosphere of paradise. Don't we all crave the view to the vast expanse of blue before our eyes! Wouldn't making the most of the OYO rooms beach villa offers be a smart decision? Here are a few famous beaches which could relate to the vacation you are hunting for;
Baga beach, Goa
Visually connecting Calangute, Baga beach is one of the finest and the most crowded beaches of Goa. Annually, thousands of tourists visit this one, not just for the cool beer served there with an expression of cheap tips, but also because of the water sports dancing out of the midst of waves which the beach produces. Apart from this, mere commercialized merchandise such as tattoos, braids, photo frames and plastic for kid's distribution takes stands.
Radhanagar beach, Andaman and Nicobar Islands
Radhanagar beach isn't a huge one describing miles and miles, but just has a stretch of 2 kms which is an ordinary requirement for the general taste. But please let us inform you that, Radhanagar beach is also one of the quietest and most serene when it drives towards that of blissful smiles of Mother Nature, displaying an atmosphere of solace.
Varkala beach, Kerala
Known for its high ended cliffs that could thrill the breath away from you, Varkala beach is one of the early ones which made a huge difference between this and the others, the edgy dynamic hills over the years. Apart from this, massive greenery is sparkled from the beauty of Varkala.
Lighthouse beach, Kerala
As watched in movies, almost any shooting displaying a lighthouse over a beach is that of 'The lighthouse beach's' lighthouse featuring massive jumbo lights. Apart from signaling the lost on water to guide them, the beach provides with a variety of services such as cottage stays, swimming pools and lot more.
Mandrem beache, Goa
Famous for its stone carves, Mandrem beach is a beautiful spot for some warm tourists to settle for a few hours as it has a few number of cottages to stay as well. Apart from the specialty of stone carvings, the beach has numerous waves hitting the shore so it could be a good weather for surfing.
Rishikonda beach, Andhra Pradesh
An aspiring beach which is only 8 kms from Vizag, featuring a bunch of literally everything that an enthusiastic traveler would seek during his vacation at a beach. Serene beauty, titanic cliffs, water sports, skiing, sky diving, accommodations and a lot more.
Tarkali beach, Malvan
Its located near a hint of Arabian sea and has a record of maintaining better clear waters from other beaches. Generally, waters adjacent to beaches get spoilt easily, but at Tarkali, waters as clean and pure where you could watch the 20ft downfall of depth during sunny weathers. Hence, a wonderful opportunity to swim.
Varca beach, Goa
Having a stretch shared with Benaulim, Varca has its wings showering around one of the cleanest beaches in Goa. The beach is a one for calm, composure and a total isolation from the loud city behavior.
Mandarmani beach, Kolkata
Hardly 16kms from the city of Kolkata, the beach is that of a sleep fishing area as the name resides. Also, it has the capacity to store large amounts of stretch, seeming it to be the one of the longest walk aways when Indian beaches are concerned. Apart from this, Mandarmani beach has been thoroughly unpolluted and is clean for tourists to visit by.
Puri beach, Odhisa
You sure might be missing on some culture related stuff alongside the beaches, right? For the same, Ive come up with a suggestion of Puri beach in Odhisa, which reminds of the same culture and heritage which was practiced squeezing aside long hours of time. The beach, apart from the heritage, features a flavor of crisp golden sunset with gold platted waters to look upon and is a complete treat to the eyes.
The sunsets, sandy toes and bliss! Doesn't life seem peachy at the beach?