Whether it's going to a casino and gambling that you want, or recreating the spirit of Fear and Loathing in Las Vegas by Hunter S. Thompson, everyone has heard of Las Vegas at some point in their life. Anyone who has never been to visit has thought about it at least once. Although famous for their slot machines and card games, Las Vegas has much more to offer than most newcomers realize.
Bellagio Fountains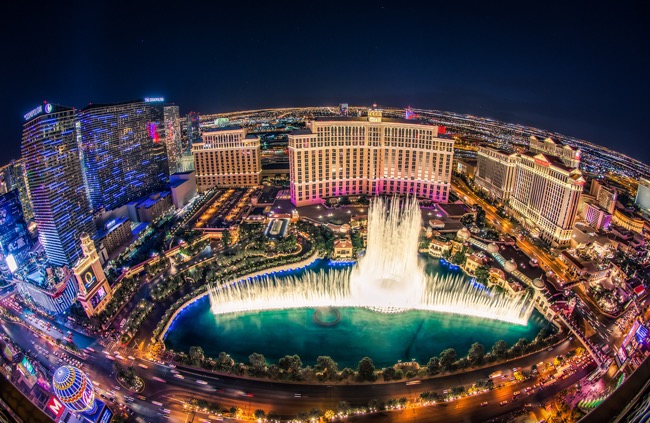 Rated as the most popular point of interest on TripAdvisor.com, it is something that everyone can enjoy. Said to be the city's most exquisite vacation resort, and also one of the few top 5-star rated hotel. This colossal hotel offers a large assortment of attractions. Some of those attractions include an Art Gallery, Botanical Gardens, Spa and Salon, all in harmonious combination with some of the first-class dining requirements in Las Vegas. There is a showroom area that contains changing themes that range from all different varieties of artwork. The most impressive and famous feature is, of course, the fountain show, which rests directly in front of the Bellagio along the strip. Also in front are the dancing fountains that showcases a beautiful performance of water specifically queued to music. It's also popular for taking professional wedding photos. Did I mention it's free? Yes. Free.
The Mirage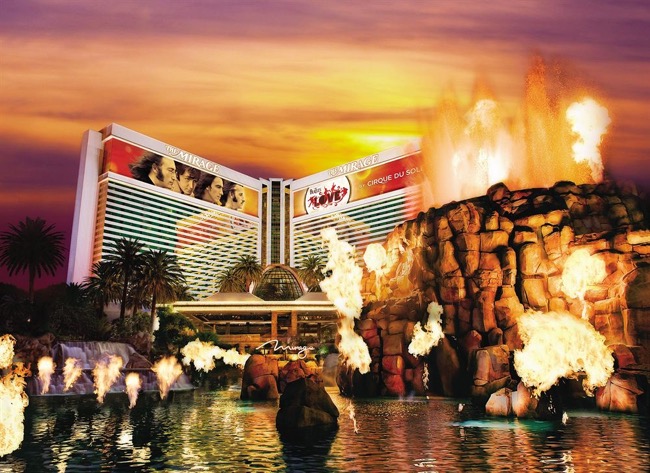 The Mirage Hotel is quite possibly the easiest hotel to pinpoint while walking along the Strip. It's famously popular for it's exquisite selection of slots for those enjoying an adult vacation. In the front of the vacation resort is the infamous volcano, which erupts regularly and when at night, the glowing red fire shooting out is considered to be one of the most unique sites visible from the sidewalk. Once inside the hotel, visitors can officially see a huge variety of exotic and wild animals in their natural environment, including white lions. Don't forget to visit the Secret Garden and Dolphin Habitat, too. The Dolphin Habitat has a large amount of trained dolphins, which requires multiple whopping 2.5 million gallon pools!
The Strip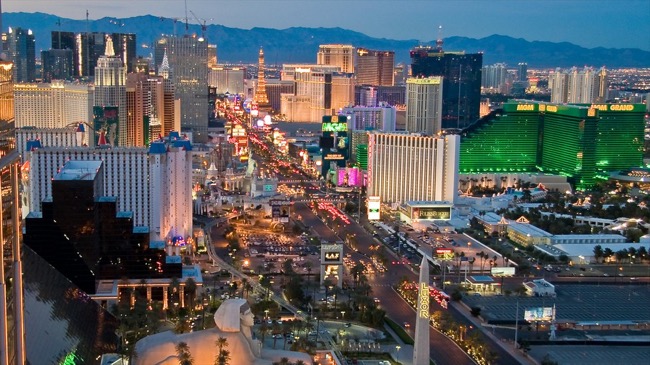 This 2.5 mile long stretch on Las Vegas Boulevard is described by many to be the biggest attraction for tourists and visitors. It runs through the entire city. The Strip is covered from one end to the other in entertainment palaces, all of which contain performance venues, luxurious hotel rooms, fine dining, and much more. The city remains illuminated at night with lights and glittering neon signs. It never seems to end and is very impressive when experienced at night, which is something most visitors enjoy doing. Although it runs from the Mandalay Bay Hotel and onto the Treasure Island Hotel, you won't run out of free street entertainment.
Fremont Street (The Strip)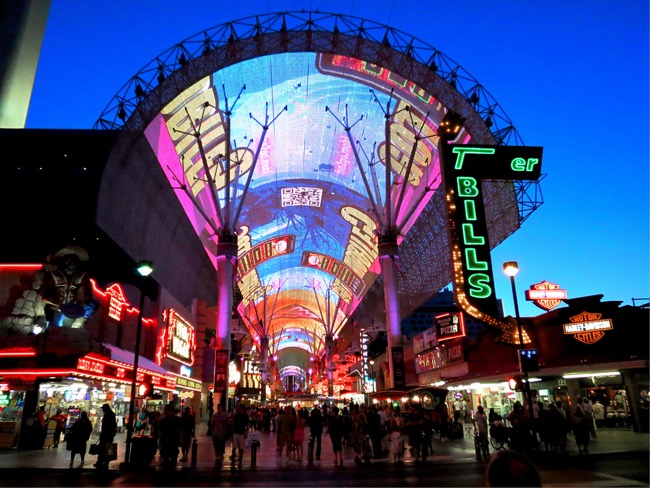 Located off The Strip in the old downtown Las Vegas lies the pedestrian only area called Fremont Street. A section of four blocks on Fremont Street has been covered over with a canopy of LED lights. The LED lights vibrate the entire nighttime sky with diverse colors as you explore the city below. With a different music show and visual arts show every night, this is known as the Fremont Street Experience. Street performers and many acts of entertainment usually tend to perform in this area outside. It is best take a taxi to Fremont Street, as it is always busy, especially at night.
Stratosphere Tower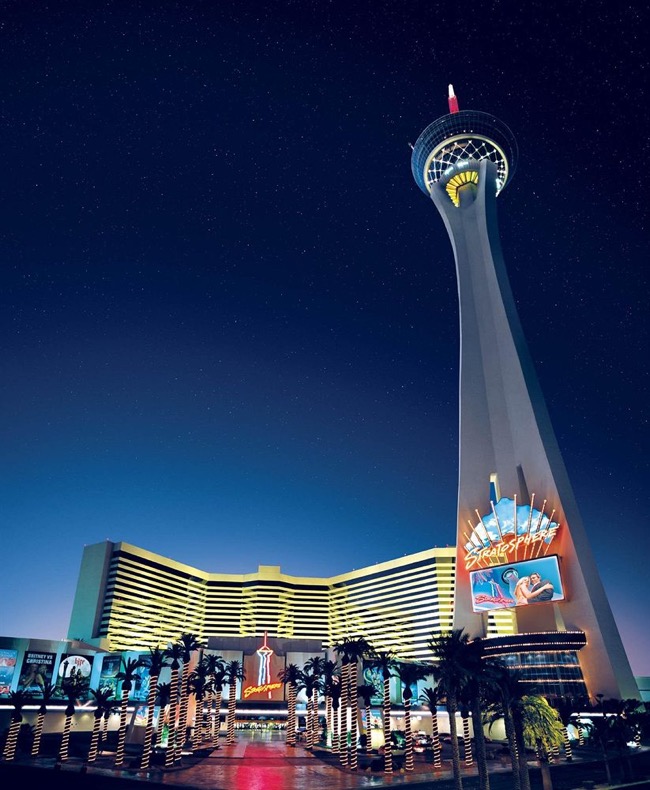 Rising up 1,149 feet, the Stratosphere Tower is an absolute unmistakable sight tourists absolutely adore. On the roof of the tower contain numerous heart pounding thrill rides, including Insanity, Sky Jump, X Scream, and Big Shot. If you aren't really feeling the ride vibe, there's much more subtle entertainment. There is an indoor and outdoor observation deck with incredible views over the entire city. The Stratosphere Tower declared for themselves, the title of the "tallest freestanding observation tower in the USA."
There you have the top five attractions in Las Vegas that have the most popularity for tourists. If you want to check out more vacation spots, sights, or things to do that peak your interest, you can always look it up on LasVegasTourism.com. Gambling and going to a casino isn't for everybody. Pick the right vacation for you.