Standing between the Mediterranean coastline and the Sierra Blanca mountains, Marbella is one of the most popular destinations on the Costa del Sol. The city has become famous for being a playground of the rich and famous, as the many boats & yachts in the marina will attest. Malaga has a classic Mediterranean climate, with over 300 days of sunshine per year (Costa de Sol is Spanish for the Sun Coast afterall).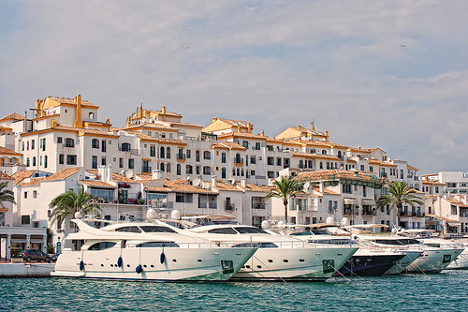 [Puerto Banús, Marbella – (by marcp_dmoz)]
An obvious starting point for exploring Marbella is the The Old Town & Orange Square. Wander around the narrow streets of the old quarter to get a feel for the Andalucian/Moorish history. At Puerto Banús you can go shopping while admiring the impressive boats that are docked in the harbour.
Marbella is an ideal family destination, with attractions like the nearby Fuengirola Zoo, Torremolinos Aqualand and the fun Funny Beach. Then there is beach walking and walks in the nearby mountains.
Do not forget that Marbella have the trendiest beach clubs. So much so that it is often difficult to decide where to go. All of them have one mission – that is to make sure you get to experience the classiest, funkiest places to eat, drink and chill out.
Being centrally located on the Costa del Sol, you are not just limited to Marbella. One of the most popular destinations nearby Marbella is Playa de Calahonda (Calahonda Beach). For Horse lovers the Costa del Sol Equestrian Art School offers a wide range of horse-related attractions.
Getting to Marbella is easy enough, especially from the UK and Europe. Marbella is 50km from Malaga, which has the fourth busiest airport in Spain. Most of the low cost airlines and charter airline companies are represented here. You can also arrive via Gibraltar airport, which offers flights from the UK.