Croatia has become a popular vacation destination, with a great combination of beaches and charming cities.
The most commonly visited places are Dubrovnik or Zagreb, but the city of Split is normally left to those who want to move away from the main tourist orientated areas and discover what Croatia is all about. If you're wondering what there is to do, or looking for reasons to visit Split, then read on.
Lying on the coast of the Adriatic Sea in the Dalmatian region of Croatia, Split has embraced the history and architecture of the Roman Empire who controlled the area, with many of the monuments built by the Romans still standing today; most notably Diocletian's Palace – the remains of which still stand proud in the center of Split.
Things to see in Split
Going on holiday and staying in your hotel room is pointless, so get out and about and discover Split, starting with the main attraction of the city, Diocletian's Palace.
Built in around 305 AD by Diocletian for him to retire in, but became uninhabited for hundreds of years, until locals used the Palace as a place to hide from barbarians who invaded the area.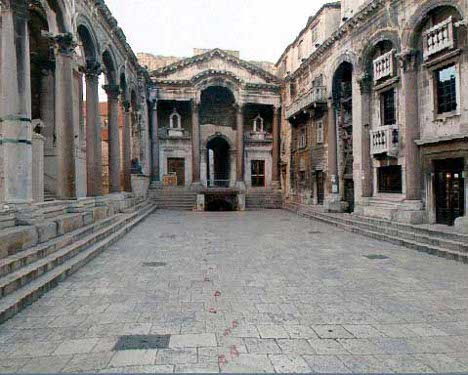 [Diocletian's Palace]
Today, the palace is a UNESCO world heritage site and is visited by locals and tourists alike, all keen to grab a photo of one of the four gates (Porta Argenta, Porta Ferrea, Porta Aurea and Porta Aenea;) that have remained intact since they were first built, while there are shops and market stalls in and around the grounds of the palace.
Museums
Split is also home to many museums dedicated to various different subjects, such as science, modern art, weapons and jewellery. Split Science museum also has a small zoo, so if you're after somewhere to take your kids for a few hours; look no further.
If marine life is one of your favorite subjects, then the Croatian Maritime museum should be on your to do list. The museum has exhibits based around the military history of Croatia, including pieces from their maritime force (Navy), such as weapons and uniforms from military staff.
The largest and most popular museum in Split is the Archaeological Museum, which houses over 150,000 exhibits including pieces from the prehistoric era, artefacts from the Roman Empire, and more modern day collections.
Festivals
Split has festivals and events all year round, including film festivals, boat shows, dance and musical performances and an annual food fair. The main celebrations are in spring and summer, in time to catch the hot weather. Below is a guide of what's on between March and September in Split:
March: Gast Fair – the country's largest food event. Gast Fair is a 2 day event where people from all over the region gather to show off their local food and drink. It is also used by those in the catering and hospitality industries as a networking event.
April: The Croatia Boat show – hosted at the City harbour, the boat show is a chance to see the magnificent yachts owned by the rich residents of Split, while there are also racing boat displays and presentations from those who helped build the boats that are proudly paraded throughout the event. The show closes with a large fireworks display in front of Diocletian's Palace.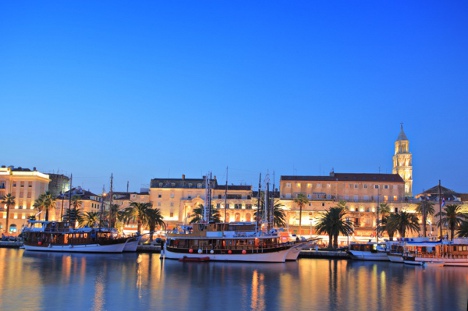 [Split Harbour]
May: St Domnius Day – on May 7th, the Patron Saint of Split is celebrated, after over a week of festivities which begin on April 28th. There are open air concerts, exhibitions, dance performances and sporting events taking place in the days before St Domnius Day, which is then crowned off with a procession through the middle of Split. The party comes to a close in the evening with a stunning fireworks display over the harbour.
June has two events; the Mediterranean Film Festival and the Picigin World Championships. The film festival lasts for a week, starting on June 11th, showcasing films produced by local students and those who wish to try their hand at directing from around the region.
The Picigin World Championships take place on Bačvice beach, where competitors aim to keep a small ball in the air for as long as possible, and are scored on how theatrically they can do so – more dives or dramatic lunges to stop the ball hitting the water will score extra points.
July: The Split Summer Festival is a month long event featuring performances from musicians, opera singers, ballet and modern dancers, and puppet shows to entertain children. There are market stalls selling food and drink, along with memorabilia marking the festival.
August: The Days of Diocletian Festival is one of the biggest events in Split, when the former Emperor Diocletian is celebrated in a 10 day festival. The town is decorated to resemble the times of the Roman Empire, while actors roam the streets in togas, tunics and Roman combat attire as carriages transport Diocletian and his men through the streets of Split. There are shows and performances daily, with jazz bands, musicians, dancers and even Roman gladiator battles taking place.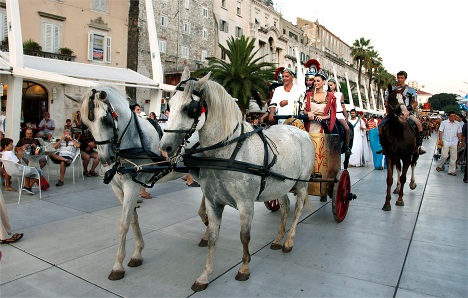 [Days of Diocletian Festival]
The streets are lined with stalls offering Mediterranean food and drink to those watching the shows, while if you're brave enough to wear a toga; you may be given a dish for free!
September: The Split Film Festival – similar to the film gathering in June, the Split Film Festival is an eight day event showing movies from around the region; however there are more films in English in the September festival, so you won't have to be fluent in Croatian to know what is going on.
Split still has plenty to offer outside of these months, so if you're planning a trip at the start of year then you'll have something to do:
Climb the Split bell tower
The bell tower of St Duje in Split is one of the most visited places in the area, as it offers stunning views of the city from 60 metres in the air. Constructed in the 13th century, the bell tower is unique in the sense that it's interior is decorated with both Medieval and Roman influences. Admission to tower costs 15 Kunas, but will be money well spent if you take a camera with you to get some great pictures from the top.
Visit Marjan Hill
Marjan hill is ideal for those who like hiking and walking, with routes of varying difficulties. The hill is unique in the sense that it is covered by a pine forest, rare itself in the Mediterranean, but also in the middle of the city. On route to top of the hill are churches, tennis courts, a zoo and a fishery, meaning there's something to see other than the forest when you make your way up the hill.
Try some of the local food
You don't go to another country just to visit the first fast good chain you see, so why not try some of the local food? A lot of Croatia's dishes are inspired by Italian cooking; although you can also expect to find seafood on the menu.
Traditional dishes in Croatia include fritaja (omelette) – made with asparagus, truffles and dried sausages. If you don't like the sound of that, try maneštra (a thick local soup) made from potatoes, garlic, beans and bacon, with a side dish of corn or chickpeas.
If that doesn't take your fancy, then pick simple Italian dishes foods such as gnocchi and Fuži, which are both made with eggs and flour, and sauces made with chicken, tomato and onions.
Whatever you decide to do in Split, you won't be disappointed as there really is something for everyone.