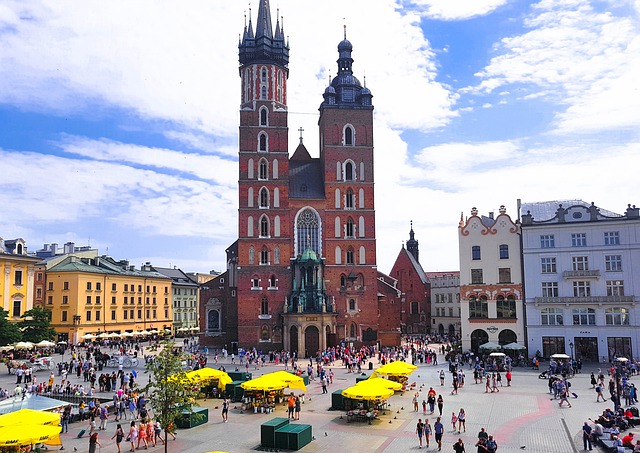 When traveling through Europe there are so many cities with remarkable old towns, and it may be hard to pin down just a few places to visit. One city that regularly makes the list of best places to visit is Krakow in Poland. If you are looking for an Eastern European adventure then Krakow's rich history makes it a great place to start.
Here are some of the things to see and do in Krakow.
Saint Mary's Basilica
Located in the heart of the main square, Saint Mary's Basilica is the symbol of old Krakow. When viewing this landmark from the exterior, you'll notice its two notable towers. Every hour the trumpets can be heard from one of the towers. Another characteristic of this church is the stunning altar of Veit Stoss. This altarpiece stands about thirteen meters high and is carved to perfection.
Wieliczka Salt Mine
Just outside the city centre is the Wieliczka Salt Mine. This UNESCO World Heritage Site is an underground marvel and truly a site to behold. The mine has since shut down the production of salt but it has maintained its beauty for all visitors to see. You'll find yourself walking through this mine and viewing masterpieces in sculpture. Aside from basking in the beauty of the mine, you can also enjoy the health benefits the salty air has to offer.
While you may see other medieval old towns in Europe, you will not see a site like this anywhere, so be sure to book a Wieliczka Salt Mine tour from Krakow.
Main Market Square
After visiting Saint Mary's Basilica, take your time in the main market square. This location is filled with sightseeing, cafes, shopping and more. The medieval square is a busy place for locals and tourists alike. Spend some time in the square viewing the architecture and businesses. Or better yet, find a cafe with a good view and do some people watching. If you are used to Western European prices you will be pleasantly surprised how affordable prices are here.
Wawel Castle
Poland's rich history is not to go unnoticed, and Wawel Castle is a good place to start. This national museum housed Kings and Queens, and Saint Stanislaus. It's now a museum and cathedral for many to worship. Take a guided tour at this UNESCO-listed landmark. The historically rich architecture surrounds you as you walk through the castle. Aside from the building's architecture, the walls are also covered in paintings and tapestries that you can admire.
Oskar Schindler's factory
Another historical stop is the factory of Oskar Schindler. Most notably famous from Speilberg's Schindler's List, this World War II hero saved the lives of many Jews during this time period. This factory employed over a thousand Jews. If you decide to visit the factory, make sure you get your tickets ahead. They limit the number of visitors each day.
Polish Aviation Museum
A notable stop in Krakow is the Polish Aviation Museum. This interactive historical museum is an interesting place to learn about planes, helicopters, and the people of Poland's aviation history. The museum has old planes on display, including many rare aircrafts such as the PZL P.11 – the only one left of its kind.
Auschwitz-Birkenau Memorial and Museum
Much of Poland's history is wrapped in the narrative of World War II. When visiting Krakow consider a visit to Auschwitz-Birkenau Memorial and Museum. When the Nazis occupied Poland they housed a concentration camp just outside of Krakow. The Auschwitz-Birkenau Memorial and Museum is one of the must-see stops during your journey in Krakow. You'll feel many emotions as you travel through the heartbreaking reality of this memorial. However, you'll gain an understanding of this dark period in European history.
Krakow is a fascinating city to visit, and to see such a well-preserved medieval old town in a working modern city makes for an ideal European travel destination.