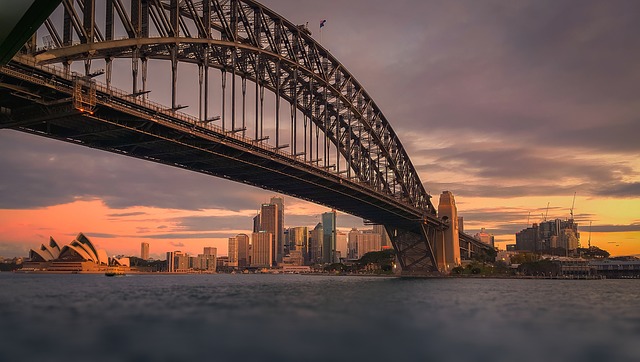 Widely considered to be Australia's flagship city, Sydney has a plethora of attractions to cater to the interests of anyone and everyone. Unlike some major cities, Sydney benefits from having a mass of beautiful natural landmarks to go alongside their amazing man–made sights. This, among many other things, factors into making it one of the most diverse locations to visit in the world and an absolute delight to explore for anyone who visits.
However, because Sydney is such an expansive place, it would be impossible to see everything it has to offer in just one trip, so prioritisation will be your friend. Therefore, we have put together a list of our top 5 'must see' spots in Sydney, so that you can really make the most of your valuable time while you're there.
1. The Sydney Harbour Bridge Climb
Understandably one of Sydney's most popular attractions, the Sydney Harbour Bridge Climb is without a doubt one of the most incredible experiences to be had in the city. However, before tackling the ascent, you should bear in mind that it certainly isn't for the faint of heart. With 1,332 steps taking you up to 440ft above sea level, it can be quite a demanding and often nerve-wracking experience for some, but overcoming the difficulties of the climb proves to be more than worth it. The summit of the nationally-adored bridge provides stunning views that are unlike any other, allowing you to revel in the beauty of the world-famous harbour and see Sydney in a truly unique light.
2. The Bondi to Coogee Walk
For those who would prefer an experience geared more so towards Sydney's natural beauty, the Bondi to Coogee coastal walk is an absolutely breath-taking experience from start to finish. The 6km trail takes roughly 2-3 hours to complete and features fantastic Pacific Ocean views accompanied by towering sandstone cliffs and picture-perfect beaches as far as the eye can see, but also has an array of amenities for your convenience and enjoyment. The trails various landmark locations offer countless places to eat, drink, and rest to ensure that you're never short of a place to relax, allowing you some time to take in the astounding scenery that surrounds you.
3. The Sydney Opera House
The Opera House is the Sydney's architectural marvel, boasting a stunning design that has remained timeless since its opening in 1973. The building itself is a sight to behold, especially at night when it is beautifully illuminated, but if you desire to discover more of what the legendary venue has to offer then you can take one of the fascinating tours that are available, or perhaps even catch a show.
4. Chinese Garden of Friendship
Darling Harbour's hidden gem, the Chinese Garden of Friendship is a serene and secluded location designed by Sydney's sister city Guangzhou to provide an authentic insight into the country's rich heritage and culture. The distinctive destination is home to some fantastic landscaping and beautiful architectural features, with the main attraction being the imposing pagoda in the main pavilion. This structure towers above the fascinating flora below, making it a truly striking addition to the garden that is undoubtedly worth seeing.
5. The Rocks
If you're looking for your historical fix whilst in Sydney, there may be no better place to go than The Rocks. Considered to be the birthplace of European settlement in Australia, this area of the city holds a significant place in Sydney's past due to its convict ties. Visit the fabulous artisan markets, or take a tour round some of the oldest bars in the country, soaking in every inch of history that the area has to offer on your way.
Although Sydney seems like an expensive trip, it can be done relatively inexpensively through the use of hostels and the cities several fantastic cheap eats. However, if you want an opportunity at having a truly luxurious 5-star experience, then bingo site Tombola is running a competition that gives you the chance to win the ultimate Australian holiday, which includes 5 nights in the wonderful city.
Sydney's diversity is one of its primary advantages, as it means people from all walks of life will find something there to enjoy. What we listed above were but a few of the amazing attractions that the city has to offer. However, if you get the chance, then you should explore to really get the most out of your trip.