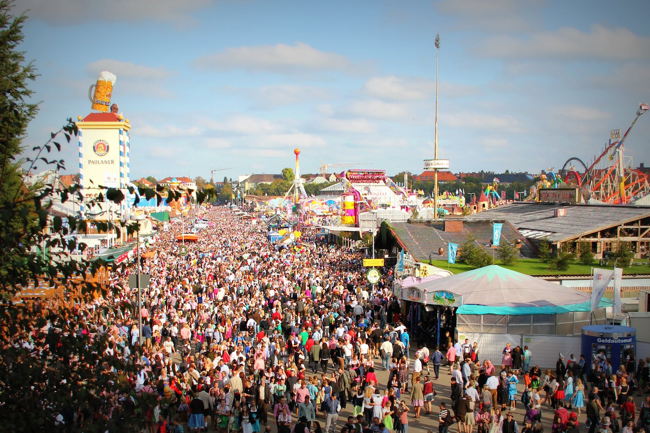 Do you like to drink beer with your friends at a nice party? Then you really should visit the Oktoberfest in Munich with your group of friends for a few days. This largest beer festival in the world is celebrated annually in Munich and should therefore certainly not be missed on the bucket list of your group of friends! At the Oktoberfest, beer is only served in one-litre mugs, all women wear dirndls and you can enjoy delicious local dishes on the party site. Convinced your friends with these excellent reasons to visit Oktoberfest? Then it is time to plan the trip in good time. Oktoberfest attracts millions of visitors from all over the world every year. That is why it is necessary to arrange everything on time. We give you 3 handy tips below!
Free entrance & table reservation
Entrance fee? No dude, are you crazy! Fortunately, you don't have to pay for a table. It might be wise to book a table (you pay for that) if you want to be sure of a spot. Especially if you're with a large group, you can't just come crashing in without a reservation. There is simply no room. So make sure you are early. If you're staying in a hotel, you can also ask if your hotel might have a table that you can sit at. Many hotels reserve a hotel for their guests in advance.
This is how the Oktoberfest tents work
There are fourteen tents on the Oktoberfest site, each with a brand of beer (all from Munich). Hofbrau is the most touristy and also has a large part of standing tables. You do not need to book this in advance, so if there is room you can just stand at a table. You don't have to make a reservation in all other tents either: if there is a table available, you can take a seat at it as long as there are no people who have reserved a table.
Book an accommodation on time
When planning a few days away, accommodation is of course one of the first things that comes to mind. It is not for nothing that most accommodations in Munich are quickly fully booked during the Oktoberfest period. That is why it is extremely important to arrange accommodation months in advance. It is best to look for an apartment, hotel or camping site near the Oktoberfest site. If you like a pleasant crowd, it is best to book at the weekend. But do you like it a little quieter? Then we advise to go on weekdays. This way you avoid the crowds at the largest beer festival in the world. It is best to book an accommodation through Booking.com.
Make sure you eat well
You can eat inside the tents as well as outside. Outside on the site are all kinds of food stalls, and they are at least half cheaper than when you order something inside. Plus: it takes forever to get something in a tent. So make sure you have eaten well before you go full on beer. Then you can last a lot longer!
Order Lederhosen
Visiting Oktoberfest with your friends is of course not possible without traditional clothing. Every man at the Oktoberfest wears a lederhosen (translated to Dutch: oktoberfest kleding) and all women a dirndl. The nice thing is that locals really appreciate it when you arrive in a real lederhosen, instead of an odd Halloween costume (translated to Dutch: Halloween kostuum). So don't forget to order lederhosen together with your friends.