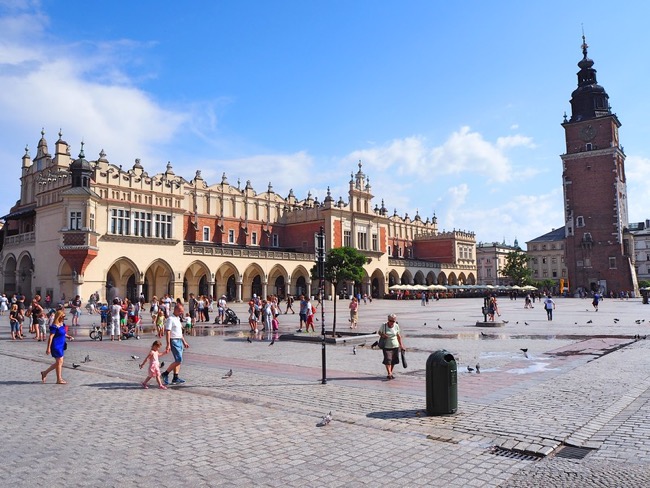 Krakow is a magical and enchanting place to visit with its rich history, myths and legends going back to the 7th century to today's modern and state of the art services, activities and attractions that you may wish to experience in Poland's oldest city open to everyone no matter your desires whether you are young or older.
There are two main central areas the Old Town and Kazimierz which are full of restaurants of all international culinary delights, quaint cafes, cinemas (in original language too), museums, art galleries, multi-level & music dance clubs, unusual pubs, spa & wellbeing centres plus a host of must see attractions. Also, along the Vistula riverbanks lots of floating restaurants, cafes, clubs and pubs you can also go on river cruises by day or night.
Here is an ace guide to Krakow's top 10 unmissable things to do during your weekend break sojourn.
1-Rynek Glowny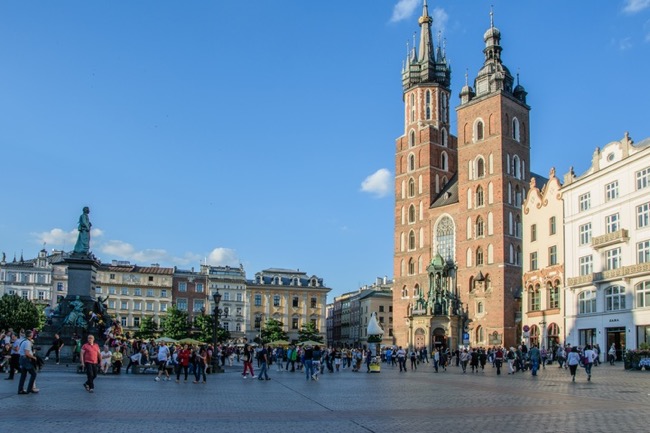 Rynek is also known as the Draper's Square as in the past this largest square in Europe was a textile and cloth trading centre. In fact, the world's silk trading hub back in the 13th century. This medieval era piazza has hardly changed since those early times and only had to be rebuilt after the Mongol invasion of 1241. The Cloth Hall or Sukiennice and Town Hall or Ratusz were added by King Casimir III.
The Ratusz was demolished in 1820 leaving only the main tower standing on the square today. The square itself meausures almost 4 hectares and is host to a tremendous amount of activity including festivals, markets, buildings and monuments. Rynek is surrounded by cafes, restaurants, hotels, pubs & clubs, a waxwork museum, cinema, theatre and live music venues.
On Rynek there is the St. Mary's Basilica or Kościół Mariacki with its twin towers and bugler sounding every hour of the day from the tallest turret is a marvellous 14th century Gothic church, however, all the interior and its 26 altars were refurbished in the 18th century Baroque style although the neo-Gothic design was brought back in the late 1800s which visible especially in the stained glass windows.
The Smolensk aeroplane tragedy in 2010 which caused the death of Poland's then President his funeral along with his wife who died in the crash was held in St. Mary's and their burial in the nearby Wawel Castle. The basilica also had its own parish cemetery adjacent to it but was later turned into a white stoned lined square called Plac Mariacki which leads to Maly Rynek or Little Rynek Square.
A second small domed church, in fact, one of Poland's oldest known religious buildings, St. Alderbert's Church or Sw. Wojciech, this petite church in comparison is more than a 1,000 years old. The building was used as a meeting place for merchants and the aristocracy visiting the silk and textile trade exchange before the Sukiennice was built.
Next to the existing Town Hall Tower on the main square lies the ever popular 'Head' as it is affectionately known or Krakow's very own Eros Bandato. The huge head of Eros sculpted in bronze laid on its side provides many a happy photograph for visitors.
2- Horse & Carriage Sightseeing tours are available directly from the main square as the carriages line the perimeter of Rynek in all their bright regalia feather head-dresses. These two-horse open top carriages will trot the Old town streets passing all the landmarks and monuments day and night and during the winter as the cabriolet version becomes a hard top with heating. Many 'Just Married' couples choose to parade their union with a famous Krakow Horse & Carriage ride.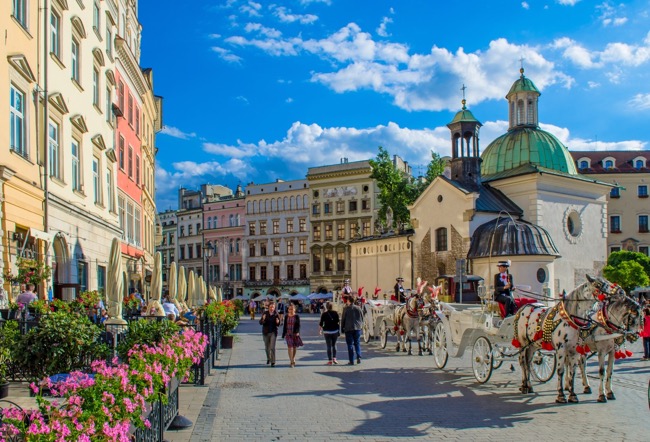 3- Electric Buggy Tour of Krakow is also a perfect and leisurely way to see Krakow's main city centre attractions. The tour takes around 2 hours and is available all year round as like the horse & carriage in colder times the buggies become soft-sides and heated, these too are available in the side streets leading off the main square or you can book online through a company or agency offering this service.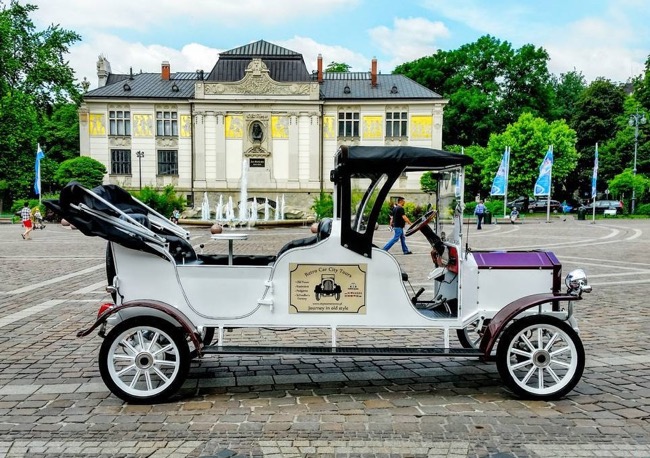 Whatever type of local tour you decide on here are a few of the tourist sights you will see. The Sukiennice or Cloth Hall is situated in the centre of Rynek Square, once housed all the important dignitaries and merchants that frequented the silk and textile trading fairs, today, it houses a 19th century art museum on the 1st floor dedicated to Polish artists with the ground-floor offering souvenirs and locally made artefacts by neighbouring artisans along with some fine restaurants that provide outdoor seating to view the square's daily activity.
Remaining on the square there is the entrance to the Krakow Underground Museum. This fantastic interactive museum displays how life was centuries ago in Krakow spread over 4,000 m2! Exhibition areas cover Krakow's sometimes turbulent history to how roads were built in Medieval times, daily life and activities with all kinds of artefacts on show. One particular exhibit is the 693 kg lead ball called The Loaf, regarded as a precious metal back then and the 11th century burial chamber are top choices to see. All the exhibition areas have touch screen technology and the interactive mechanics room along with a play area for children.
The Royal Route through Krakow starts at the main city St. Florian's Gate onto Rynek itself then leading to the Royal Wawel Castle with its own cathedral within the grounds. Built on top of Wawel Hill this medieval fortress will certainly capture your imagination. The most popular sections to visit are the State Rooms and Royal Private Rooms and the magnificent Armoury & Crown Treasury Rooms. You will also hear the Legend of the Wawel Dragon which resided in a cave under Wawel Hill near the banks of the Vistula River and to mark the dragon's lair a huge statue of the dragon that actually breathes fire.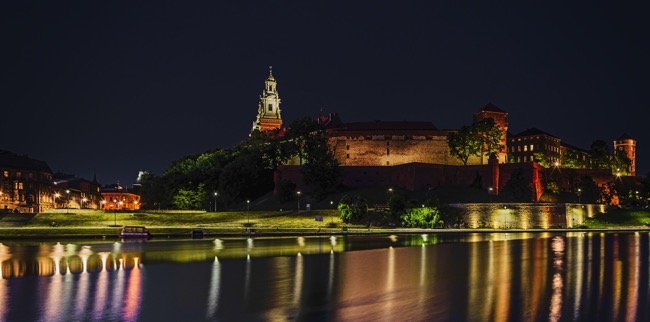 Moving closer to the Vistula river we have Krakow's Kazimierz or Jewish quarter which is extremely popular all year round. Some of the sights while on tour of the city include The Old Synagogue, Jewish culture and history can be viewed close up in the main hall and south hall, all the ceremonial artefacts and the Torah Scrolls are on display. There are many synagogues and the Remuh Cemetery which dates back 1535. You can visit Landau's house and Helena Rubenstein's birthplace, also, the weekly market stalls with the most popular being on Plac Nowy.
In and around this area it is filled with cafes, pubs and restaurants and the nightlife scene is pretty intense. Spielberg filmed in Kazimierz for Schindler's List, so, if you want to complete a tour concerning Auschwitz/Birkenau then you follow on with a visit to Schindler's Factory which has been restored and open to the public and the nearby Nazi camp transfer departure point Plac Bohaterow Getta which is where many Jewish people were brought to before going to Auschwitz. The square has large chairs placed on it symbolising people with all their belongings that waited there without knowing what would happen.
4 – Auschwitz/Birkenau Nazi Concentration Camps, It's best to arrange a visit via an agency or dedicated company with a morning departure too. Oświęcim which is the Polish name for this city was the chosen place for a concentration camp to hold, originaly, Russian prisoners of war.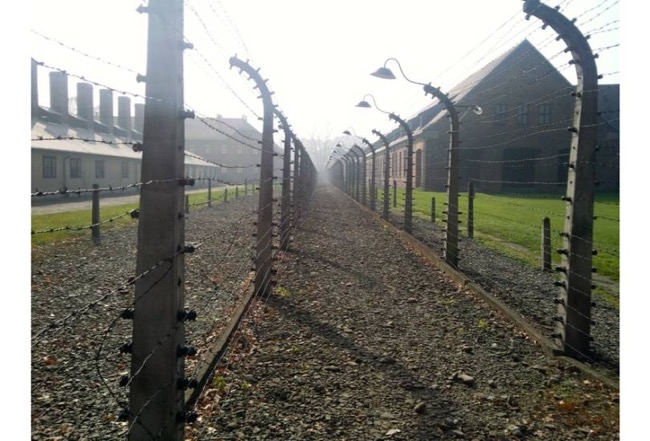 Approximately 10,000 soldiers were interned there and not very many survived. Later, the camps were used for holding Jewish, Roma and anyone else not to the liking of the Nazi regime. Today, the Auschwitz/Birkenau Memorial is a World Heritage Site and is a stark reminder of the horrific crimes committed there for all humanity to reflect upon.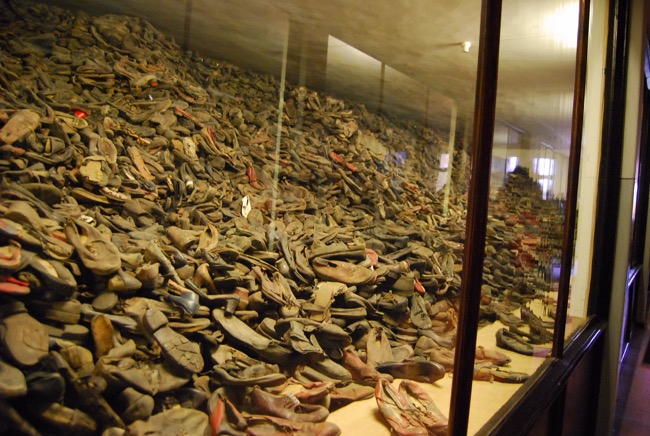 5 – Wieliczka Salt Mine Excursion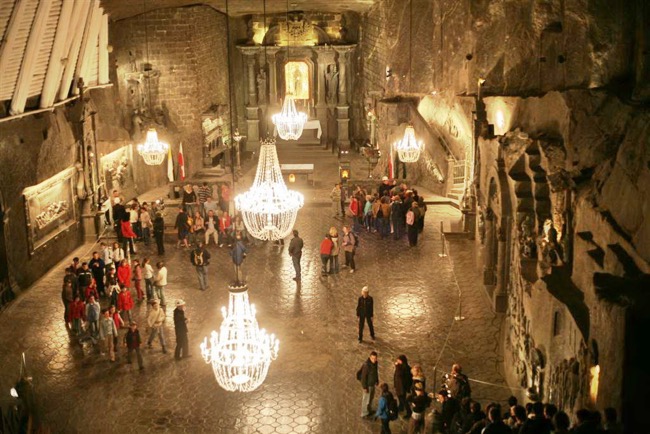 This particular mine has over one million visitors a year. Once again a morning departure is advised to see everything properly. Although you can also hire the underground caverns for celebration parties and even sleep there. There are 2 types of tours on offer, the Tourist or The Miner Tour, on this one you are dressed and equipped as a miner then you begin the descent into the mine with its underground lakes and grottos with sculptures and recreations of how salt was mined through the ages. Salt played a very important part in daily life in bygone times, used as currency or to help make food last longer for example. The highlight of the tour is St. Kinga's Chapel, everything you see, touch or stand on is or was carved from rock salt, even Da Vinci's Last Supper is reproduced but totally carved in rock salt.
The 5D interactive museum room is a truly magic experience. Only 2% of the mine is open to the public but you will have to walk a minimum of 4km viewing it. The mine reaches a depth of 327m but visitors do not go below 135m. One interesting fact, the Graduation Tower at the mine is a health spa in the sense that spending some time in it the air is purified by the salt and aids people with breathing problems or allergies. There is a lot to be said for salt!
6- Zakopane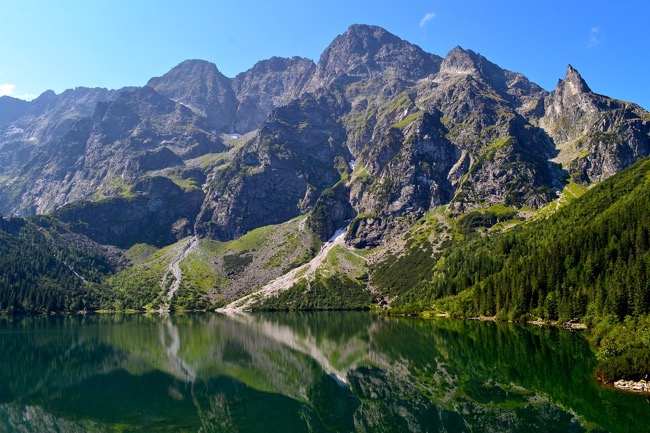 A day out to, Poland's favourite place to be whether in summer or winter and it is the most popular place to get married for Polish couples. Zakopane if you have time to visit is a 90 minute journey each way high up in the mountains, the Tatra Mountains very close to Slovakia. The centre of Goral culture and winter capital of Poland. There are many ski and snowboarding resorts plus health spas and snowmobiling companies. The famous smoked cheese from Zakopane called oscypek is sold all over Poland.
This bijoux of a town receives over 2,500,000 visitors a year but only has a population of 27,000! The town is a 1,000m above sea-level and the health resorts are always full with all this good, fresh and clean air, you can relax and rejuvenate. Take a hike in the Tatra National Park or a swim in the Morskie Oko mountain lake, nature at it's best. In the winter snow activities are full on and the national sport of ski jumping is not to be missed. A little further on is the Pieniny National Park and the Pieniny Mountain range with the Dunajec River running through them.
7- White Water Rafting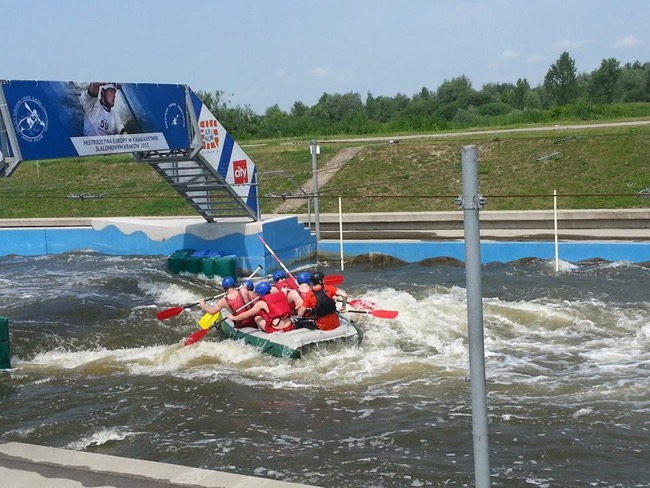 A great opportunity to test your mettle and teamwork on a rafting challenge. This activity is popular especially with Krakow Stag Do groups and as company bonding exercises. All aboard the raft to navigate the river for a couple of hours followed by a hearty meal and a few beers 'n sing song, quite a day for sure. As always there are specialised companies providing this service so very easy to pre-book this exhilarating day out.
However, if you do not have that amount of time you can book Krakow's Olympic standard white water circuit just a short trip outside of Krakow to enjoy this man-made white water run with your friends or work colleagues, this too, can be pre-booked from various agencies before you arrive in Krakow. WWR is open from April to November.
8 – AK 47 Kalashnikov Shooting Range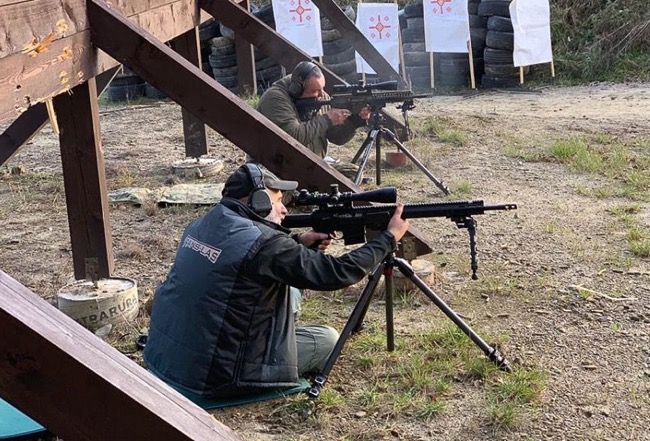 Sticking with high adrenaline pumping activities this next one will surely rank with the best, that is the if you have never shot a gun before or would like to then make time for this super event. The sheer force and power of firing one of the most well-known automatic machine guns in the world is a feeling you will never forget. It doesn't stop there though as included in the shooting packages available you get to use up to 5 different weapons, Uzi, Glock pistols and a pump action shot gun all with live ammunition. Instructors are on hand to advise you and you get to take home your target score cards. They also do pre-paid AK 47 Kalashnikov Shooting gift cards, what a novel idea as a present.
9 – Off Road 4×4 Car Driving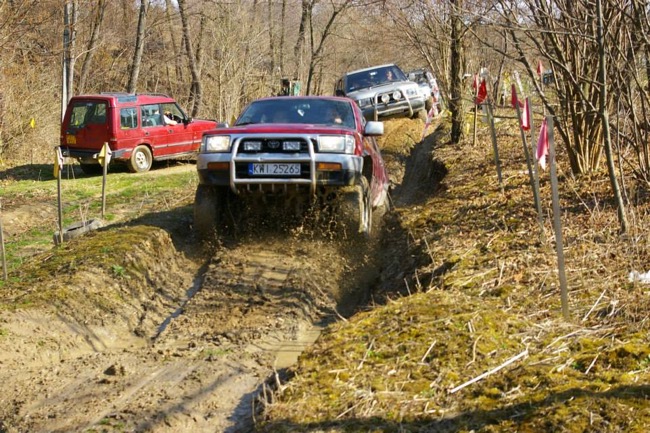 A great area to visit while in Krakow is the Ojcow National Park, only a short distance from the centre you are once again in natures swing. Take a hike or a leisurely stroll through the forest, grab a bite to eat in the cafes and restaurants or visit the castles. Driving the specially constructed off-road tracks provide another high octane few hours with your friends all available to you via dedicated companies. The vehicles to choose from are Nissan Patrols to Range Rovers or the unusual Russian UAZs.
Well, the guide is coming to an end now and quite a few ideas have been highlighted for your pleasure or choice. The last activity I thoroughly recommend, especially on your first evening here in Krakow is
10 – Organised Bar & Pub Crawls as they are a great introduction to visiting Krakow's best drinking parlours. The many local breweries provide an excellent choice of beers and ales as well as non-Polish and mainstream brands, a guided pub crawl is the best way to appreciate Krakow's unusual cellar and garden bars on the first night to set you up for the rest of your stay. Experienced guides will entertain you with drinking games, Karaoke and recommend the best drinks to try on your travels. Also included in some pub crawls entry to some of Krakow's hottest dance clubs.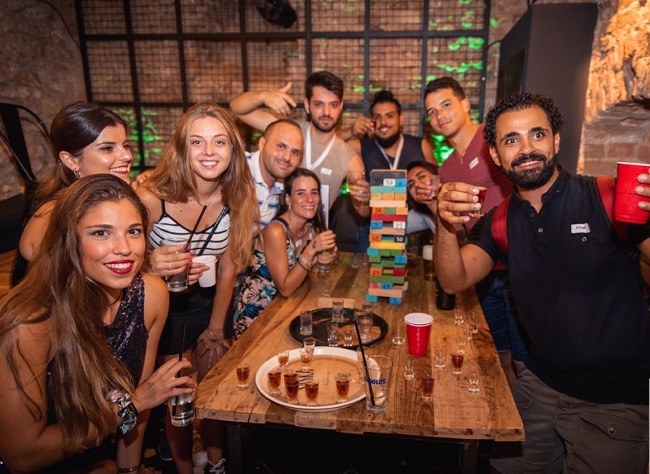 Krakow, a great place to be and a fantastic city to know, see you soon!