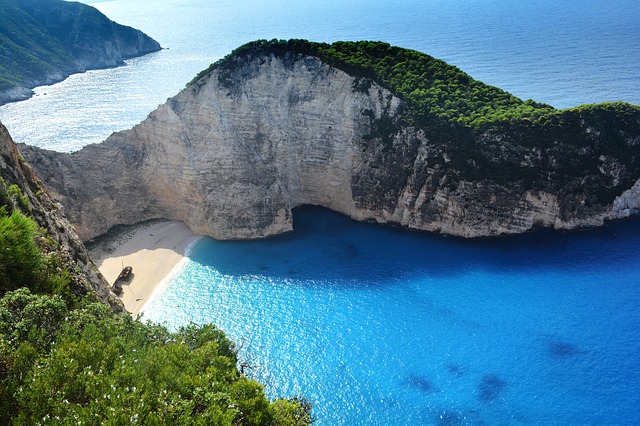 Going to vacation on a Mediterranean beach is a dream for many people who live a hectic life in the city. Many hotels and resorts have been built around Mediterannean beach spots to attract customers. Nevertheless, there are still a number of Mediterranean beaches that are still unspoiled from development and continue to be protected by the locals. The following are the top 11 Mediterranean beach spots.
1. Navagio Beach
Navagio Beach is a beach with crystal clear sapphire blue water in Zakynthose, Greece. Because it is surrounded with white cliffs, you have to take a boat to reach the beach. The white cliff reaches a height of about 100 meters. There is a road on the cliff that you can travel with your car to catch a good view of the ocean.
2. Iztuzu Beach
Iztuzu Beach, also called the Turtle Beach by the locals, is a 5 KM golden sandy beach in Dalyan, Turkey. This beach is a famous nesting site for the Loggerhead Turtles. It is a great beach for swimming and basking under the sun.
3. Praia de Falesia
Praia de Falesia is a long stretch of beach with golden sand in Albufeira, Portugal. At the back of the beach, you will see a lot of rocks, cliffs and green bushes. There is a cove that you can visit somewhere along the stretch of the beach.
4. Calanque de' En Vau
Calanque d' En Vau is a beautiful white sandy beach with turquoise waters situated between the Cassis and Marseille in France. Around the beach, there are tall granite cliffs that you can hike to catch a view of the French coast. It is a popular beach spot for holding film festivals.
5. Tsigrado Cove
Tsigrado Cove is a secluded Mediterranean beach in Greece with emerald waters and tranquil scenery. It is not openly accessible by the tourists because it is surrounded by steep cliffs. It is hard to access it by boat via the shallow bay. The only way to access it is to climb down the ladder on the cliff.
6. Cala Macarelleta
Cala Macarelleta is a small but beautiful beach in Spain. It has a sibling beach nearby with a longer coast where most tourists would visit. Cala Macarelleta cannot be found on the tourist map. Just a short hike through the pine forests, you will have arrived at the stunning Cala Macarelleta beach.
7. Maddalena Archipelago
Maddalena Archipelago is a group of islands that have been designated as a protected marine park on the northern coast of Sardinia. The beaches are clean and tranquil without any hotel or resort around them. If you want to reach Maddalena Archipelago, you can rent a moped or charter boat. The beach has been labeled as a world class diving site for avid divers.
8. Li Cossa Beach
Li Cossa Beach, also known as Costa Paradiso is a secluded beach in Sardinia, Italia. Li Cossa beach is ideal for people who enjoy snorkeling. It is also suitable for those who just want to enjoy the warm sun on the beach. Nearby, there is a housing complex with a parking lot where visitors can park their cars.
9. Cala Luna
Cala Luna is a small crescent shaped beach in Italy that features a lot of caves, and cliffs. You can access Cala Luna by taking a boat ride from La Caletta town. On this beach, you can also see a lot of yachts sailing around the crystal blue waters.
10. Egremni Beach
Egremni beach is a popular secluded beach situated on the western part of the Lefkada Island in Greece. To reach the beach, you need to hike the stairs on the cliff. The stairs up to the cliff is quite high and has 347 steps.
11. Mali Bok Beach
Mali Bok Beach is a beautiful beach in Croatia that hasn't been subjected to any development. The nearest restaurant is located miles away from the beach so be sure to bring along some food. Mali Bok Beach is famous for its coral reefs that are covered with all kinds of starfishes.