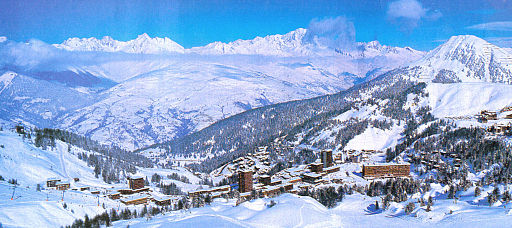 If you are an adventure seeker or have a tremendous love for extreme sports, no amount of sightseeing in France can match up to the thrill of skiing over the snow clad mountains. France has much to offer in the area of natural beauty, which makes it a prime destination for travellers and ski enthusiasts across the globe.
Many of these tourists come to this country just to enjoy the alpine beauty that provides a warm welcome and a broad range of skiing opportunities. Here are our top places to go on a skiing holiday in France.
1. Courchevel: This ski destination is one of the most renowned in the world as it faces the massive Three Valleys. Both children and adults, who are new to skiing are catered within the nursing area is situated near the water of the slopes of the Courchevel 1650. If you are an expert, you can always take on more challenging on and off-piste runs that are excellent for snowboarders who want the maximum thrill.
2. Vallandry Les Arcs: For amateurs, the Vallandry Les Arcs offer many nursery slopes and a number of excellent ski schools for training. Those who are intermediates in the sport can make the most out of this destination as it is no less than paradise with endless opportunities. Experts can take the challenging run from Aguille Rouge to Villaroger that spans at 7 km and descent over 2000 m. Besides, visitors also get a taste of the finest French cuisine and the unbeatable hospitality of the French people.
3. La Plagne: ski locations would be incomplete without mentioning La Plagne as it is one of the most frequented destinations in all of France. This area offers varying options for beginners to learn the art from free nursery areas to many steady blues. Intermediates can take full advantage of the long, uninterrupted runs that span from the top of the Roche de Mio going till Grande Rochette. Experts can hone their skills by taking the most exciting North face of the Bellecote.
4. La Rosiere: linked with the Italian resort of La Thuile, this skiing destination offers a one-of-a-kind experience of going across the border and into another country. This place is blessed with both warm sunny days as well as vast quantities of snow that make it a popular tourist destination throughout the year. This location offers skiing challenges suitable for beginners, intermediates, and experts. Enthusiasts can also take their passion to the extreme and go for the heli-skiing in Italy, which is a once-in-a-lifetime experience.
5. Meribel: last but not the least, Meribel takes the spot of being one of the best skiing locations in France. Meribel is a fantastic holiday location suitable for both beginners and intermediates. Amateur skiers can go on the beginner slopes that are perfectly groomed near the Chaudanne while intermediate skiers have tremendous Blue and Red runs to explore. This place also offers easy links to the Three Valleys for those who are looking for a real challenge. This is one location you wouldn't want to miss if you're touring the country with family.