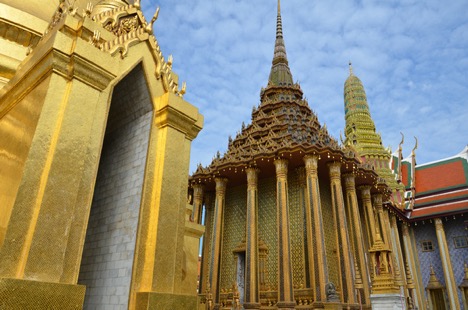 Are you looking for a unique destination for your next vacation? Popular destinations like Mexico, Ibiza, Hawaii and Greece are often overcrowded and have a been-there-done-that vibe to them. If you are looking for something new and exciting, why not plan your next trip to Southeast Asia? Sure, the region may not have the holidaying rep of Europe or North America, but there are plenty of wonders to discover. To learn about why you should really tour Southeast Asia next, refer to the list below:
1.It's Not Just for Backpackers Anymore
Countries in Southeast Asia for a long time used to be war-torn, poor and isolated from the rest of the world. Only a few hippies ever dared to venture here. However, over the years the Southeast Asian region in general has experienced flourishing economies and an end to many tyrannical regimes. As a result, borders have opened, and these countries are actively seeking to expand the tourism business by attracting families, couples and group vacationers. Most former backpacker-dominated trails have cleared up their act, and now even have child-friendly hotels.
2.Explore the Old World
In Southeast Asia, you can discover the ancient Buddhist and Hindu cultures that thrived before the advent of the modern era. You will discover sprawling buildings, majestic statues, exquisite palaces and many more unique to the region that will be unlike anything you have ever seen before. Southeast Asian countries have rich histories dating back thousands of years. In fact, there are more ancient temples in this region than anywhere else in the world, including the Angkor Wat temple complex in Cambodia, the largest religious monument in the word, and Indonesia's Borobudur, the largest Buddhist temple in the world.
3.Shop till You Drop for Cheap Goods
In Southeast Asian cities like Jakarta, Bangkok and Kuala Lumpur, you can shop to find good-quality clothes, souvenirs and electronic goods for unbelievably cheap prices. As the economic situation improves for the region, consumerism is at an all-time high, and you will find hundreds of shopping malls and street side bazaars where you can check prices for iPhones that cost several hundred dollars less than the prices in your home country.
4.Enjoy Tropical Adventures
With your cheap cell phones in hand, you can enjoy thrilling activities in Southeast Asia like hiking, trekking, mountain climbing, motor biking and much more. The region has large swaths of uninhabited terrain and pristine rainforest where you can enjoy eco-friendly adventures and feel the rush of adrenaline.
5.Discover Paradise Beaches
Looking for a white-sand beach getaway for Christmas? Then Southeast Asia's got you covered. Countries like Indonesia, Malaysia, Thailand and the Philippines are famous for alluring beaches with powder-fine shores and cerulean waters. Unlike the beaches of Mexico or the Caribbean, these are largely isolated and free of tourist hordes. Also in countries like Myanmar and Cambodia, you can soak up the tropical sun on quiet golden beaches without a resort in sight.
So, are you ready now to plan an amazing holiday to Southeast Asia?