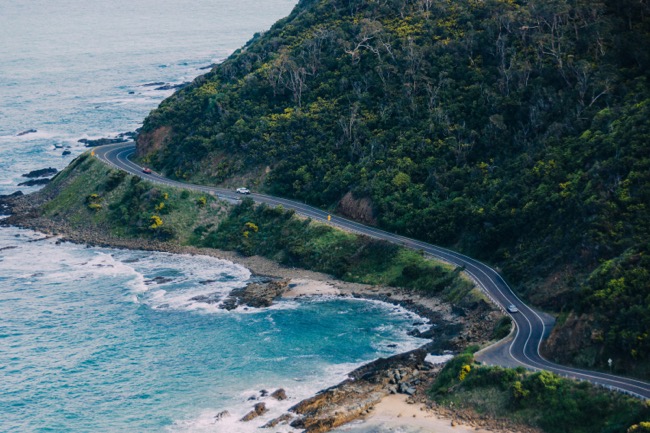 Exciting and fun, what better way to explore Australia than from the comfort of your own car? With so much to see, a road trip is a fantastic way to condense so many sights into one week of travel. Like any country, every area of Australia has its own history and personality, so choose your road trip wisely from our top list.
Perth to the Southwest
The Southwest is best for fertile landscapes and outdoor pursuits. If you're looking for an active road trip which includes gourmet food, this trip is for you. Local produce and handmade soaps come from a variety of artisan shops, including Cape Lavender and Olio Bello.
Explore the caves in the Margaret River Region and follow your exploration up with afternoon tea at The Berry Farm. Polish off your journey with dinner at Wino's, which offers posh nosh and a vast selection of wines…as you might've guessed.
Coral Coast and Monkey Mia
This largely untouched coastline has wonderful beaches and exciting wilderness. Animal-lovers can get up close and personal with wildlife; especially dolphins. The dolphins in Monkey Mia are renowned for swimming up to shore to play with human beings. Stop by fishing villages, rich in fresh seafood.
When you reach Kalbarri, things get a little more extreme. Cliffs and gorges provide ample opportunities for canoeing, rock climbing, horse riding, and hiking. Stop off in Perth for a slice of cheesecake as your reward for a hard day's work.
Nature's Way
From tropical monsoon rainforests to amazing floodplains, Nature's Way takes you along a route that is steeped in aboriginal history. Starting in Darwin, you can get your fill of culture at the Museum and Art Gallery. Moving on to Kakadu, here the national park preserves aboriginal rock art and stunning waterfalls.
Pine Creek, en route to Katherine, first discovered gold in 1871. Explore the mining background of this old attraction and marvel at the great machinery.
Melbourne to Adelaide
With cheap flights to Victoria, you can find yourself in this interesting location for peanuts. Along the coastline of Victoria, you can savour the delights of South Australia's wine-growing region, which are famous for their decadent cabernets. Take away a bottle and wash it down later with a trip to the largest market in the Southern Hemisphere, Adelaide Central Market. Foodies and oenophiles won't be able to get enough of this trip, which also includes some stunning coastal scenery, as well as fine dining.
The Great Sunshine Way
It's all in the name. If you're looking to catch some rays on your road trip, start your trip in Brisbane and explore the log cottages which sell delicious local produce. For fine-dining, you'll have no shortage of mouth-watering restaurants and in Tweed, you can try your hand at catching crabs and fishing. From here, Tropical Fruit World offers a glorious tractor ride through exotic orchards, where you can sample juicy fruit, fresh from the tree. Some interesting fruits you'll enjoy eating are: miracle fruit, chocolate pudding fruit, and champagne fruit!