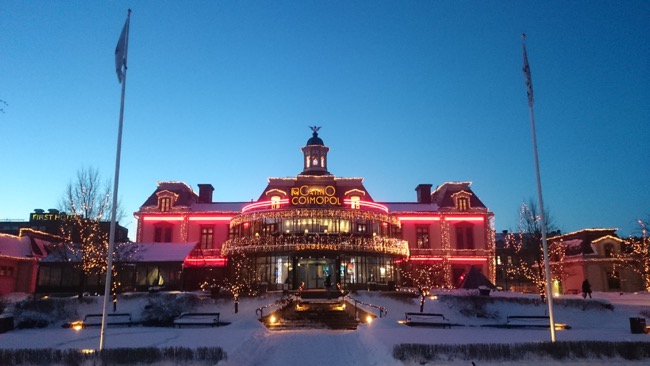 Are you an adventurous gambler who wants to try a top Swedish casino? Shockingly, the majority of gamblers have always believed that the top Swedish casino venues are only for the rich. That's because they have the best accessories that seem expensive for people who have not visited nor used them.
Fortunately, Sweden isn't out in the list of countries with the best casinos. According to our expert Dominic Andreasson (check his profile here), the land-based casinos offer exemplary services to the players. Their package includes other social amenities such as affordable accommodation for the players. Read on to find out the top casinos in Sweden.
Cosmopol Casino Stockholm
It is one of the best casinos where all you need is an entry fee of SEK60 and 20 as the age limit. It's situated right at the center of Sweden inside a historical building. The fantastic aspect about it is the availability of about 400 slot machines that gives the players unlimited opportunity to play.
If you are looking for all the classic card games to play, Cosmopol casino Stockholm is a suitable destination. Some of the card games you will find at the casino include Blackjack and Punto Banco. There are also others that you will enjoy playing, even if you are in a group of friends.
It also has modern cozy poker that hosts live poker games daily. As long as you are in a proper outfit and have a valid ID, you can access the sports lounge to support your favorite live sports together with other people.
It has a variety of games, similar to those that a Swedish player can find on online platforms such as jackpot city.
Cosmopol Casino, Gothenburg
If you are looking for a casino located next to the harbor, Gothenburg got you right. It's among the best casino in Sweden within the city, and it is on the 2nd floor of Old Customs House.
It has about 350 slot machines that offer players a variety of games and jackpots. It also has 40 traditional table games. Some of the games you will play at the tables include roulette, Blackjack, and punto banco, to mention a few.
While at the casino, you don't have to worry about hunger because there are experimented chefs who will cook for you. Another advantage is that you will meet with other experienced gamblers when on a break and even order snacks. If you love taking drinks, you will find them in their stylish bar. You can access all the amenities at only SEK60.
Cosmopol Casino, Malmö
If you want to visit a casino in Sweden located in Malmo's city center, Cosmopol casino Malmo is the right destination for you. Visiting it in the evening will make you have a fantastic moment whether you are alone or with friends.
Unlike other casinos with few slot machines, you will find about 200 slots at Cosmopol Casino Malmo. It also has a bar on its gaming floor that will allow you to access your favorite drinks together with your friends.
People can also watch their favorite sporting events on a large screen and even chat with other fellow gamblers. Apart from spending time at the Malmo casino, you can also visit the nearby tourist attraction sites and enjoy the fantastic scenes.
Cosmopol Casino, Sundsvall
Its located in a former railway station and takes pride in being in the first Swedish international casino. It houses about 150 slot machines and about 12 table games. While at Sundsvall, you won't miss the famous roulette and Blackjack.
Poker lovers are also taken care of because there is a poker room where most players meet to enjoy their favorite game. You can also watch your favorite live sports together with your friends.
Above is a list of the top casinos you can consider in Sweden. Visiting them will give you the best opportunity of exploiting some of the best amenities you will not find in other physical casinos around the country. Do you have a casino that we may have left out? Do not shy away from sharing it with us and why you think it should make it to our list.