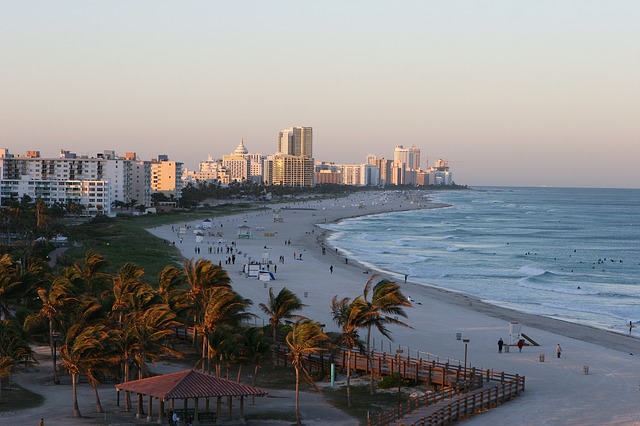 When looking for a luxury beach vacation it's hard to go past South Beach Miami for its combination of beautiful beaches, warm climate, and things to do.
South Beach is the southern end of Miami Beach, which is an island off mainland Maimi. South Beach is famous for its Art Deco architecture, and along Ocean Drive you can see these pastel-colored buildings lit up in neon just like in the TV shows and movies. It's a popular place for celebrities, so the chances are good that you will see someone famous.
South Beach makes for an ideal base to explore Miami and surrounds, where after touring around you can retire back to the beach. The great thing about South Beach is that it's a proper city that feels like a resort. Some of the most luxurious Miami vacation rentals can be found here. Here are three rentals to give you an idea of what to expect.
Setai
Beyonce, Madonna, and Jay-Z are all lovers of The Setai Hotel in Miami Beach. When walking in through the hotel, you will feel a relaxation wave washing over you. The zen-inspired two-story hotel features elements like French limestone and black granite floors that create an environment that feels sleek, modern and timeless. For the ultimate in luxury you can spend your nights in the Ocean Suites.
1 Hotel
Organic linen, reclaimed wood, and a large living wall are some of the features of the eco-friendly 1 Hotel. The hotel is committed to sustainability and every aspect of the giant oceanfront resort proves that. Going green did not prevent them from offering luxurious features. The 1 hotel offers 425 airy suites and rooms – measuring around 700 sq feet each – which are the largest within the South Beach area. Guests in the rooms sleep on grey finished oak beds and cotton mattresses.
In the bathrooms, expect to find rainfall showers and Carrara marble soaking tubs. The U-shaped property provides four pools to cater for various crowds. Most families opt for the oversized center pool and the lap swingers choose the Cabana pool. If you like epic views (who doesn't?), go to the 18th-floor pool, which is adjacent to the rooftop bar. The adult-only area offers 360 ocean views of the Miami skyline and the ocean.
W Hotel South Beach
The W South Beach is located right on the beach, offering stunning ocean views and easy access to walk along the sand of South Beach. The W is also ideally located within walking distance to the nightlife, shopping, and eateries of South Beach. You get the benefits of feeling like you are at a resort, without being cut off from civilization. There are so many things to do here though that you need not venture outside. The hotel incudes restaurants and bars, as well as their own nightclub and lounge.
Conclusion
South Beach is home to many top-tier accommodation options that will meet your needs for a luxury vacation. These hotels are just a sample of where to stay in South Beach. If it's hard to pick one you can always come back, as so many people do.