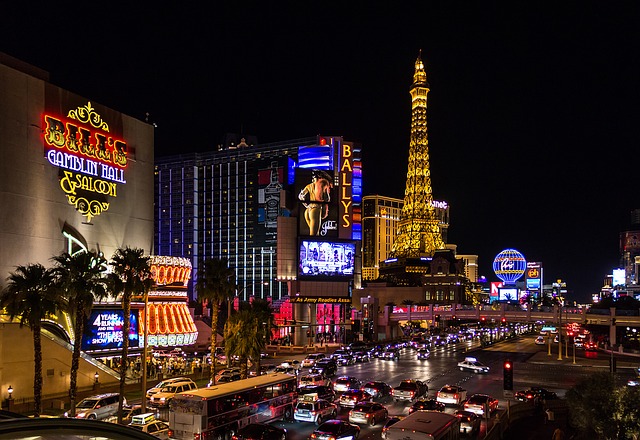 If you're planning your honeymoon in Las Vegas, it can only mean one thing: you and your new life partner are fun. And all you want to do is have fun, stumbling down the strip after way too many cocktails, going to entertaining music and magic shows, buying fantastic dinners dressed up together. It's one of the most exciting cities ever for a honeymoon, and plenty of newlyweds head to this little oasis in the desert to celebrate one of the most exciting moments in their lives. You've been planning this honeymoon for months alongside the duties of finding the perfect wedding and bridesmaid dress design, and you can't wait to be in Vegas.
But one thing you're worried about is money. From the flights there to staying in the hotel of your dreams, you know that it's all going to add up. And the gambling–well, it's a gamble, after all. Luckily, there are some great ways to save money on your Vegas honeymoon. Here's how.
1. Save on flights
When it comes to traveling anywhere, one of your biggest costs is going to be airfare. And if you aren't lucky enough to live in LA, just a few hours from Vegas, that means you might have to fly. But did you know that, between 2010 and 2018, airfare prices have dropped significantly? That means that, if you use the right strategies like signing up for subscription services like Scott's Cheap Flights and Southwest Click 'N Save, you're bound to come across great deals to Vegas no matter which airport is closest to home.
Additionally, use an app like Hopper or Skyscanner that will track the tickets you need. That way, when the price drops, you can buy the flight immediately after the alert pops up on your phone. And you can always use a card that earns you airline miles (like the Alaska Airlines Visa Signature Credit Card). You've already got so much to spend for your wedding, so by using one of these cards, your flight will pay for itself.
2. Be smart about dining
Because Vegas is such a party kind of place, it can be quite expensive to eat there. And sure, the hotelier might have some recommendations, but chances are those restaurants are attached to the hotel in some way, and it might not be the best deal. According to travel expert Nomadic Matt, you need to take advantage of the fact that Vegas is a 24-hour city. With 42.9 million visitors in 2016 alone, you'll find some deals. He explains in his blog:
"Prime-time seating at the Strip's five-star restaurants is between 8 and 10 pm, but these hot spots like to be full all the time, so most have both happy hour and pre-show menus to kick off their evenings between 4 and 7 pm. (Details can vary between restaurants, so be sure to call first.) Belly up to the bar if you don't want to commit to a full table seating but are still hungry to try some famous food at low prices. Or sit down in the early evening for a pre-theater meal. (You don't have to produce a theater ticket to keep the reservation.)"
Additionally, you can always get food later than dinner, grabbing some small plates for a low price once the other diners have gone off to their show.
3. Be competitive with accommodations
Everyone dreams of getting a nice suite when they're spending time in Vegas. But the fact is, this can add up, and wouldn't you rather spend a bit more money gambling and going out for a nice time than having the simple knowledge that there's a jacuzzi bathtub in your room? With resort fees at an average of $26.48 a night, it's not worth it. It's better to save some money by comparing rates on websites like Booking.com and Expedia, and reading reviews of the hotels to get a good idea of which one will be best for you.
Additionally, think about staying at an Airbnb. A friendly host will be able to give you lots of recommendations for places that have great shows, cheap food, and are utterly romantic. And there are hacks for saving on Airbnb, which you can check out here.
These are some of the best ways to save money during your Las Vegas honeymoon. Which means that you can afford to spend a little extra money on champagne, gambling, and surprises for your new life partner.
What are you most excited to do in Las Vegas?