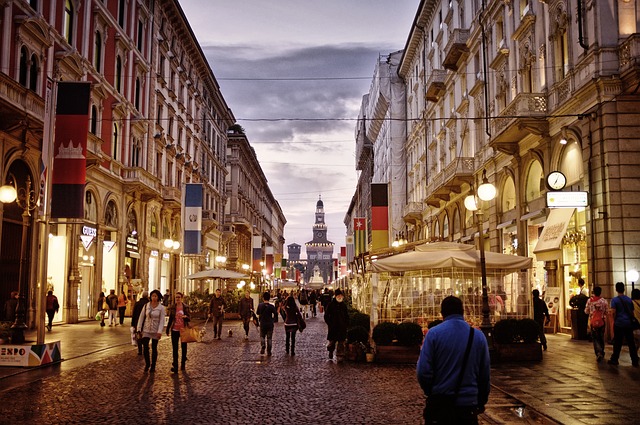 Shopping when traveling is very popular and shopping often forms a key part of most itineraries. Many travelers enjoy buying items, especially if they are staying in cities with famous shopping districts. In many countries, you will find a popular shopping district that you can check out and shop until you drop. However if you are on the lookout for luxurious products, like designer clothing, only a few cities make it on the list.
Designer shops are not available at all overseas locations. They can only be found in certain cities that are known to be premium tourist destinations. So if you are planning to travel, here are the top four cities where you can indulge yourself in sightseeing then luxury shopping for designer brands.
Milan, Italy
The city of Milan is recognized as one of the most important fashion capitals across the world. It has been the home to several famous fashion designer brands, especially Italian labels, such as Prada, Armani, Versace, Dolce & Gabbana and more.
After riding the gondola and visiting the ruins and cathedrals, make your way to Milan's main shopping districts, like Quadrilatero della Moda where you can find the streets of Via Montenapoleone, Via Andrea, Via Gesu, Corso Venezia, Via della Spiga and Via Borgospesso. In this area, you can run into some of the prominent couturier names in the industry offering outrageously expensive masterpieces. If you can afford their creations, then go for it and spend up big in this exclusive location. Get inspired and have a ball flaunting the latest collections of these world-renowned Italian designers.
Paris, France
Paris holds numerous fashion shows every year and makes a huge contribution to the fashion industry globally. It is the final venue of the 'Big 4' fashion weeks after London, Milan and New York. In addition, the city holds spring, summer, autumn and winter events to showcase the latest trends in the fashion world so you are always kept up to date with the latest styles.
Visit the Eiffel Tower and other tourist spots in Paris to make the most of your getaway in France. After sightseeing, you can check out the creme de la creme fashion designer shops in town. The Faubourg Saint-Honore district is the heart of fashion and design in the city where you can find classic designers such as Hermes and Versace. In addition, the Avenue Montaigne and Avenue des Champs-Elysses are perfect fashion junctures to find products from Chanel and Dior. In Paris, you will never run out of place to visit to discover what's trending in fashion.
London, UK
One of the leading trendsetters in the fashion world today is London. It hosts the clothing trade show Fashion Week semi-annually along with New York, Milan and Paris. About half of the fashion designers in the United Kingdom are centrally located in the city of London, with around 46,400 people working in the fashion industry.
No matter what type of apparel you are looking for, London boasts several luxury shops waiting to be explored. Large designer shops offer a wide array of products. Browse through Bond Street, which is widely known for its exclusive labels, famous designer brands and fine jewelry. Bond Street houses some of the elite retailers including Chanel, Dolce & Gabbana, Burberry, Jimmy choo and Tiffany & Co. In London, you will feel like a real life princess when you visit and shop in the popular London shopping districts.
New York City, New York
When talking about fashion, New York is close to the top of the list. New York City (NYC) or Manhattan is the hub of fashion in the United States. The busy streets of New York City are a mecca to the top fashion retailers, making NYC the best location to shop in America. Fashion Week held in New York annually attracts the top designers from around the world in spectacular cat-walk shows and is an iconic event not to be missed by fashionistas.
If you are in New York, check out the hottest shopping streets where you find the biggest names in the fashion world. Explore Madison Avenue, Broadway, Fifth Avenue and nearby streets and enjoy the worlds best designer shops.
Shopping is a fun activity, especially if you are traveling and exploring in another city. There are numerous fashion retailers that you come across that will take your breathe away – you can be sure to find something to make you trip even more worthwhile. The best dresses from the best designer locations – start planning your fashion adventure today!
However, if you just want to stay at home and get yourself some great clothes then I recommend you check out Top Tier Style. There you'll find a fantastic selection of clothing and accessories to choose from, all the a reasonable prices.