Did you know that almost a third of Shakespeare's plays are set in Italy? Two of his most famous works are even set in the city of "fair Verona", so we thought it only apt to take a tour of the landmarks that any literature fan would be a "Shakespearean fool" to miss.
Warning: Many of these locations are a fair distance from each other, leaving you two options. You can make use of the local public transport and walk, which may save you a bit of money. Alternatively, you can look into car hire at Verona airport, so that you can visit on your own schedule. If you don't have the wealth of King Lear, then using a comparison website, like BookingCar Europe (more info here) will help you get the best deal.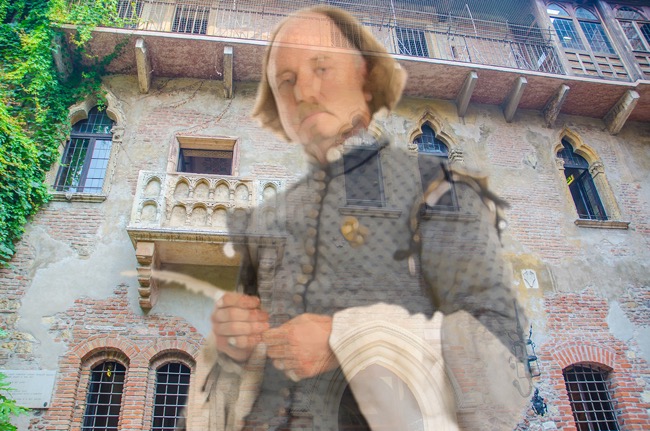 Casa di Giulietta
Here at Juliet's House, located on the Via Cappello, you can see the balcony where Juliet decries that a family feud separates her from her one true love and delivers her "a rose by any other name" speech.
The old tower house, where the pair first met, dates back to the 13th century, but has been carefully restored by lovers of The Bard to look as it did when it was owned by the Capulet family.
Fun fact: You can even get married here!
Romeo's House
Although, not a prominent setting in most renditions of the play, you can also visit Romeo's home, which is hidden down an alley in Verona's historic centre. However, you should know that this rustic brick castle is privately owned, so you can't go inside.
The Basilica of San Zeno Maggiore
This is a significant religious building in its own right but, importantly for this list, it was also the site of Romeo and Juliet's marriage.
The Gates of Bra
At the medieval walls that surround the city of Verona, you'll find the place where Romeo was exiled after killing Tybalt. It has a plaque citing Romeo's pre-exile speech "There is no world without Verona walls" and a bronze bust of Shakespeare.
Monastery of San Francesco al Corso
Here, you'll find an empty red marble sarcophagus, which represents Juliet's tomb.
Not only is this Juliet's final resting place, but it is also the spot where both lovers took their lives after finding the other dead. (In case, you need a reminder, Juliet faked her death with a sleeping draught in order to run away with Romeo, but Romeo committed suicide upon finding her lifeless body. When she awoke, she stabbed herself with his "happy dagger".)
How do we know it was here? It was the only monastery outside the city walls at the time, thus the only one that exiled Romeo could access.
The Gentleman of Verona hotel
If you're wondering about the important places that mark "The Two Gentlemen of Verona", Shakespeare's first and least well-remembered play, then you may be disappointed to find that there simply aren't many. In fact, the closest we could find was this hotel named for it.
Shakespeare Festival
If you're a true Shakespeare buff then you shouldn't miss this annual festival celebrating the world's most famous playwright, where you can enjoy his plays and learn about his life.
That's it from us, but we'd like to know if there are any other places in Verona related to Shakespeare or his plays that we missed. Let us know in the comments.