The Victoria Falls is the perfect place to relax and unwind after a Zambia safari. It also combines well with a Botswana safari, a Zimbabwe safari and a South Africa safari. The Victoria Falls is one of the greatest attractions in Africa and was first introduced to the western world by David Livingstone, the Scottish missionary, who described them as a "scene gazed upon by Angels in flight". The Falls are open throughout the year but you will get a different experience, depending on when you visit.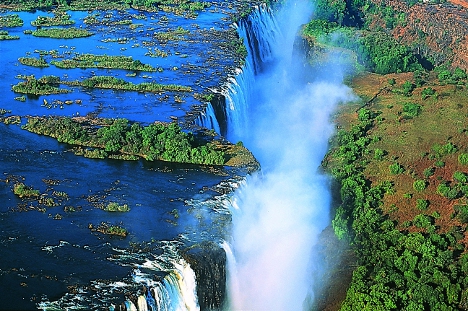 During the rainy season between November and March the water levels are very high and the Falls are spectacular with 550 000 cubic metres of water plummeting over the edge every minute. You will definitely get wet if you cross the bridge or stand at the railings of the lookout points. The downside to visiting the Falls at this time is that the actual geographic features of the waterfall are obscured by the huge volumes of raging water. The months between April and October are referred to as the dry season. During this time the water levels are much lower – reduced to a mere trickle at times. Although the falls have less visual impact at this time, the geological features are very impressive and you will be able to view the rocky ledge below the falls.
The Victoria Falls attracts extreme sports lovers for activities like bungee jumping and white water rafting. Gentler pursuits including walking through the National Park, helicopter and micro light flights, sunset cruises, game drives and elephant back safaris.
The Royal Livingstone Hotel on the Zambia side and the Victoria falls Hotel in Zimbabwe are two great accommodation choices. Stanley Safari Lodge is another good choice and is situated 3 kilometres from the Falls.