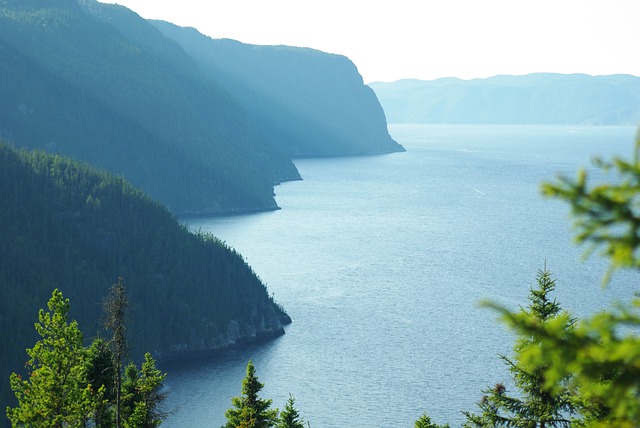 Are there any fjords in Canada?
Canada is one of the top tourism destinations in the world as millions of people from around the world visit the North American country each year.
Using the new Canadian eTA system, travelers from 60 countries worldwide can easily apply for a Canadian visa online, check on the eTA status as they wait for their travel permit, and receive their Canadian eTA via email once approved.
What makes Canada such an attractive tourist destination? Well, for one thing, it's a vast country with a variety of landscapes. One of the more recent trends in Canadian tourism is seeking out the Canadian Fjords to visit for their awe-inspiring scenery.
If you thought, Fjords only existed in Norway, you were wrong! They exist in other places as well. Most notably, Canada!
Fjords in Canada
A fjord is a unique natural landscape with a narrow, long inlet of water near the sea or a lake, among steep mountains carved out as a result of a glacial activity over multiple ice-ages. The Norse word, Fjord, has become international to describe this unique natural landscape.
In Canada, there is an extensive number of fjords and fjord lakes located along its coastlines.
It's easier to narrow down these fjords based on the provinces and territories they are located in:
Fjords of Newfoundland and Labrador
Western Brook Pond Fjord: Located in Gros Morne Park is one of the most pristine fjords in the Newfoundland and Labrador province. Travelers can take a boat tour complete with commentary on the river, go hiking and camping in the nearby mountains, discover the local wildlife, explore the nearby villages and enjoy the local cuisine.
Nachvak Fjord: Located in the Torngats Mountains National Park, the Navchak fjord offers travelers an adventurous journey to explore the ancient ruins of a 7000-year-old ancient Inuit civilization while hiking, camping, kayaking, and exploring the fjord. The Torngats have some of the highest snow-capped mountains in Eastern Canada and travelers can even go fly-fishing in some places.
Hebron Fjord: is located south of the Torngats Mountains National Park, is the second-largest fjord on the Labrador coast with waterfalls blending picturesque vistas of the Hebron river and the surrounding gorges. Travelers can take an otherworldly packrafting trip to the Hebron Fjord Lake and back while catching a glimpse of the local wildlife.
Other Fjords to explore in Newfoundland and Labrador: Komaktorvik Fjord, Noodleook Fjord, Ugjuktok Fjord, Kangalaksiorvik Fjord, Iterungnek Fjord, Saglek Fjord, Ekortiarsuk Fjord, Tellialuk Fjord, and Ikkudliayuk Fjord.
Fjords in Quebec
Saguenay Fjords National Park: is one of Canada's best-kept secrets that is slowly starting to unveil itself to the world. The Fjord is quite accessible from the local airport, offers wide-ranging activities to do year-round, and a variety of unique accommodations to choose from during the traveler's trip.
Other Fjords to explore in Quebec: Fjord de Salluit, Fjord Tursukattaq, Fjord Qanartalik, Fjord Qasigiarsiti, Fjord Alluviaq, and Fram Fjord
Fjords in British Columbia
Desolation Sound: is another one of the fjords that have been getting recent attention from travelers. Travelers can book multi-day tours with local tour operators to explore this Fjord, get to know the local culture, landscape, artic wildlife for an all-around enriching experience.
Douglas Channel is one of the world's largest fjord systems in the world with historical narratives going back to Canada's founding as a country in North America. The Douglas channel is connected to several inlets along the coast of British Columbia, providing exquisite views that seem never-ending.
Howe Sound: situated northwest of Vancouver is one of the best places to experience all the majestic scenery of the fjords while engaging with it through activities like diving, sailing, fishing, windsurfing. There is plenty more to do at Howe sound while taking in the spectacular views all around.
Indian Arm: also located close to Vancouver, is known for its beautiful seasonal waterfalls. Its charm derives from being a hunting and fishing ground for the indigenous Indian populations of the 1800s, which has now transformed into a recreational area for locals and international travelers alike. Travelers can see and experience diverse local wildlife, including salmon and black bears in their natural habitat while absorbing the panoramic views of the alpine-forested cliffs along the river.
British Columbia has an extensive list of fjords waiting to be explored by locals and international travelers alike, each with their unique offerings to wow everyone and carves out a piece of their natural beauty in everyone's memory.
Traveling to the Fjords of Canada
To travel to Canada to see the Fjords, the easiest way would be to obtain a Canadian eTA visa online. It is a secure and convenient way of obtaining the travel authorizations needed to visit Canada for tourism, whether by air, land, or sea.
Travelers will only require a Canadian eTA visa if they are from one of the 60 countries whose citizens are exempt from applying for a Canadian embassy or consulate.
Travelers applying for the Canadian eTA will need to satisfy some basic application requirements before beginning the process to ensure they submit a successful application.
The application process itself is quite simple and can be completed in a few minutes. The Canadian eTA is then e-linked to the traveler's passport and allows multiple entries into Canada.
Once a traveler has been approved for a Canadian eTA visa, it will be valid for 5 consecutive years or until the traveler's passport expires whichever comes first.
International travelers can use the Canadian eTA to enjoy up to 6 months of tourism-related ventures in the country.
How to Plan Your Trip to the Canadian Fjord
When planning a trip to see a Canadian fjord, it is important to iron out all the details of the trip especially transportation to and from the destination.
Some of the fjords are located in remote areas that are not easily accessible except by car, boat, or helicopter. It is important to thoroughly research the best and most appropriate way to travel to the fjord.
Weather is another important consideration when planning a trip to a fjord. While some Canadian fjords are open to visitors year-round, the same cannot be said for others that only open for a few weeks during the summer season due to weather conditions. It is important to ensure that the particular fjord you will be visiting is accepting guests at the time of your travel.
Traveling to a fjord may require traversing through different types of terrains as well. Travelers should pack appropriate clothing and gear for hiking, kayaking, and take their camping paraphernalia with them if they expect to stay out in the open during their visit.
It is also worth mentioning that even during the summertime, it is important to pack for rainy or otherwise cold weather when visiting a fjord, especially those located in remote areas to be prepared for weather fluctuations.
Author Bio:
Dorothy Jones is an experienced content writer. She is associated with many renowned travel blogs as a guest author where she shares her valuable travel tips with the audience.