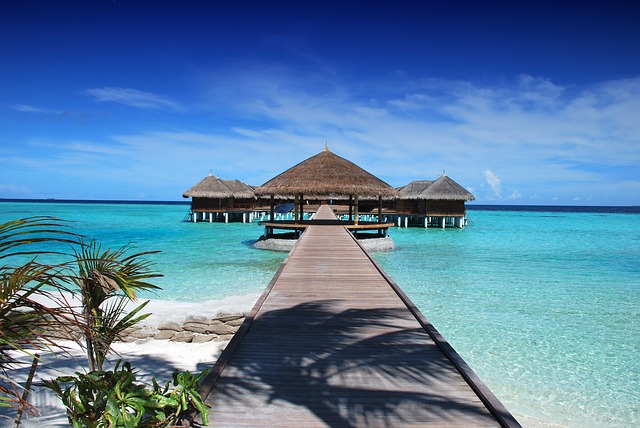 Most of us anticipate our annual holidays for a large part of the year. After all, taking a holiday gives you the chance to unwind, relax and switch off from work. Taking some time off work is also a good time to treat yourself to a bit of luxury. Perhaps you have been stacking away your overtime pay, or won a Dreamz casino bonus and are looking for a way to enjoy yourself. If you're looking for a bit of luxury, these are some of the most extravagant destinations in the world.
Cocoa Island, Maldives
Whether you're looking for a romantic getaway or a family adventure, the Maldives have luxury to suit everyone. The Cocoa Island resort is home iconic sandy beaches and crystal clear seas that are so often associated with the region. Stay in one of the suites or villas which are based out in the ocean and connected to the island by a wooden boardwalk. Each lodge has its own private sun deck and some even have glass bottomed floors, so you can see all the tropical fish swimming below. There are plenty of activities to do while you are staying on Cocoa Island, including snorkelling, paddle boarding and boat tours to visit neighbouring islands and soak in the local culture. There is also a high quality restaurant on the island, serving South Indian, Asian and Mediterranean cuisine or you could order room service to your villa.
Loisaba, Kenya
If you're looking to see all of Kenya's Big-Five without roughing it, consider booking Loisaba in Kenya. Set within a private reserve, the tented campsite has luxurious suites with four-poster beds and views right across the plains towards the impressive Mount Kenya. Some of the tents even have access to their own private pool. Couples can experience a safari tour beneath the stars, either on horseback or on foot. On site facilities include a fantastic restaurant offering unique cocktails and delicious authentic cuisine. There is also an infinity pool, where guests can unwind after a long day of spotting wildlife such as elephants, buffalo, zebra and wild dogs.
Dubai, UAE
Dubai is known for being a city of extravagance and luxury. Everywhere you look there are enormous skyscrapers, marble-floored malls and palm lined avenues. The Burj Al Arab Jumeriah is said to be one of the most luxurious hotels in the world. The iconic sail shaped building sits out in the ocean. It's known for offering guests the experience of luxury from beginning to start, whether they are being driven by a chauffeur in a Rolls Royce, lounging on the private beach or dining in one of the acclaimed restaurants.
Tokyo, Japan
The eclectic city of Tokyo is known for its fast paced way of life. With all the latest technology, hotels in Japan are the perfect place to relax after a day exploring the bustling city. If you visit in spring, you'll be able to witness the natural beauty of the cherry blossom blooming. Choose a room in one of the luxurious skyscraper hotels, such as the Palace Hotel, which have incredible views from their outdoor terraces and balconies. Those wanting to experience Tokyo for themselves should book soon, as the 2020 Olympic Games will see prices soaring.