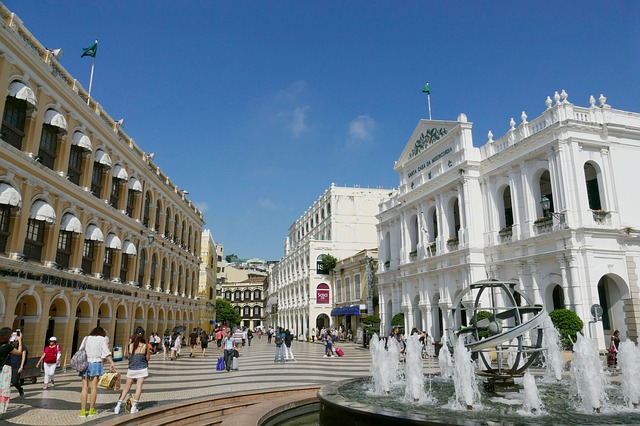 Want to see a corner of China that stands out in a very noticeable way? A trip to Macau will do that, as its center is filled with European buildings that stems from its multi-century association with the Portuguese.
It also has many glitzy resorts that attract gamers from across Asia and the world, so if you are looking for some excitement during your travels in this part of the world, booking a trip here will satisfy your cravings for action.
If you are planning on a visit soon, here is what you shouldn't miss…
1) Visit one of its many casinos
There is more to Macau than its array of fabulous gaming palaces, but there is no denying that they are this territory's biggest tourist draw.
From the grandeur of the Grand Lisboa to the Vegas-style splendor of the Wynn, there's plenty of choice for those looking to try their luck.
Not sure how to play some of the games available? Check here, and you'll find plenty of resources that will help you grasp the fundamentals of many of the table games and machines you will find within these casinos.
2) Take a stroll through the historic centre of Macau
For several hundred years, Macau served as a port that allowed Portugal to engage in trade with China. In order to support ongoing efforts by merchants, the Portuguese were granted this island off the coast of Southern Mainland China, where those in the commerce industry could build a settlement.
Over time, they made the place feel like home, with many structures being built in a variety of architectural styles that were popular in Europe from the 15th century onwards.
From the Arabic feel of the Moorish-influenced soldier's barracks, to the stately ruins of what used to be St. Paul's Church, there is plenty to admire on a walk through the streets of this UNESCO-recognized old city.
3) Pay a visit to A-Ma Temple
Of course, Macau didn't cease to have a Chinese flavor to it simply because the Portuguese took over for almost 500 years.
The original inhabitants of this island continued to observe their own traditions, including worshiping their gods at splendid Taoist temples.
A-Ma Temple is one of the most sacred spots in Macau, as it honors Mazu, the Chinese sea goddess. It was believed that praying to her would grant their fishermen the safety needed to come home safely, thereby giving this place a devoted following.
With plenty of arches, stone gates and statues, and rich religious iconography, there is plenty of evidence of the reverence that the inhabitants of this territory still hold for higher powers, even in this modern age.
4) Indulge in its food
Despite its small footprint, Macau is well-known for being home to a variety of unique dishes. When passing through the city center, try to get your hands on a Macanese pork chop bun.
This savory treat is exactly what it sounds like, as a fully fried pork chop is inserted into a Chinese-style bun that is crispy on the outside and soft on the inside.
Macau has its very own distinctive dessert dish as well, as its egg tarts are also beloved by tourists who come here from all over Asia to enjoy them in their own backyard.