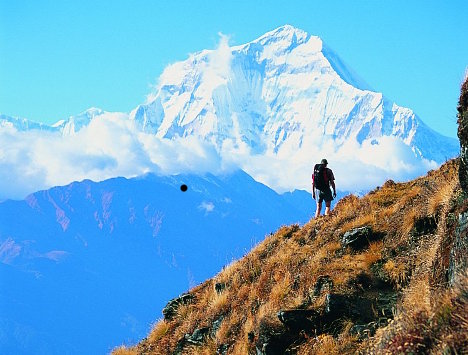 High up in the alpine deserts of Nepal, the Annapurna Circuit is a 300-km hiking trail that takes between 17 and 21 days to trek from end to end. The path is widely considered to be one of the world's greatest nature treks, as it leads adventurous hikers from rice paddies in the lowlands up through incredible mountainous scenery. At its apex, the Annapurna Circuit reaches 5,416 metres at Thorung La Pass.
Why to trek Annapurna
Classic trekking. To trek in Nepal has long been one of the holy grails of mountain adventure climbing. Even before Nepal's borders were opened to foreigners in 1949, trekkers longed to ascend the rugged peaks of the Himalayas in Nepal, and some even did so illegally.
Incredible scenery. Interestingly, the Annapurna Circuit is not all white-capped peaks, although there are plenty of beautiful mountains to see. Because the trek covers such a lengthy distance, it travels through quite a variety of scenery, from lowlands to desert altitudes, giving the hiker a chance to experience arid highlands, bamboo groves, forests and flatlands.
Diverse cultures. Nepal has one of the largest concentrations of cultural diversity on earth, with hundreds of different ethnic nationalities and languages within its narrow borders. Trekking the Annapurna Circuit, you'll pass through many villages and see the face shapes and local costumes change as you go.
Interesting wildlife. The Nepalese Himalayas are one of the last places on earth where snow leopards and blue sheep still roam in the wild. The area has dozens of rare birds, insects and flora that have been left relatively untouched by humankind.
How to trek Annapurna
To trek the Annapurna Circuit, you will first and foremost need to be quite fit, as the path crosses through some incredibly rugged terrain at very high altitudes. If you're unsure about the trek or are inexperienced, it may benefit you to sign up for a guided tour or to hire a local guide when you arrive, though this is certainly not necessary, as the path crosses teahouses and guesthouses every few hours.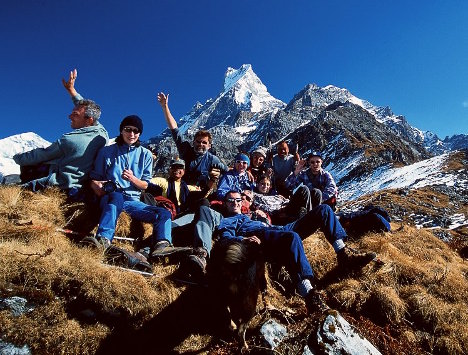 Make sure to pack waterproof clothing and a sleeping bag designed for sub-freezing temperatures, as well as sturdy hiking boots made for high altitude climbing. Most supplies are easy to procure in Kathmandu before you set out and you should not need to carry too much gear with you. It's though to get your essential outdoor gear before you arrive just to be sure. You'll also be required to obtain a trekking permit from the authorities in Kathmandu, and you should bring plenty of cash to last the entire trip.
The best time to trek the Annapurna Circuit is in late autumn, with September and December offering the best weather (dry and cool) and fewest crowds on the path. Trekking during the summer is possible but made difficult due to the plethora of leeches during that time, and during spring, the weather and conditions can be unreliable.