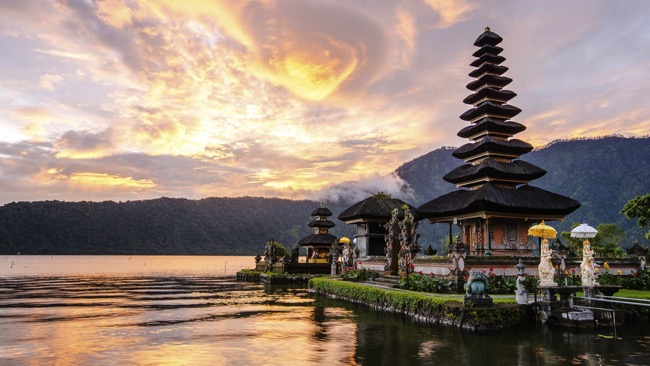 Indonesia has more than 17,000 islands, but Bali stands out most from all of them, being the favorite amongst the tourists. Surely everybody who visited Bali can barely stop talking about all the wonders this island has to offer. Whether you are in for the picture-perfect beaches, the hidden nature gems, o the cultural abundance, Bali has everything you wish for. Beware, though, it's easy to fall in love with the paradise this island offers. After all, it's not the runner up for the best vacation destinations for nothing.
Stunning Beaches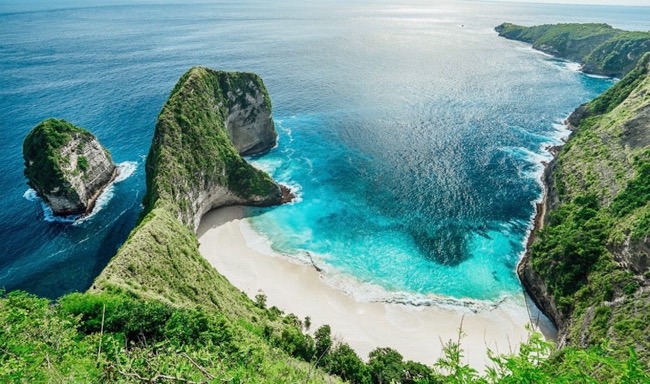 No matter if you are a surfer, a couple on your honeymoon or an artist looking for a quiet place to paint, there's a beach for everyone. From places with postcard-perfect white sand, to black-sanded coves, the Bali beaches have their own personality and are ready to be explored:
Nusa Dua Beach: the powder-like white sands of this beach is what makes is the best family option. The beach is impeccable, almost manmade and the water is as blue as the sky. The variety of resorts, restaurants and shopping destinations are what make this beach perfect for both parents and kids.
Echo Beach: the water is perfect for surfing and the black sands filled with shabby-chic beach bars are the best spot for people watching. During the day, the beach has an eclectic vibe and is full of surfers with sun-kissed skins, while at night it turns into the perfect party spot for the wild-hearts.
Jimbaran Bay: the best spot to enjoy dinner on the beach, while watching the sunset. This is the culinary hub of the island, with fishermen selling their catch at the market, to barbecues and restaurants where you can get a taste of the amazing Balinese cuisine.
Suluban Beach: A true hidden treasure of the island, perfect for swimming and surfing, with majestic cliffs and turquoise water. Be aware that, during high tide, the beach becomes inaccessible so make sure you check the tide times and don't miss the opportunity to see this natural beauty. Tip: look for the cave under the beach for a true hidden gem.
Captivating Culture
The locals are known for their hospitality and that's what makes Bali so charismatic. The simplicity of their lifestyle is what makes the Balinese the soul and heart if the country. Their everyday life is guided by the multitude of festivities that you should not miss, for a one-of-a-kind experience. Their rituals are filled with color, dances and harmony, which will certainly make you sit back and take advantage of the little joys that surround you. The Balinese are very spiritual people, with Hindu being the predominant religion. Whether you want a taste of their spiritual life or are just in for the aesthetic pleasure, the Bali temples are not to be missed.
To match the Balinese's eclectic culture, the island has a variety of accommodations you can choose from, suited for both families and nomads in search of adventure. If you want to experience a truly idyllic vacation, the luxury hotels Bali has to offer will bring the most out of your getaway. Enjoy massages and spas, lounge by the pool and feast on the exquisite cuisine. And for the true romantics, consider this the best wedding destination if you want a moment nobody will ever forget.
What adds to Bali's incredible culture is the cuisine. With fascinating traditional recipes, from street food to fine dining, you'll never taste something as exotic and flavorful as the Balinese food.
To pay respect to the locals, take some time to learn some basic phrases that will put a smile on the face of the islanders:
Good morning: Selamat pagi (S'LAH-maht PAH-ghee)
Good evening: Selamat sore (S'LAH-maht PAH-ghee soh-ray)
No: Tidak (TEE-dah/)
Yes: Ya (EEYAH)
Thank you: Terima kasih (Tuh-REE-mah KAH-see)
Excuse me: Maaf (mah-AHF)
Artistic Vibes
In Bali, art is found on every corner. Their way of life is guided by artistic vibes, colorful festivals and exhibitions. From museums to street art and handmade offers, the Balinese know how to incorporate art in everything they do.
If you are in search of gifts, the Sukawati Art Market is the place for you. Wander through the maze-like market and preparer to be amazed by the multitude of fashion and decorative pieces you'll find.
For true works of art, check the Adipati Soeryo Art Gallery, that stocks traditional paintings ready to add character to your walls. Even if you don't buy anything, the gallery is still an amazing place to let yourself be mesmerized by the exhibits.
If paintings are not what you are looking for, then worry not, because the islanders have a way of making art from anything, from silver to wood and glass, it's impossible not to come home with a piece of art for your collection.
A Taste of Nature and Adventure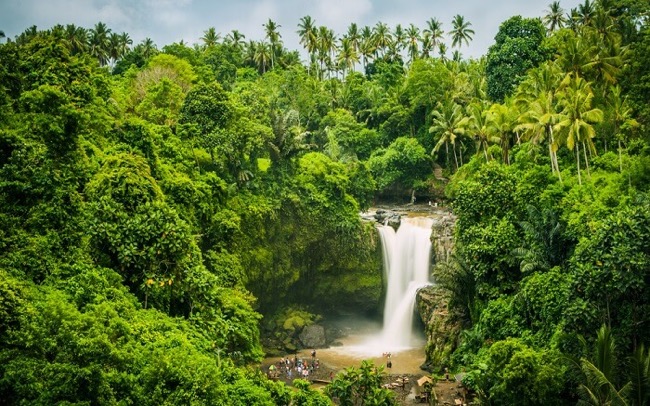 No matter where your dose of adrenaline comes from, Bali is certain to make your heart beat just a little bit faster. Jumping off a cliff, sliding down a natural waterslide, safari trips or submarine journeys are just a few activities you can enjoy, to make your holiday memorable.
Beaches aside, Bali has an abundance of natural beauties to be explored. Waterfalls, flower gardens, lakes and mountainous areas are what paint the island's beautiful scenery and here are just a few to-go spots:
Bhutan Sari Waterfall: what makes this one of the most beautiful waterfalls of the island is the fact that it's mostly unknown and untouched, so make sure you check this hidden gem, before it gets crowded
Mende Hill: for the adventurous hikers or if you just want to get out of your comfort zone, pack your backpack and enjoy the beautiful view from the top of this hill.
Sukawati Canyon: a true nature-carved monument, what makes this canyon unique is its particular shape that many make out to be a skull or a face, with breathtaking colors and mesmerizing waters.