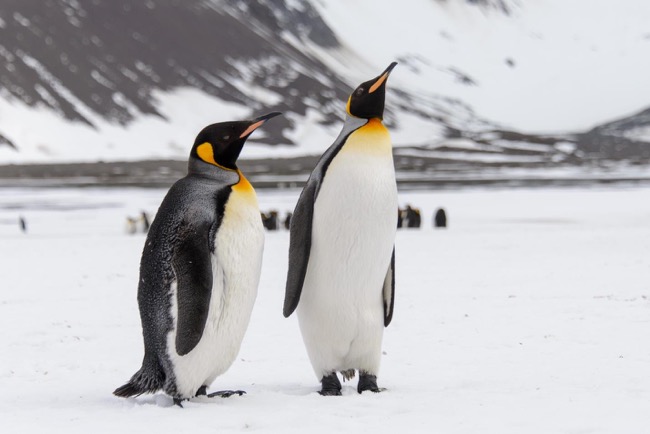 After a difficult year around the globe, it is safe to assume that a vacation is what many of us are dreaming of. However, finding a safe way to leisure travel will be a must. With that being said, a destination with only a handful of temporary residents would make an ideal place to stretch your legs and explore after many months indoors.
Surely some of you must be wondering, where does such a place exist? The answer is South Georgia Island, or the "Galapagos of the poles". Get ready to find out what makes taking an Antarctic Peninsula cruise to this unconventional island the perfect idea for your next vacation escape.
Welcome to Penguin Paradise
A wildlife enthusiasts dream come true; the mountainous island of South Georgia is a true penguin paradise. Visitors to this breathtaking Antarctic location can look forward to seeing a variety of penguin species including:
• King penguins
• Gentoo penguins
• Chinstrap penguins, and
• Macaroni penguins
There are plenty of places around the island to explore for a chance to sight waddles of penguins in their natural habitat. That's right, a group of penguins is called a waddle. How adorable is that? Now let's get into some of the top places to see penguins and other wildlife around South Georgia Island.
Salisbury Plain
Discovered by the famous British Captain James Cook, Salisbury Plain is a vast, flat stretch of green located in front of the striking Grace Glacier. The nearby beaches of Salisbury Plain are where Elephant and Fur seals are known to haul out, breed, give birth and molt.
Salisbury Plain is also the location of the islands second-largest King penguin rookery, known for its colony of 250,000 breeding King penguins. It's no wonder that South Georgia is one of the most fertile breeding grounds in the world for sub-Antarctic wildlife.
Fortuna Bay
The rugged mountainous terrain of Fortuna Bay is located on the north shore of South Georgia Island. This relatively small bay is only 3-miles long but abundant in wildlife and gorgeous views of icebergs. Visitors can stroll this beautiful bay for the chance to observe amazing wildlife, such as:
• King penguins
• Antarctic Fur seals
• Elephant seals
• Brown skua
• Giant petrels, and
• Antarctic terns
One thing is for sure, you'll want to bring a camera with plenty of film!
Gold Harbour
Often referred to as a zoo without fences, Gold Harbour is a must-see location for any visitor to South Georgia Island. This breathtaking coastline beach is a popular place to see amazing wildlife, such as:
• 25,000 pairs of breeding King penguins
• Around 500 Gentoo penguins, and
• Hundreds of Elephant seals
With the beautiful backdrop of the cliffs near Gold Head, bird watchers may also have the opportunity to watch the courtship dance of the light-mantled sooty albatross.
Cooper Island
Located off the southeast end of South Georgia, the 2-mile-long Cooper Island is the perfect place to observe a large number of seabirds, as well as:
• Chinstrap penguins
• Macaroni penguins, and
• Plenty of Fur seals
Now grab your parka and start planning your South Georgia Island cruise!